Jerry Moss, Co-Founder Of A&M Records And Rock Hall Of Fame Member, Dies At 88
Jerry Moss, who co-founded A&M Records with Herb Alpert and rose from a Los Angeles garage to the heights of success with singles by Alpert, the Police, the Carpenters, and hundreds of other performers, died at the age of 88.
Moss, who was inducted into the Rock and Roll Hall of Fame alongside Alpert in 2006, died Wednesday at his home in Bel Air, California, according to a statement provided by his family. Tina, his widow, informed The Associated Press that he died of natural causes.
"They truly don't make them like him anymore," the statement says in part, "and we will miss conversations with him about everything under the sun," as well as "the twinkle in his eyes as he approached every moment ready for the next adventure."
For more than 25 years, Alpert and Moss ran one of the music industry's most successful independent companies, publishing chart-topping albums like Alpert's "Whipped Cream & Other Delights," Carole King's "Tapestry," and Peter Frampton's "Frampton Comes Alive!" The Carpenters and Cat Stevens lived there, as did Janet Jackson and Soundgarden, Joe Cocker and Suzanne Vega, and the Go-Gos and Sheryl Crow.
"Every once in a while, a record would come through us, and Herbie would look at me and say, 'What did we do to deserve this, that this amazing thing is going to come out on our label?'" Moss told the archive and resource center Artist House Music in 2007.

Jerry Moss, who co-founded A&M Records with Herb Alpert, died at the age of 88.
His musical connections led to a wealthy horse racing operation, which he co-owned with his second wife, Ann Holbrook. Nate Duroff, a record producer, loaned Alpert and Moss $35,000 in 1962 to print 350,000 copies of Alpert's instrumental "The Lonely Bull," the label's first significant hit. Duroff persuaded Moss to invest in horses a decade later.
Giacomo, named after A&M musician Sting's son, won the Kentucky Derby in 2005. Zenyatta, named after the Police song "Zenyatta Mondatta," finished second in 2008 and 2009 before winning the following year. Moss named another profitable horse, Set Them Free, after a hit tune by Sting.
Moss made one of his final public appearances in January when he was honored with a tribute concert at the Mark Taper Forum in downtown Los Angeles. Among the performances were Frampton, Amy Grant, and Dionne Warwick, who wasn't an A&M artist but had known Moss since the early 1960s when he helped promote her songs. While Moss did not speak during the event, many others did.
"Herb was the painter, and Jerry was the visionary." On the red carpet, singer Rita Coolidge observed, "It just changed the face of the record industry." "A&M made such a difference, and it was where everyone wanted to be."
Moss' second wife, Tina Morse, and three children survive him.
Moss, a New York City native and English major at Brooklyn College, had wanted to work in show business since his twenties and had seen how much fun the entertainment industry clients seemed to be having. Following a six-month term in the Army, he got work as a promotion for Coed Records and eventually relocated to Los Angeles, where he met and befriended Alpert, a trumpeter, songwriter, and entrepreneur.

Jerry Moss, who co-founded A&M Records with Herb Alpert, died at the age of 88.
They founded Carnival Records with a $100 investment each and had a local hit with "Tell It to the Birds," an Alpert ballad issued under the name of his son, Dore Alpert. After discovering that another company called Carnival existed, Alpert and Moss renamed their company A&M, working out of Alpert's garage and designing the iconic logo with the trumpet across the bottom.
"We had a desk, a piano, a stool for the piano, a couch, a coffee table, and two phone lines." "And that worked out very well for the two of us because we could go over the songs on the piano and call the distributors," Moss later told Billboard. "At the time, we also had an answering service. I'd handle all of my own billing."
For many years, they specialized in "easy listening" acts such as Herb Alpert and the Tijuana Brass, Sergio Mendes, and the Sandpipers, a folk-rock trio from Brazil. Moss began adding rock performers, including Cocker, Procol Harum, and Free, after attending the Monterey Pop event in 1967, rock's first major event.
"Frampton Comes Alive!" was a live double album released in 1976 that sold more than 6 million copies in its first year, catapulting Frampton from mid-level talent to stardom.
"Peter was a huge live star in markets like Detroit and San Francisco, so we suggested he make a live record," Moss told Rolling Stone in 2002. "What he was doing onstage wasn't like the records; it was far superior." I recall being at the mix of 'Frampton Comes Alive!' at Electric Lady Studios and being so taken away that I requested a double CD."

Jerry Moss, who co-founded A&M Records with Herb Alpert, died at the age of 88.
Throughout the 1970s and 1980s, A&M expanded its catalog by signing the Police, Squeeze, Joe Jackson, and other British New Wave acts, R&B musicians Janet Jackson and Barry White, country rockers 38 Special and the Ozark Mountain Daredevils.
By the late 1980s, Alpert and Moss were working out of a Hollywood lot where Charlie Chaplin used to make films, but they were struggling to keep up with ever-increasing recording contracts and sold A&M to Polygram for an estimated $500 million. They stayed with the company until they battled with Polygram's management and left in 1993, with one of their last signings being Sheryl Crow, a singer-songwriter from Kennett, Missouri. (Alpert and Moss eventually sued Polygram for breach of contract and received a $200 million settlement.)
Alpert and Moss owned Almo Records for a few years, releasing music by Garbage, Imogen Heap, and Gillian Welch.
"We wanted people to be happy," Moss said in 2010 to The New York Times. "You can't make people do a certain type of music. They generate their best music when they are free to do what they want, not what we want."
SOURCE – (AP)
Taylor Swift Watches Travis Kelce's Chiefs Take On The Jets At MetLife Stadium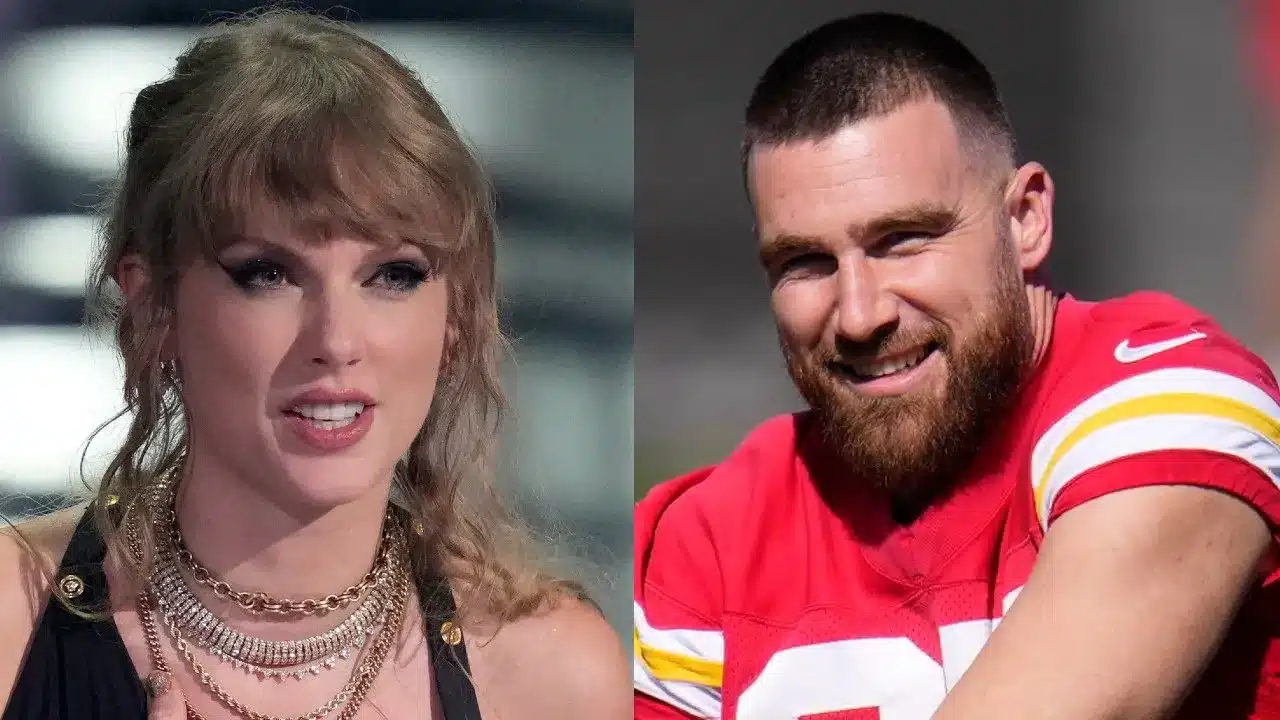 EAST RUTHERFORD, New Jersey — Taylor Swift could not pass up another opportunity to observe Travis Kelce play football.
The 12-time Grammy Award winner arrived at MetLife Stadium approximately forty minutes before Sunday night's kickoff to witness Travis and his Kansas City Chiefs defeat the New York Jets 23-20.
Swift, wearing blue jean shorts, a black long-sleeved top, and a leather jacket, entered the stadium's security area with actors Ryan Reynolds, Blake Lively, and Hugh Jackman, as captured by SNY. NBC's broadcast cut to Swift multiple times during the game, including a shot of the pop star with her arm around Donna Kelce, who was donning her son's No. 87 jersey.
Swift's appearance comes a week after she attended Arrowhead Stadium, dressed in red and white, to witness the Chiefs' 41-10 home victory over the Chicago Bears with Donna Kelce. Swift accepted the All-Pro tight end's invitation to observe the game and had to see more of Travis and the Chiefs in action.
Taylor Swift is on a break from her Eras Tour, which resumes on November 9 in Buenos Aires, Argentina. Travis acknowledges Swift's daring appearance at the Chiefs game but remains tight-lipped about their relationship. Twenty minutes before commencement, NBC aired a tour advertisement.

Taylor Swift could not pass up another opportunity to observe Travis Kelce play football.
Swift is familiar with MetLife Stadium, having performed three sold-out concerts there in May. Two of those performances were attended by Jets quarterback Aaron Rodgers, who returned to the team this past weekend after tearing his left Achilles tendon on the fourth play of his September 11 debut.
Rodgers attended a squad meeting on Saturday evening and was at the stadium to observe player warmups on Sunday evening.
Swift and Kelce have not disclosed details about their relationship. Kelce stated on his podcast "New Heights with Jason and Travis Kelce" earlier this week that Swift "looked amazing" at the contest.
Regarding her time spent in the suite, Kelce stated, "Everyone was speaking positively about her." "Moreover, the day proceeded flawlessly for Chiefs fans. Naturally, we plan everything, ladies and gentlemen."
Kelce invited Swift to that game after failing to present her a friendship bracelet during the Kansas City stop of her Eras Tour.
SOURCE – (AP)
U2 Concert Uses Stunning Visuals To Open Massive Sphere Venue In Las Vegas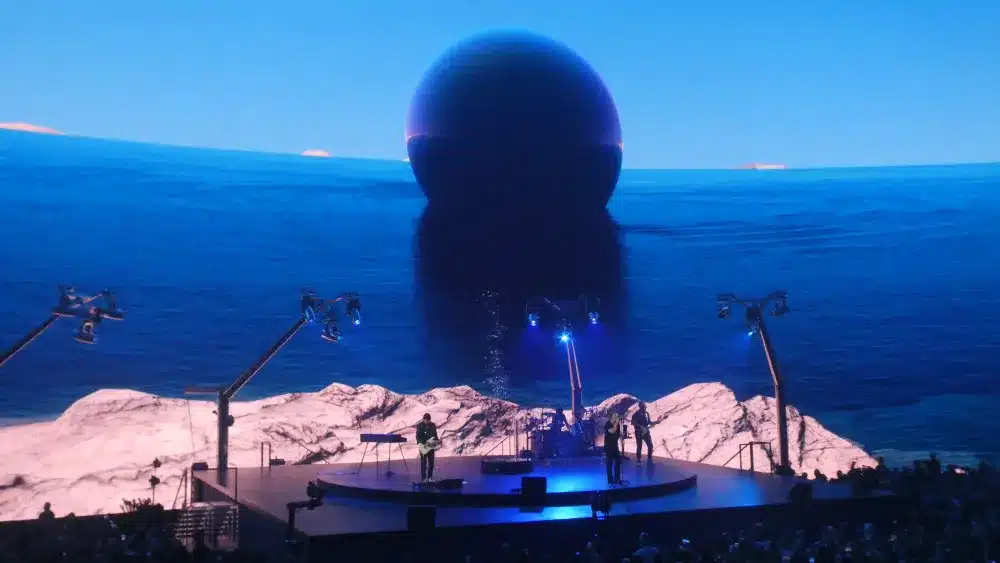 LAS VEGAS – It appeared to be a typical U2 outdoor concert: two helicopters flew through a starry sky before producing spotlights over the Las Vegas desert and Bono, who kneeled on the ground while singing the band's 2004 hit "Vertigo."
This scene may appear normal, but the visuals were created using floor-to-ceiling graphics within the immersive Sphere. It was one of several impressive instances during U2's "UV Achtung Baby" residency launch show at the globe-shaped, high-tech venue, which debuted Friday night.

It appeared to be a typical U2 outdoor concert: two helicopters flew through a starry sky before producing spotlights over the Las Vegas desert
The legendary rock band, which has won 22 Grammys, performed for two hours inside the enormous, state-of-the-art, spherical venue with crystal-clear audio. Throughout the evening, various captivating visuals, including kaleidoscopic images, a burning flag, and the Las Vegas skyline, transported more than 18,000 concertgoers on U2's epic musical voyage.
Bono, joined onstage by guitarists The Edge and Adam Clayton and percussionist Bram van den Berg, exclaimed, "What a swanky flat!" Then, he gazed at the high-resolution LED display that projected a larger image of himself, along with a few praying hands and bells.
SOURCE – ap
Inside The Night That Tupac Shakur Was Shot, And What Led Up To The Fatal Gunfire
LAS VEGAS — Duane "Keffe D" Davis, one of the last surviving witnesses to the Las Vegas drive-by shooting of the hip-hop superstar Tupac Shakur in 1996, was indicted for murder on Friday, marking the first arrest in Shakur's death. Here's a glimpse at the hours that led up to the fatal gunfire.
Shakur and Suge Knight, the head of his record label, Death Row Records, arrived in Las Vegas on September 7, 1996, with an entourage that included Shakur's fiancee, Kidada Jones, as well as his cousins and friends, to watch a heavyweight title fight between Mike Tyson and Bruce Seldon.
Shakur and Knight took their seats in the front row at the MGM Grand Garden Arena around 8:30 p.m.
Shortly after that, the brawl broke out. Less than two minutes later, Tyson knocked out Seldon in the first round to claim the WBA Heavyweight championship.

AFTERMATH OF THE BATTLE AND ANOTHER BATTLE
Shakur and Tyson, who were friends, embraced in joy just off the arena floor at approximately 8:40 p.m., shortly after the fight concluded.
Shakur, Knight, and their entourage engaged in a brawl at 8:50 p.m. in the hotel and casino area just outside the arena with a group that included Davis and his nephew Orlando "Baby Lane" Anderson, with whom Shakur had previously clashed. Las Vegas police stated that Davis and Anderson were members of the Southern California-based gang South Side Compton Crips, rivals of the Knight's Blood-affiliated Mob Piru.
Police say surveillance footage shows Shakur and Knight striking and kicking Anderson near a lift bank.
Anderson, who was slain in a 1998 gang shooting unrelated to Tupac's death, was long suspected of being responsible for his death.

Shakur, Knight, and their entourage departed the MGM Grand shortly before 9 p.m.
From approximately 9 p.m. to 11 p.m., the precise timeline of Shakur's night is still being determined, but he was eventually obligated, along with Tyson and Knight, to make a late appearance at Club 662, which Knight owned. Before proceeding to Knight's Las Vegas home, the Death Row entourage left the MGM Grand and stopped at the adjacent Luxor Hotel and Casino, where Jones was staying.
Police alleged at a news conference on Friday that Davis would spend this time acquiring a weapon to use in retaliation for the casino brawl.

A BLACK BMW, A WHITE CADILLAC, AND FIREARMS
Shakur was a passenger in Knight's black BMW when it was stopped by police near the Las Vegas Strip at approximately 11 p.m. for playing music too loudly and not properly displaying license plates. Shakur and Knight joked with the officers the license plates were discovered in the trunk and were not cited.
The BMW stopped at the intersection of Flamingo Road and Koval Lane, a block from the Strip, at 11:15 p.m.
"We were on our way to Club 662," Malcolm Greenidge, a lifelong friend of Tupac Shakur who traveled to Las Vegas with him and was traveling in a car behind the BMW, testified to the grand jury that indicted Davis. "Several women approached from the passenger side. Mr. Shakur started conversing with the women. We were unable to hear what he was saying. We believed he was most likely summoning them to the club."
A white Cadillac approached stealthily. Davis has stated in interviews and his 2019 autobiography that he was one of the males in the automobile. According to a press conference held by police on Friday, he was sitting in the passenger seat and passed the gun he had obtained to one of the men in the rear.
Greenidge told the grand jury, "After the women left, another car pulled up alongside Mr. Shakur and Mr. Knight, and an arm emerged from the back window and began firing."
The gunman discharged over a dozen rounds. Two of the four bullets struck Shakur in the torso. A bullet fragment grazed Knight in the temple, but he sustained only minor injuries. Knight is currently serving a 28-year manslaughter sentence in an unrelated California case.
Shakur was transported to University Medical Centre at 11:20 p.m. after police and paramedics arrived.
Shakur would have a lung removed and remain on a respirator in intensive care in the following days. Six days later, on September 13, he perished. He was 25 years old.
SOURCE – (AP)