Spring Equinox 2023: Traditions Of Renewal Echo Into The Modern World
Thomas Nashe, a 16th-century British poet and playwright, undoubtedly anticipated spring in his own vibrant, singsong manner:
The flowers kiss our feet; the fields breathe sweetly.
Young couples encounter each other, elderly women sit,
These melodies welcome our ears in every street: cuckoo, jug-jug, pu-we, and witta-woo!
The beautiful season of spring!
Lovely spring, indeed. This is the season to take in the advancing daylight, hear the chirping of birds, smell the blooming flowers, and feel the sun's rising heat.
All of them point to the impending spring equinox in 2023. The Northern Hemisphere's official first spring day symbolizes rebirth, a period of tradition, and a peaceful balance between day and night.

Some people prefer to have everything planned up to the minute of Spring.
According to EarthSky, the spring equinox will occur on March 20 at precisely 21:24 UTC (Coordinated Universal Time). The way that works at various locations throughout the world is as follows (all times are converted to Daylight Saving Time):
Hawaii's Honolulu: 11:24 a.m.
• Victoria, Canada, and San Francisco, California: 2:24 p.m.
• Guadalajara, Mexico, and Santa Fe, New Mexico: 3:24 p.m.
• Kingston, Jamaica, and Minneapolis, Minnesota: 4:24 p.m.
• Charleston, South Carolina, and Montreal, Canada: 5:24 p.m.
6:24 p.m. Halifax (Canada).

Here are some more locations to visit when crossing the Atlantic:
• 9:24 p.m. in Dublin (Ireland) and Accra (Ghana).
• 10:24 p.m. in Paris (France) and Algiers (Algeria).
• Alexandria, Egypt and Helsinki, Finland: 11:24 p.m.
For time zones east of those mentioned above, the equinox occurs on March 21 on Tuesday. A few more locations
• Addis Ababa (Ethiopia) and Istanbul (Turkey): 12:24 a.m.
• 1:24 a.m. in Dubai (United Arab Emirates).
2:54 a.m. • Mumbai (India).
• Hanoi (Vietnam) and Bangkok (Thailand): 4:24 a.m.
Singapore time is 5:24 a.m.
• Osaka (Japan) and Seoul (South Korea): 6:24 a.m.
For a list of significant cities, click here. You can also use this link to find exactly when the spring equinox occurs where you live.
People in the Northern Hemisphere anticipate longer days, blooming flowers, and increased greenery. However, for those who live south of the equator, the equinox signals the beginning of fall.
Therefore now is the time for South Africans, Aussies, and Chileans to anticipate the cooler fall weather.
None of this truly matters to people living near the equator (in cities like Singapore or Quito, Ecuador). Year-round, they experience around 12 hours of sun and darkness.

The same concept is conveyed if "vernal equinox" is ever used.
The Latin word "equinoxium," which means "equality between day and night," is where the word "equinox" originates. Vernal, which is Latin for "spring," also denotes.
An ideal line connecting the North and South Poles forms the axis around which the Earth revolves. It is called the axis, which rotates to give us day and night.
Yet, according to NASA, the axis tilts at a 23.5-degree angle. As a result, for half of the year's orbit around the sun, one hemisphere of the planet will receive more sunlight than the other. This variation in sunshine initiates the seasons.
Between late June and late December, the effect is at its strongest. These are the solstices, and particularly close to the poles, they have the greatest changes between day and night. (This explains why it is so gloomy for such a long period each day in the winter in regions like Scandinavia and Alaska.)
Yet, you've probably noticed that the days have been getting longer and the nights shorter in the Northern Hemisphere since the winter solstice three months ago in December. We have now reached the spring equinox!
Future solar exposure will favor the Northern Hemisphere over the Southern Hemisphere. Because of this, the temperature rises as we approach the summer solstice in June.

The "almost" equal hours of day and night are caused by the complicated method used to calculate sunrise
On the equinox, you get a little bit more daylight than darkness, though how much more varies on where in the world you are.
How is that possible when there should be 12 hours of daylight and 12 hours of darkness?
According to the US National Weather Service, the "almost" equal hours of day and night are caused by the complicated method used to calculate sunrise and the refraction of sunlight in our atmosphere.
The sun "appears above the horizon when the real position of the sun is below the horizon" due to these light beams being bent. Higher latitudes have longer days than the equator because the sun rises and sets more slowly as you move nearer the poles.
We had that truly equal day/night divide a few days before the spring equinox. It's known as the equinox.
According to the website EarthSky, the equinoxes—spring or autumn—are excellent times to get your bearings if you enjoy watching the night sky. Just twice a year, on the equinoxes, does everyone on the Earth experience the sun rising in the east and setting in the west?
It is "a terrific day for finding east and west from your yard or another preferred place for studying the sky," according to EarthSky. Just step outside at dusk or dawn and pay attention to where the sun appears in well-known locations.
Another interesting fact is that the sun sets faster in both hemispheres during equinoxes than during solstices. The cause? According to EarthSky, the setting sun strikes the horizon at the sharpest angle possible to the planet.
When the Earth's tilt is the greatest, the sun sets more slowly during solstices
When the Earth's tilt is the greatest, the sun sets more slowly during solstices. The impact also intensifies as you move further from the equator. Because of this, during the days leading up to the summer solstice, the sun never sets at all in the Arctic Circle.
People have gathered in England at the enigmatic Stonehenge for centuries to observe solstices and equinoxes. If you prefer small crowds, the equinoxes normally draw fewer people than the solstices. English Heritage arranges the festivities.
The Mayan location of Chichén Itzá in Mexico has unique connections to the equinox. On the equinoxes, a shadow tracing the outline of a snake of light (Kukulcán) descends the steps of the majestic pyramid known as El Castillo at the location.
Nevertheless, other ancient locations participate in the custom as well.
The annual Daffodil Day celebration will occur at Seattle's Pike Place Market. While supplies last, market visitors will receive a complimentary bunch of daffodils.
The annual Cimburijada, or "Festival of Scrambled Eggs," takes place in Zenica, a Bosnia and Herzegovina northwest of Sarajevo, on the first spring day.
Every culture in the globe observes the equinox. To name a few:
The Persian New Year is called Nowruz. It also goes by the names Nauryz, Navruz, or Nowrouz and means "new day."
It doesn't just happen to fall on the first day of spring. The Iranian calendar is a solar calendar, which means that time is established by Earth's rotation around the sun by astronomical observations. Hence, the vernal equinox always marks the beginning of the year.
It's a celebration of fresh starts, ushering in prosperity and the future while letting go of the past. Families use this time to buy new clothes, thoroughly clean their closets, and organize their houses.
According to VisitBeijing.com, trying to stand an egg upright during the spring equinox is a well-liked game in China. The practice is claimed to have originated thousands of years ago, and it is said that anyone who can make an egg stand would be lucky. And native spring veggies are eaten by people all around China.
Vernal Equinox Day is a public holiday in Japan (on Tuesday, March 21, this year). Although Japan has undergone extensive modernization, its citizens still follow ancient customs like visiting family cemeteries and hosting reunions to celebrate the spring equinox.
SOURCE – (CNN)
New York City: State Of Emergency Declared Over Flash Flooding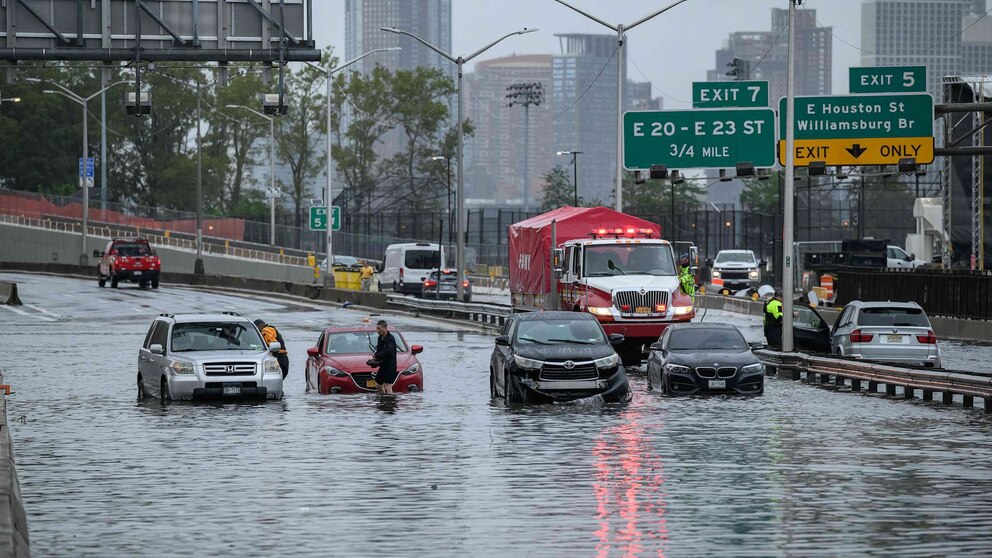 In New York City, a state of emergency has been declared as violent storms deliver flash flooding.
Many of the city's subways, streets, and highways have been inundated, and LaGuardia Airport closed at least one terminal on Friday.
According to New York Governor Kathy Hochul, some areas received up to five inches (12.7cm) of rain overnight, and up to seven more inches (17.8cm) are expected.
"This is a dangerous, life-threatening storm," she continued.
She announced on X, formerly known as Twitter, that she was proclaiming a state of emergency in New York City, Long Island, and the Hudson Valley due to the region's extreme rainfall.
She urged individuals to take precautions and to "never attempt to travel on flooded roads."
As a result of the declaration of a state of emergency, New York City Mayor Eric Adams issued a call for "heightened alertness and extreme caution."

In New York City, a state of emergency has been declared as violent storms deliver flash flooding.
"Some of our subways are flooded, and it is extremely difficult to move around the city," he said at a press conference.
Due to intense rainfall, people were pictured and captured on video wading through knee-deep water in the streets and subways.
The Metropolitan Transportation Authority (MTA) advised individuals who did not need to travel to remain at home.
Terminal A at La Guardia Airport is presently closed due to flooding, according to airport authorities.
Before traveling, passengers were instructed to verify with their airline.

The New York City Police Department also announced multiple road closures and the deployment of the National Guard.
Elsewhere, traffic stopped along a section of the FDR Drive, a significant thoroughfare on the east side of Manhattan, as the water rose above the tires of automobiles.
In addition, employees attempted to unclog a drain in South Williamsburg, Brooklyn, while cardboard and other debris floated by.
According to municipal officials, there were no storm-related fatalities or serious injuries as of midday (1600 GMT).
The weather service has issued flood warnings and advisories for approximately 18 million people in the New York metropolitan area and other major East Coast cities.
SOURCE – (BBC)
Google Flights Now Tells You The Best Time Fly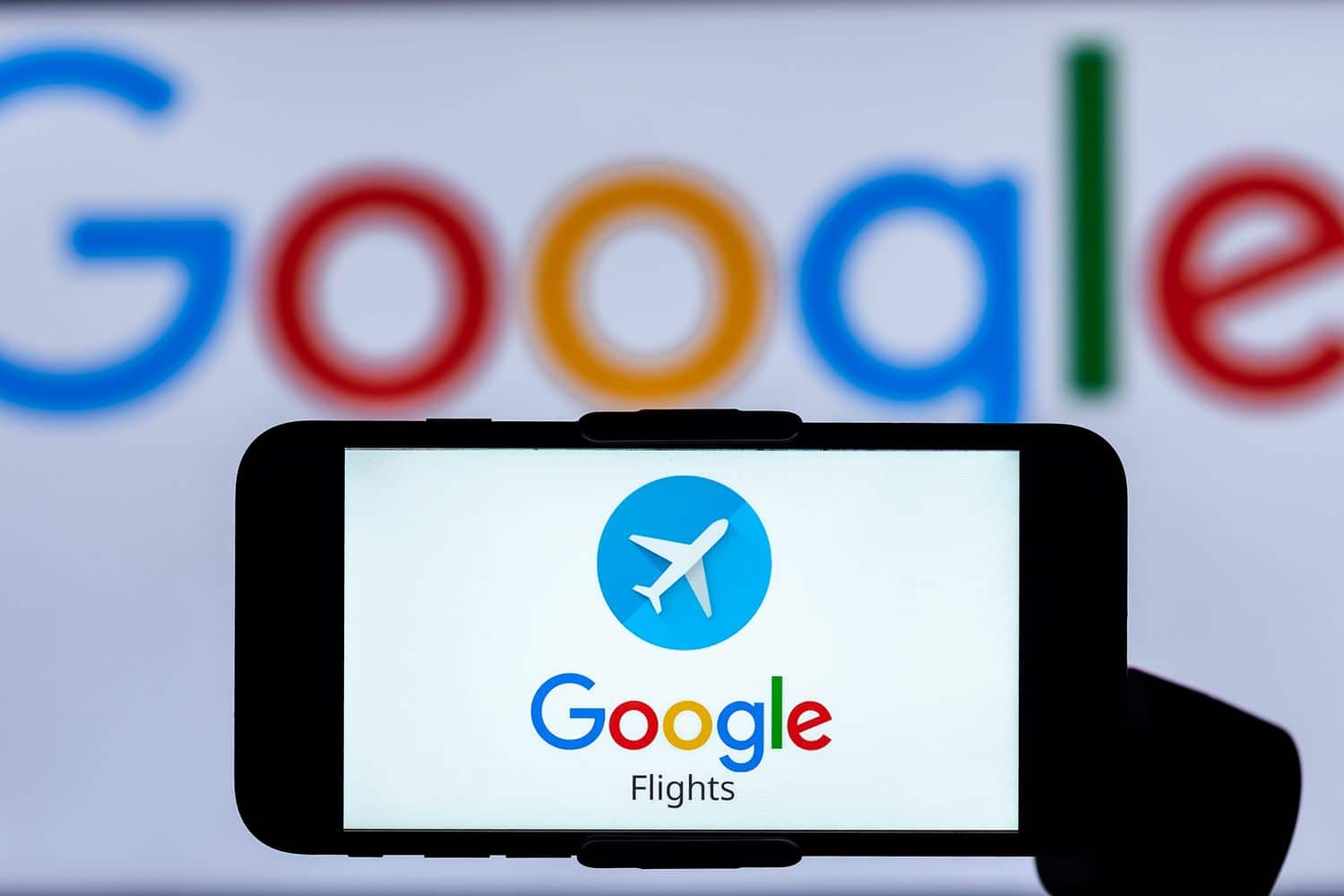 Nothing causes more price anxiety in travellers than deciding when to use Google flights. Should you book now or wait for fares to fall? But what if prices instead rise? What if you wait too long and all flights are full? So much hand-wringing, so much time and mental space consumed.
Travel agencies are constantly forecasting the best time to book the cheapest airfare. They can see patterns and generate forecasts by processing previous data, but there are always changes from year to year. When Google recently updated its crystal ball with data from the first seven months of this year, it discovered that, with two significant exceptions, most patterns from 2022 have carried into 2023.
When it comes to booking flights for the upcoming holiday season, average rates will be lowest 71 days before departure, compared to last year's prediction that fares would be lowest 22 days before departure. So mark it in your calendar: The best time to book a flight for the weekend before Christmas 2023, according to Forbes, is in the first few days of November.
According to James Byers, group product manager for Google Flights, the massive seven-week change is essentially a course correction. Last year's forecast was based on data that encompassed 2020, which was "not the best indicator of what to expect going forward," according to Byers. As a result, his team eliminated 2020 from their dataset for this year.
The most-searched destination on Google Flights for vacations departing from US airports between December 20, 2023 and January 5, 2024 is Cancun, Mexico. Miami and Fort Lauderdale, New York, San Juan, Honolulu, Orlando, and Los Angeles are the top U.S. destinations.
The other significant difference that Google observed for the rest of 2023 over last year is in flights to Europe. The age-old recommendation to book early still holds true, as trans-Atlantic airfares are often at their lowest 72 days or more before departure.
However, Google claims that there is no longer a sweet spot when prices fall before rising again. "We're now seeing that prices no longer tend to drop at any point before departure and will generally rise once you get about 10 weeks from takeoff," Byers adds.
"Intriguingly, this shift appears to be the result of including the most recent data through July 31, 2023 in this year's set of insights."
If you prefer to sit back and wait for an email notice when airfares decrease drastically, Google's price tracking service will send one.
To receive alerts regarding price cuts in the next three to six months, you may either set up tracking for specific dates or turn on "any dates" tracking.
And what about the risk-averse who prefer a guaranteed thing? Some Google Flight search results now include a price-guarantee badge, indicating that Google is so confident that the shown fare will not decline before departure that it will repay the difference if it does.
The most-searched locations on Google Flights this year for travellers planning a vacation to Europe during the holiday season are the perennial favourites, London and Paris.
Google Flights is a flight search engine and travel planning tool developed by Google. It allows users to search for flights, compare prices, and find the best travel options for their needs. Here are some key features and functions of Google Flights:
Flight Search: Users can enter their departure city or airport, destination, travel dates, and other preferences to search for available flights.
Price Comparison: Google Flights provides a user-friendly interface for comparing prices from different airlines and travel agencies. It helps users find the most affordable options for their desired routes.
Flexible Date and Destination Search: You can explore flight options for different dates and destinations to find the best deals or plan a trip with flexible travel dates.
Explore Destinations: Google Flights has a feature that allows users to explore destinations based on their interests, budget, and travel dates. This can help travelers discover new places to visit.
Track Prices: Users can track flight prices for specific routes and receive notifications when prices drop, allowing them to book at the best time.
Filter and Sorting Options: Google Flights offers various filters and sorting options to help users narrow down their search results by factors such as airlines, layovers, departure times, and more.
Multi-City and Multi-Airline Bookings: Users can book multi-city trips and even mix and match airlines to create custom itineraries.
Information and Tips: Google Flights provides information about baggage fees, in-flight amenities, and other travel details to help users make informed decisions.
Integration with Google Services: It seamlessly integrates with other Google services like Google Calendar, allowing users to easily add their travel plans to their calendar.
Mobile App: Google Flights has a mobile app available for both Android and iOS devices, making it convenient for travelers to search for and book flights on the go.
It's important to note that while Google Flights is a powerful tool for researching and planning flights, the actual booking process may redirect you to the airline's website or a third-party booking platform to complete your reservation. Always double-check the details and terms before making a booking.
Hurricane Lee Swirls Through Open Waters On A Path Toward Atlantic Canada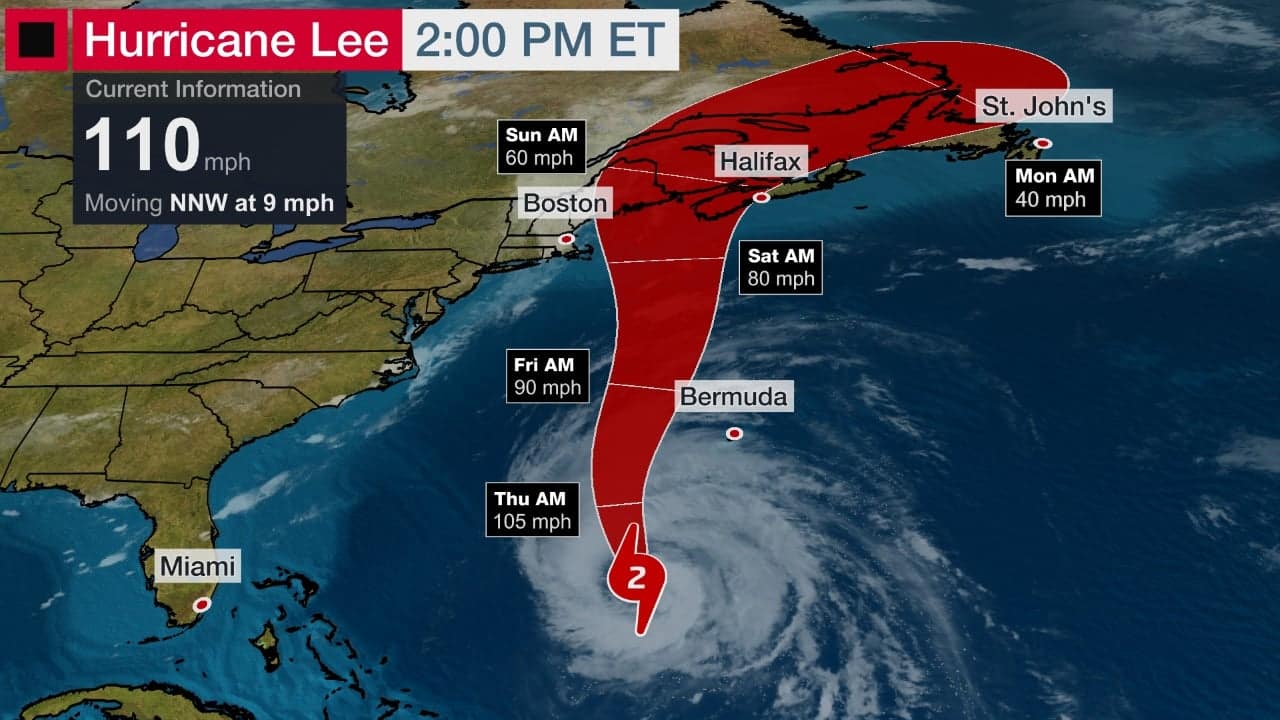 SAN JUAN, Puerto Rico – Hurricane Lee made landfall north of Puerto Rico on Tuesday as a Category 3 storm, with forecasts predicting it will continue in open waters through this week as it makes its way into Atlantic Canada.
The hurricane Leewas 535 miles (860 km) south of Bermuda. It had gusts of up to 115 miles per hour (185 kilometers per hour) and was heading west-northwest at 7 miles per hour (11 kilometers per hour).
The National Hurricane Centre has issued a tropical storm warning for Bermuda, with Lee expected to pass just west of the island late Thursday. Lee was described as "a very large hurricane," with hurricane-force winds extending up to 125 miles (205 kilometers) from the center and tropical-storm-force winds extending up to 240 miles (390 km).
According to AccuWeather, hurricane Lee was expected to weaken into a tropical storm by Sunday and land in Nova Scotia, Canada.
"A significant storm surge will occur, along with the strongest winds and the risk of property damage," AccuWeather stated.
According to forecasters, wind and flooding are also likely across Rhode Island, eastern Massachusetts, southeastern New Hampshire, and central and coastal Maine.
Hurricane Lee is forecast to weaken as it moves into colder waters in the coming days.

Hurricane Lee made landfall north of Puerto Rico on Tuesday as a Category 3 storm.
"Regardless of the forecast weakening, keep in mind that hurricane Lee's expanding wind field will produce impacts well away from the storm centre," the hurricane center stated.
Lee was causing dangerous surf and rip currents for the Lesser Antilles, the British and United States Virgin Islands, Puerto Rico, Hispaniola, the Turks and Caicos Islands, the Bahamas, Bermuda, and most of the United States East Coast.
"It is too early to predict what level of additional impacts hurricane Lee may have along the northeastern United States coast and Atlantic Canada late this week and this weekend," the National Hurricane Centre warned.

Hurricane Lee is the 12th named storm of the Atlantic hurricane season, which begins on June 1 and ends on November 30.
Meanwhile, Margot became the season's fifth named hurricane on Monday. It was approximately 835 miles (1,345 km) west of the Azores. It had maximum sustained winds of 80 miles per hour (130 kilometers per hour) and was traveling north at 14 miles per hour (22 kilometers per hour). Margot is expected to remain in open waters.
The National Oceanic and Atmospheric Administration predicts 14 to 21 named storms this season. Six to eleven of these are likely to strengthen into hurricanes, with two to five of those developing into Category 3 or higher storms.
SOURCE – (AP)