Thieves Sell Couple's Home for $1.7 Million in Toronto Canada Through Title Fraud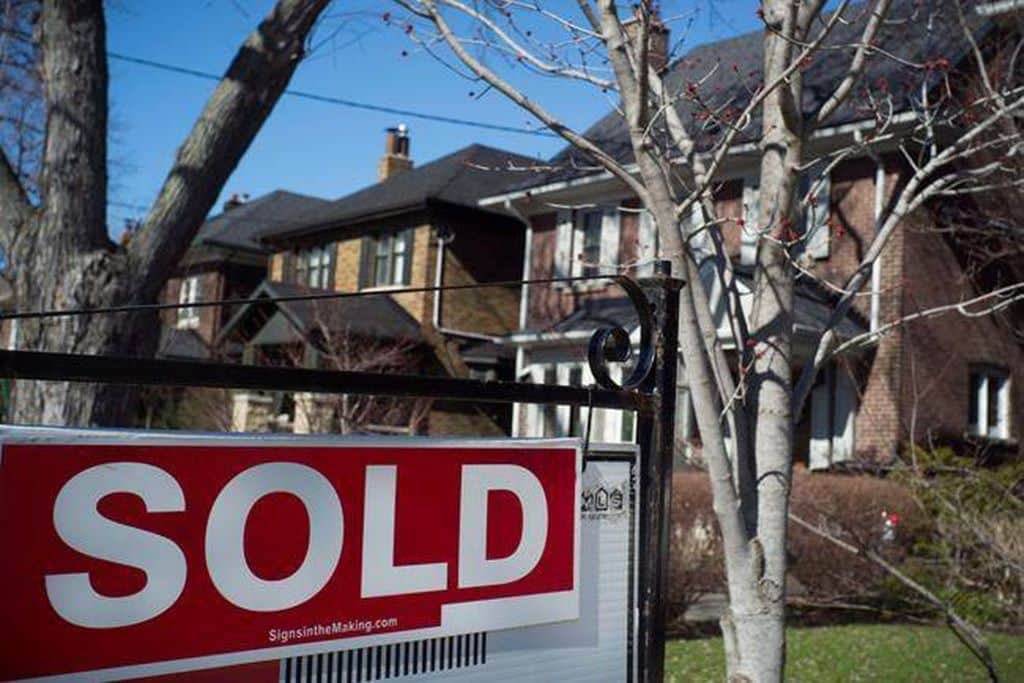 A couple from Toronto, Canada, recently discovered that thieves sold their home for $1.7 million while the couple was in the UK. Authorities say this type of theft is not common, but there has been a noticeable increase in comparable occurrences in the country's most populous metropolis.
Early this year, Toronto police said they needed the public's assistance in apprehending two suspects involved in a complex fraud scheme.
According to the BBC, the suspects used forged identities to pose as city property owners. They sold the house and handed the keys to the unwitting new owners. The true owners of the house had been out of the country on business since January 2022.
After noting that their mortgage payments had vanished from their bank accounts, the out-of-town couple discovered that their home had been sold without their knowledge.
The incident piqued the interest of many Canadians, particularly in the Greater Toronto Area and Vancouver, where real estate is considered a national obsession due to its high cost – the average home costs more than $ 1 million, and homes are scarce.
Similar claims from other Toronto property owners have emerged, and police say these previously uncommon examples of property title fraud appear to be on the rise.
These situations are "certainly unique to this moment in time," according to Trevor Koot, CEO of the British Columbia Real Estate Association and a nearly 20-year industry veteran.
"I've never seen anything like it," he stated, referring to the complexity employed to carry out these crimes.
What exactly is title fraud? How much has it increased in Toronto, Canada?
Mortgage fraud and title fraud are common schemes involving home or property ownership.
According to Brian King of King Advisory International Group, a Toronto-based organization investigating white-collar crime, mortgage fraud is more widespread.
Why does it take 30 years in Canada to buy a house?
It is committed when a fraudster uses forged identifying documents to get a second mortgage on a home in Canada they do not own, usually after the first mortgage has been paid off in full or almost so.
On the other hand, title fraud entails tenants impersonating the owner of a vacant home and selling it to serious buyers. This results in the property's total title transfer.
If the home has title insurance, the true owner and buyer in Canada can usually obtain most of their money back. The insurance covers legal expenditures paid during the procedure and aids in re-establishing ownership.
Mr. King stated that he had seen increased mortgage and title fraud frequency since 2020.
According to him, his firm has experienced a "rash" of title fraud in recent years. In almost all cases, the homeowners lived elsewhere when fraudsters took over their property, in nations such as the United States and China.
Mr. King mentioned a couple from Toronto who relocated to the UK for work in 2018. Their house in Canada was later sold from beneath them in 2022. It was sold for C$1.7 million and had been completely refurbished when they discovered it had been stolen in June. As of February, the couple was still working on getting their home's title returned.
According to John Rider, vice-president, between the 1960s and 2019, Chicago Title Insurance Company's Canada branch saw only two occurrences of fraud – mortgage and title.
They are currently dealing with scores of cases, including at least five examples of title fraud, all in the Greater Toronto Area, which covers the city and adjacent towns.
Comparable incidents of title fraud have appeared in the province of British Columbia, which is home to the city of Vancouver, where the typical home costs C$1.1 million, albeit on a less frequent basis.
The BC Land Title and Survey Authority (LTSA) reported two attempts at title fraud since 2020, just one of which was successful. The public corporation noted that it is only aware of one previous incidence in 2019 and two in 2008 and 2009.
It claims that these fraud cases are extremely unusual, even though the LTSA processes up to one million land title applications annually.
Why are there more reports of title fraud?
Scientists are baffled as to why there has been such an increase in reported cases, notably in Toronto.
Mr. King believes that virtual real estate transactions during the pandemic may have made it more difficult to detect phony identification documents. He also mentioned that the epidemic had compelled some people to stay away from their homes for prolonged periods because to travel restrictions.
Others have noted the increasing sophistication of the criminals, some of whom have been tied to organized crime and appear to have a thorough understanding of the real estate sector in Canada.
According to Mr. Rider, the phony Identities used in these transactions frequently appear authentic, and offenders would hire professional actors to pose as homeowners and carry out the operation.
"IDs are so easily falsified now that they can't be relied on to close a $3 million transaction," Mr. Rider added.
There is also the financial aspect of these crimes. Real estate in Toronto, Canada, has appreciated dramatically over the last two decades, with the average property costing C$198,150 in 1996. It was C$1.18m last year.
"It makes logical that there is a lot of emphases on where real estate is very valuable," said Ron Usher, general counsel for the Society of Notaries Public in British Columbia, Canada.
However, Mr. Usher noted that little is known about these alleged incidents of title fraud, which are frequently complex.
"These are not easy crimes to commit, and they are frequently caught and prevented."
He and others have asked for a national review to discover the underlying causes and whether more can be done to protect Canadian homeowners.
Dianne Feinstein: 'Pioneering' Senator Dies Aged 90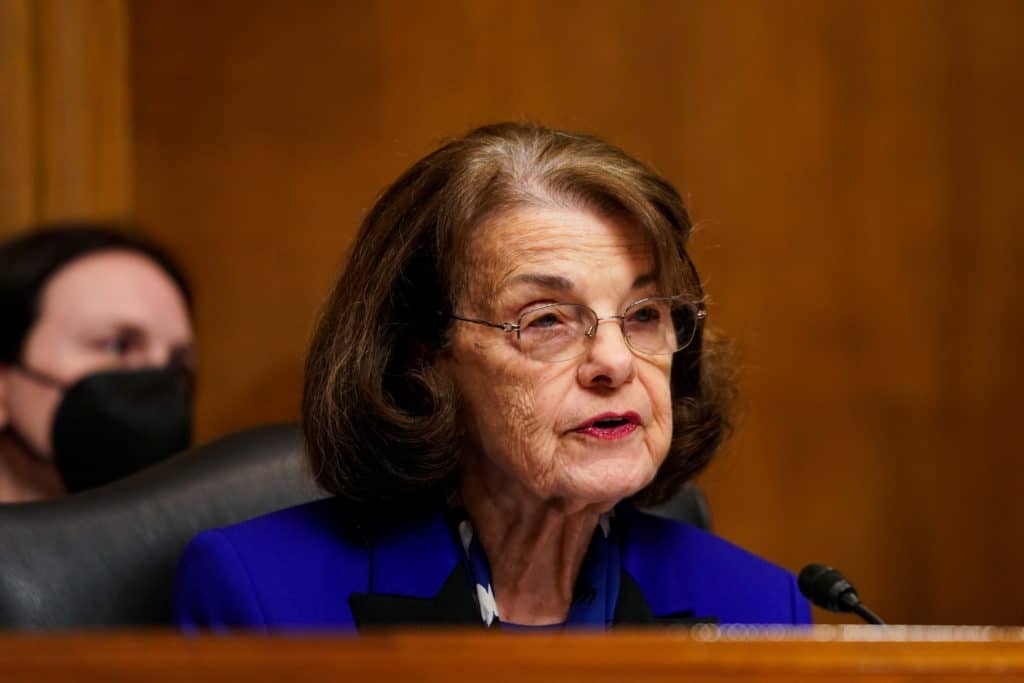 Senator Dianne Feinstein of California, who served for more than three decades and was a pioneer for women in American politics, passed away at 90.
Feinstein was the eldest senator in the United States, and she voted on Thursday.
The veteran Democrat was questioned about alleged memory and cognitive issues for months.
After a "minor fall" at home in April, she was admitted to the hospital, the latest in a series of health concerns.
The office of Ms. Feinstein stated in a statement that she died overnight at her residence in Washington, DC.
The statement continued, "Senator Feinstein was a force of nature who had an enormous impact on our country and her home state." She left an incontestable and extraordinary legacy.
Governor Gavin Newsom of California must now appoint her replacement. He had previously promised to nominate a black woman to serve the remainder of her term, which ends in 2025.
Ms. Feinstein, born in 1933 and grew up in San Francisco, attended Stanford University and was elected to the San Francisco County Board of Supervisors in 1969.
This election marked the beginning of a long career in public service that led her to become the first female mayor of San Francisco and, in 1992, a senator.
She had previously proclaimed her intention to retire at the end of the following year, but she resisted mounting pressure. Several prominent Democrats, including Representatives Adam Schiff and Katie Porter, have previously declared their intentions to run for her Senate seat.

Senator Dianne Feinstein of California, who served for more than three decades and was a pioneer for women in American politics, passed away at 90.
In a statement issued after her passing, US President Joe Biden said that Ms. Feinstein "made history in so many ways, and generations to come will benefit from her legacy."
Due to a case of shingles, she was absent from Capitol Hill for nearly three months earlier this year. Upon her return, she assumed fewer responsibilities and used a wheelchair to navigate the US Capitol. She occasionally appeared perplexed in interviews, committee hearings, and floor votes.
Ms. Feinstein was well-known for her ardent support of gun control measures and the 1994 assault weapons prohibition signed into law by President Bill Clinton.
After the murders of her predecessor, George Moscone, and city councilman Harvey Milk, she became mayor of San Francisco in 1978.
She stated that the experience of racing to Mayor Moscone's office and discovering a bullet wound while searching for his pulse had left an indelible mark on her.
As a senator, Ms. Feinstein was the first woman to chair the influential Senate Intelligence Committee, overseeing a multi-year evaluation of the CIA's controversial interrogation program of foreign terrorists following the September 11, 2001, terrorist attacks.
The evaluation ultimately resulted in legislation prohibiting "enhanced interrogation techniques" on terrorism suspects, such as waterboarding.

Senator Dianne Feinstein of California, who served for more than three decades and was a pioneer for women in American politics, passed away at 90.
Ms. Feinstein was the first woman to serve on the Senate Judiciary Committee and the first woman to lead the Senate Rules Committee.
Nancy Pelosi, a Democrat from California, described Dianne Feinstein as a "pioneering woman leader" in a statement.
"Dianne's extraordinary career will inspire countless women and girls to pursue careers in public service for generations to come," she said.
On the Senate floor, Republican minority leader Mitch McConnell praised "her dogged advocacy and diligent service".
In recent years, concerns about her deteriorating health and cognitive abilities have prompted calls for her retirement and brought attention to the aging of America's legislators.
During a committee vote, individuals around her could be heard in a widely circulated video telling her to "just say yes."
Despite mounting family tensions, she is succeeded by a daughter, Katherine, who reportedly held power of attorney over her mother's legal affairs. Richard Blum, her investment banker spouse, passed away last year.
SOURCE – (BBC)
New York City: State Of Emergency Declared Over Flash Flooding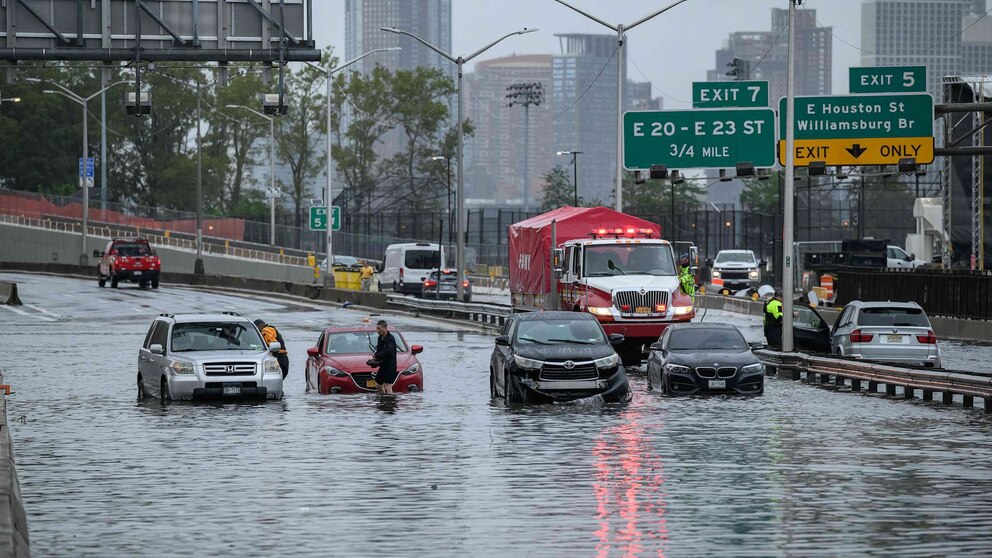 In New York City, a state of emergency has been declared as violent storms deliver flash flooding.
Many of the city's subways, streets, and highways have been inundated, and LaGuardia Airport closed at least one terminal on Friday.
According to New York Governor Kathy Hochul, some areas received up to five inches (12.7cm) of rain overnight, and up to seven more inches (17.8cm) are expected.
"This is a dangerous, life-threatening storm," she continued.
She announced on X, formerly known as Twitter, that she was proclaiming a state of emergency in New York City, Long Island, and the Hudson Valley due to the region's extreme rainfall.
She urged individuals to take precautions and to "never attempt to travel on flooded roads."
As a result of the declaration of a state of emergency, New York City Mayor Eric Adams issued a call for "heightened alertness and extreme caution."

In New York City, a state of emergency has been declared as violent storms deliver flash flooding.
"Some of our subways are flooded, and it is extremely difficult to move around the city," he said at a press conference.
Due to intense rainfall, people were pictured and captured on video wading through knee-deep water in the streets and subways.
The Metropolitan Transportation Authority (MTA) advised individuals who did not need to travel to remain at home.
Terminal A at La Guardia Airport is presently closed due to flooding, according to airport authorities.
Before traveling, passengers were instructed to verify with their airline.

The New York City Police Department also announced multiple road closures and the deployment of the National Guard.
Elsewhere, traffic stopped along a section of the FDR Drive, a significant thoroughfare on the east side of Manhattan, as the water rose above the tires of automobiles.
In addition, employees attempted to unclog a drain in South Williamsburg, Brooklyn, while cardboard and other debris floated by.
According to municipal officials, there were no storm-related fatalities or serious injuries as of midday (1600 GMT).
The weather service has issued flood warnings and advisories for approximately 18 million people in the New York metropolitan area and other major East Coast cities.
SOURCE – (BBC)
Disney Plus Announces Crackdown On Password Sharing In Canada In 2023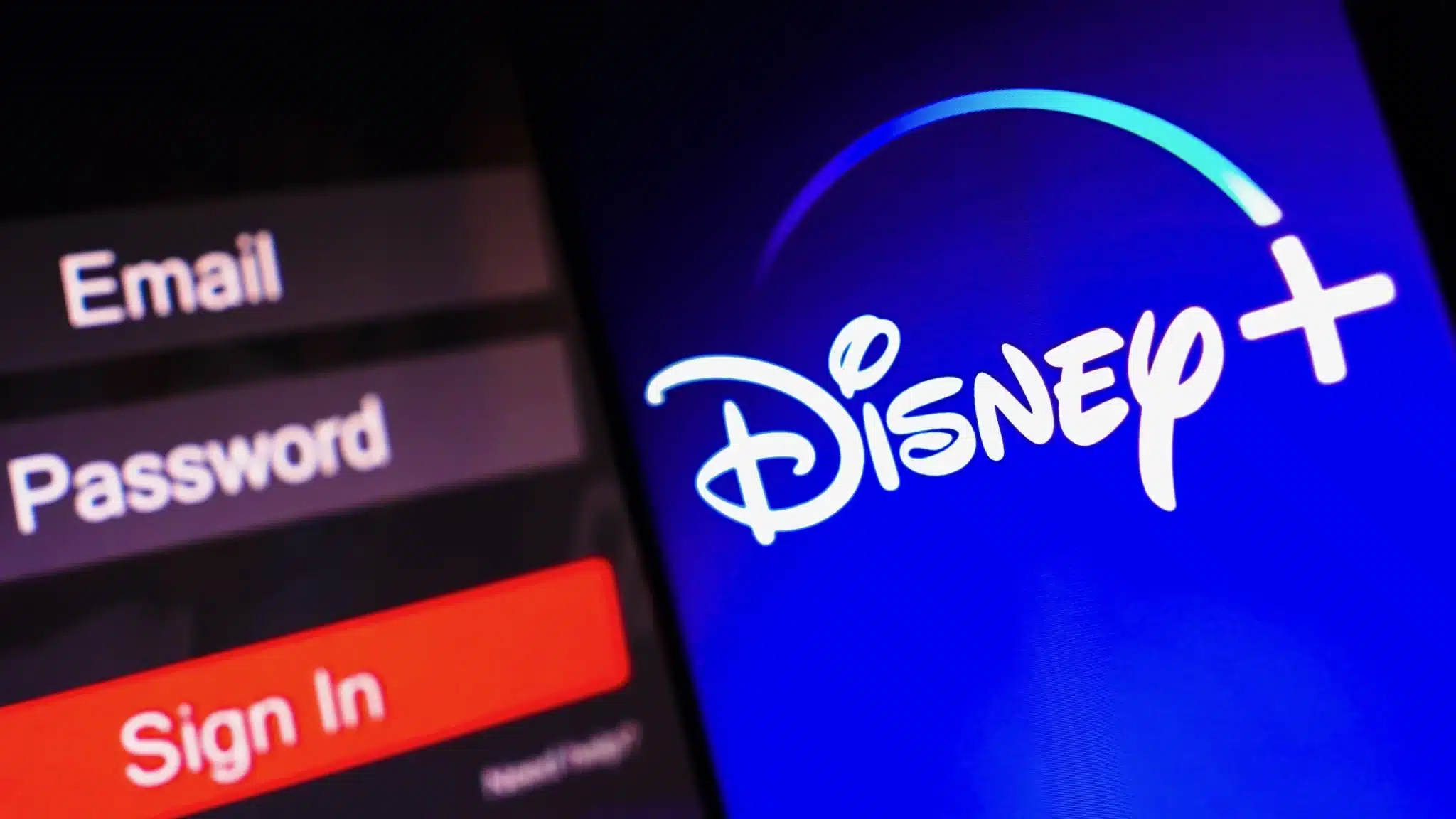 NEW YORK — Today, password-sharing crackdowns are becoming increasingly prevalent in the streaming industry. In addition, Disney Plus follows suit.
In an email sent to Canadian users this week, Disney announced restrictions on the "ability to share your account or credentials outside of the household."
The updated Canadian Subscriber Agreement for Disney Plus stipulates that users may only share a subscription within their domicile if permitted by their account tier and that violations may result in Disney Plus limiting or terminating service. According to the streamer's help center, "Household" refers to the collection of devices associated with a subscriber's principal residence and used by the residents.
These password-sharing restrictions are part of multiple revisions to the Disney Plus Subscriber Agreement that will go into effect on November 1 for most Canadian users. According to this week's email, annual subscribers in Quebec may see the changes a bit later, depending on their billing cycle, while users who alter their plan before November 1 will see the changes take effect immediately.
As previously disclosed in August, Disney Plus will launch its ad-supported tier offerings in Canada and select European markets on November 1. The ad-supported tier of Disney Plus has been available in the U.S. since December 2022.

Disney Plus Announces Crackdown On Password Sharing In Canada
When contacted by The Associated Press, a Disney Plus spokesperson declined to comment on whether similar domestic restrictions could be anticipated in countries other than Canada.
In a recent earnings call, Walt Disney Co. CEO Bob Iger pledged to make the company's streaming services profitable, notably through an October price increase on its ad-free Disney+ and Hulu plans in the U.S. and a restriction on password sharing that is expected to last through 2019.
At the time, Iger did not elaborate on the password-sharing crackdown beyond stating that Disney could reap some benefits in 2024, although he added that the work "might not be completed" by then and that Disney could not predict how many password-sharing users would switch to paid subscriptions.
New restrictions on streaming extend far beyond Disney. Netflix, for instance, made headlines when it began clamping down on password sharing. Freeloading viewers are now required to open their accounts in the United States unless a subscriber with a standard or premium plan agrees to pay a $8 monthly surcharge to enable more people from different households to watch.
SOURCE – (AP)