Spanish Soccer Player Jenni Hermoso Accuses Luis Rubiales Of Sexual Assault For World Cup Kiss
MADRID, Spain — According to the country's prosecutors' office, a Spanish soccer player, Jenni Hermoso, accused Luis Rubiales of sexual assault for kissing her on the lips without her consent after the Women's World Cup final.
Rubiales, the now-suspended president of the Spanish football federation, kissed Hermoso on the lips during the awards ceremony on August 20 in Sydney, Australia, after Spain defeated England to win the title.
Rubiales has stated that the kiss was mutual. Hermoso and her players' union have both refuted this in statements. She also claimed that the federation pressured her and her family to show their support for Rubiales in the early aftermath of the incident caused by the kiss that marred her team's victory.
According to the prosecutors' office in Madrid, if proven guilty, Rubiales could face a fine or a prison sentence of one to four years under a sexual consent statute passed last year. The new law abolished the distinction between "sexual harassment" and "sexual assault," making any unconsented sexual behavior legal.
The Spanish government, players' unions, players, and many citizens have all backed Hermoso. Meanwhile, Rubiales has become a football outcast despite his refusal to retire.
FIFA suspended Rubiales on August 27, a day after he refused to resign during a belligerent speech to his federation's general congress, in which he claimed he was the victim of a "witch hunt" by "false feminists." Rubiales was suspended for 90 days while the body's disciplinary judges considered his case. Individuals might face consequences ranging from warnings and fines to suspensions from the sport.

Spanish soccer player Jenni Hermoso, accused Luis Rubiales of sexual assault for kissing her on the lips without her consent after the Women's World Cup final.
Rubiales, 46, is also facing legal action from the Spanish government. A government legal commission regulating sports has launched an investigation to investigate whether he abused his authority by kissing Hermoso or tarnished Spain's image with his actions. He might be removed from his position for up to two years if declared unfit.
He could face a no-confidence vote from the federation, which has yet to take action despite urging him to go.
However, Hermoso's judgment constitutes the most significant challenge to Rubiales thus far because it could result in a criminal case.
According to the prosecutor's office, Hermoso claimed on Tuesday. Prosecutors stated last week that they would meet with Hermoso to allow her to present an accusation against Rubiales. Rubiales considers Interim Federation President Pedro Rocha to be an ally.
Rubiales said in his statement to the federation legislature on August 26 that the kiss was "mutual" and similar to one "I could give one of my daughters."
Hermoso stated that it was a falsehood.

Spanish soccer player Jenni Hermoso, accused Luis Rubiales of sexual assault for kissing her on the lips without her consent after the Women's World Cup final.
"I felt vulnerable and a victim of an impulse-driven, sexist, out-of-place act without any consent on my part," Hermoso stated in a social media message. "Simply put, I was not respected."
Hermoso, a 33-year-old forward, now plays for Pachuca in Mexico after a long career with prominent Spanish and European clubs such as Barcelona, PSG, and Atletico Madrid.
Rubiales' behavior in the final, which included a crude crotch grab near dignitaries such as Spain's queen and a juvenile princess and his contentious statement have shattered Spanish football.
On Tuesday, the federation fired Jorge Vilda, the coach of Spain's Women's World Cup-winning squad. Despite leading the club to victory, Vilda was disliked among the team's players and was close to Rubiales. 15 players told him a year ago that they would only play for him if he developed a more professional work atmosphere.
After Rubiales refused to step down last week and accused Hermoso of lying, the whole World Cup team and dozens of other players vowed they would not play for Spain again unless the president were removed.
Spain's men's national team has also suffered. Coach Luis de la Fuente had to apologize for applauding Rubiales' sexist speech to the general assembly. In a statement, his teammates also denounced Rubiales' behavior.
So far, there is no sign that the female players would return to the team, even once Vilda is removed.
Spain's left-wing government and female soccer players hope the backlash against Rubiales will force a reckoning with sexism in the sport.
SOURCE – (AP)
Taylor Swift Watches Travis Kelce's Chiefs Take On The Jets At MetLife Stadium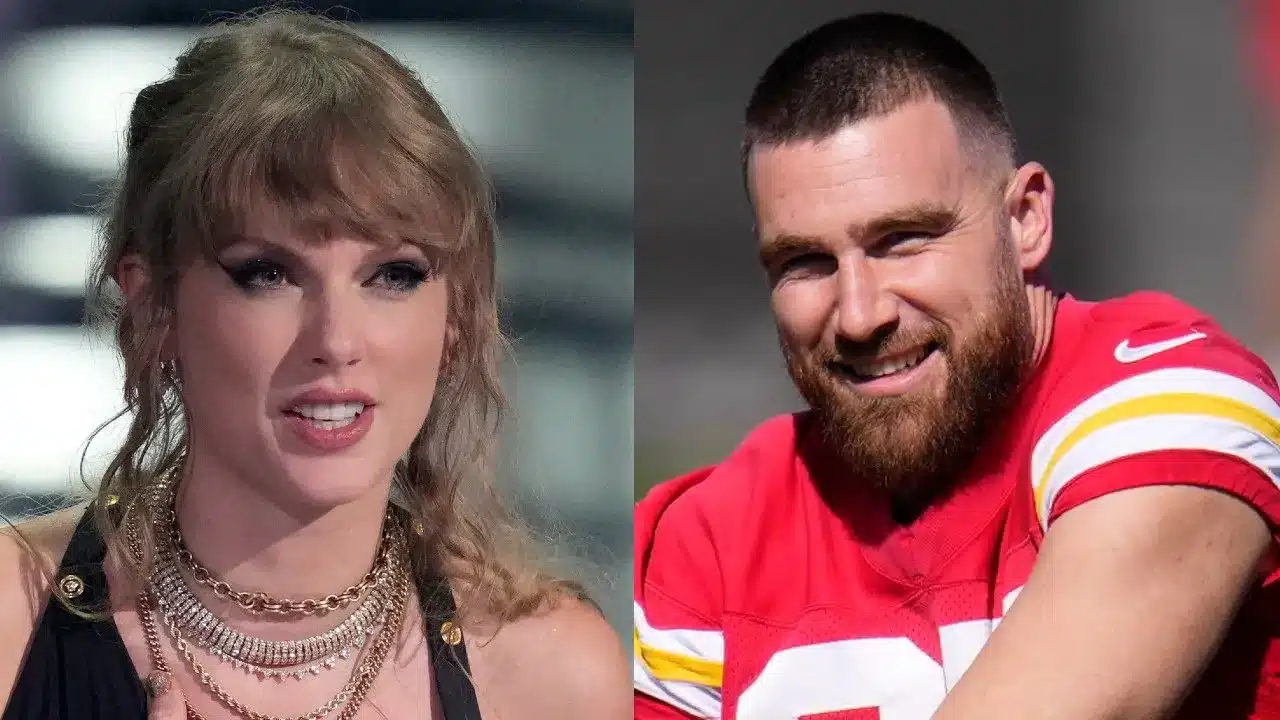 EAST RUTHERFORD, New Jersey — Taylor Swift could not pass up another opportunity to observe Travis Kelce play football.
The 12-time Grammy Award winner arrived at MetLife Stadium approximately forty minutes before Sunday night's kickoff to witness Travis and his Kansas City Chiefs defeat the New York Jets 23-20.
Swift, wearing blue jean shorts, a black long-sleeved top, and a leather jacket, entered the stadium's security area with actors Ryan Reynolds, Blake Lively, and Hugh Jackman, as captured by SNY. NBC's broadcast cut to Swift multiple times during the game, including a shot of the pop star with her arm around Donna Kelce, who was donning her son's No. 87 jersey.
Swift's appearance comes a week after she attended Arrowhead Stadium, dressed in red and white, to witness the Chiefs' 41-10 home victory over the Chicago Bears with Donna Kelce. Swift accepted the All-Pro tight end's invitation to observe the game and had to see more of Travis and the Chiefs in action.
Taylor Swift is on a break from her Eras Tour, which resumes on November 9 in Buenos Aires, Argentina. Travis acknowledges Swift's daring appearance at the Chiefs game but remains tight-lipped about their relationship. Twenty minutes before commencement, NBC aired a tour advertisement.

Taylor Swift could not pass up another opportunity to observe Travis Kelce play football.
Swift is familiar with MetLife Stadium, having performed three sold-out concerts there in May. Two of those performances were attended by Jets quarterback Aaron Rodgers, who returned to the team this past weekend after tearing his left Achilles tendon on the fourth play of his September 11 debut.
Rodgers attended a squad meeting on Saturday evening and was at the stadium to observe player warmups on Sunday evening.
Swift and Kelce have not disclosed details about their relationship. Kelce stated on his podcast "New Heights with Jason and Travis Kelce" earlier this week that Swift "looked amazing" at the contest.
Regarding her time spent in the suite, Kelce stated, "Everyone was speaking positively about her." "Moreover, the day proceeded flawlessly for Chiefs fans. Naturally, we plan everything, ladies and gentlemen."
Kelce invited Swift to that game after failing to present her a friendship bracelet during the Kansas City stop of her Eras Tour.
SOURCE – (AP)
Andretti Global Clears First Hurdle To Join Formula One As An 11th Team With FIA Expansion Approval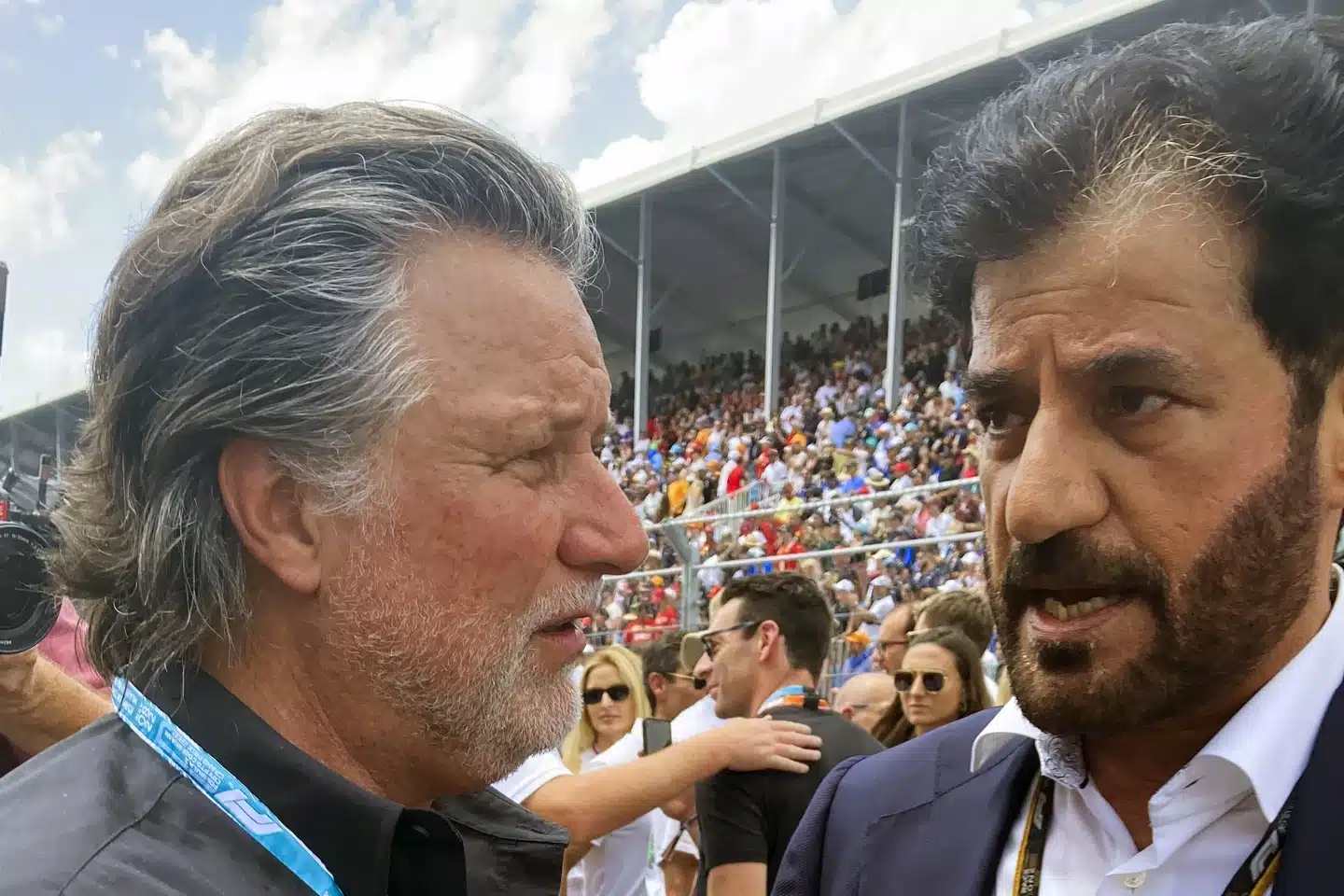 Monday, the FIA announced that American Michael Andretti satisfies all requirements to expand the world's premier motorsports series to 11 teams, removing a significant obstacle in his bid to launch a Formula One team.
The FIA decision does not guarantee Andretti will get the two-car team he desires. Andretti Global and its associate Cadillac must still demonstrate their commercial value to F1 rights holder Liberty Media and the existing teams, who adamantly oppose expanding the grid to twenty cars. However, the teams have no say in the expansion of the grid.
F1 said in a statement, "We note the FIA's conclusions regarding the first and second phases of their process and will now conduct our own evaluation of the remaining application's merits."
The FIA's approval was a crucial first step in Andretti's three-year mission to restore one of auto racing's most storied names to the pinnacle of the sport. His son Michael competed in 13 races during the 1993 season. Mario Andretti earned the F1 championship in 1978.
Father and son are among the most successful open-wheel racers in American history and rank third and fourth on IndyCar's all-time tally of winners. They have been attempting to reintroduce the Andretti name to F1 for years and have cleared an impediment by securing Mohammed Ben Sulayem's support for the effort.

Monday, the FIA announced that American Michael Andretti satisfies all requirements to expand the world's premier motorsports series to 11 teams.
Ben Sulayem stated, "The FIA is obligated to approve applications that meet the Expression of Interests application requirements, and we followed this procedure in deciding that Andretti Formula Racing LLC's application would advance to the next stage of the application process."
"Andretti Formula Racing LLC was the only entity that met the established selection criteria in all material respects. I commend Michael Andretti and his team for their comprehensive submission."
After Andretti petitioned for the grid to be expanded to enable new entrants, Ben Sulayem, who assumed leadership of the FIA in late 2021, oversaw the opening of an "expression of interest" process for potential new teams this year. Andretti's action followed an abortive 2021 attempt to acquire an existing team.
In the initial phase, seven applicants were received by the FIA. Five made it to the second round, which required a $300,000 fee and a thorough investigation by the F1 governing body. Andretti, whose engines would be General Motors-branded under the Cadillac banner, was considered the only worthy applicant out of four who completed the process.
The applicant had to satisfy FIA's sporting, technical and financial requirements to be recommended as a future team. Ben Sulayem stated on Monday that "our goal, after rigorous due diligence during the application phase, was to only approve prospective entries that met the established criteria and demonstrated they would enhance the sport."

Monday, the FIA announced that American Michael Andretti satisfies all requirements to expand the world's premier motorsports series to 11 teams.
Most existing teams have publicly opposed expanding the grid for anyone, including a General Motors-sponsored American. This year, there will be three F1 races in the United States and five in North America. The series has targeted a new sponsorship market by capitalising on the popularity of the European racing series in the United States.
But the existing teams, namely Red Bull and Mercedes, argue that they need to invest more heavily in F1 for anyone to buy their way in. Any new entrant must pay a $200 million anti-dilution fee, but the teams have argued that expansion reduces their financial share.
And if Andretti desires a team so badly, they say, he should buy one.
In 2016, Gene Haas founded the only American-owned team. Andretti has stated that his team will be the true American squad with an American driver, GM's support, and an American sponsor.
Ben Sulayem has backed the Andretti effort and stated that the Andretti name and General Motors contribute too much to the series to be rejected outright for future teams. Furthermore, Andretti does not have a financial stake in F1's profits like Liberty and the existing teams do.
Ben Sulayem said opening the procedure for new teams to join "also attracted further commitment from Audi, Honda and Ford and interest from Porsche and General Motors."
This was the third time the FIA had solicited expressions of interest from prospective teams. The first, in 2009, resulted in four teams joining the series, but they all subsequently declared bankruptcy and left the sport. As a result, the requirements to join F1 and the application procedure have become extremely stringent.
Haas obtained his team in a 2014 expression of interest and continues to compete in Formula One.
SOURCE – (AP)
Europe Sweeps Opening Session In Ryder Cup To Put USA In 4-0 Hole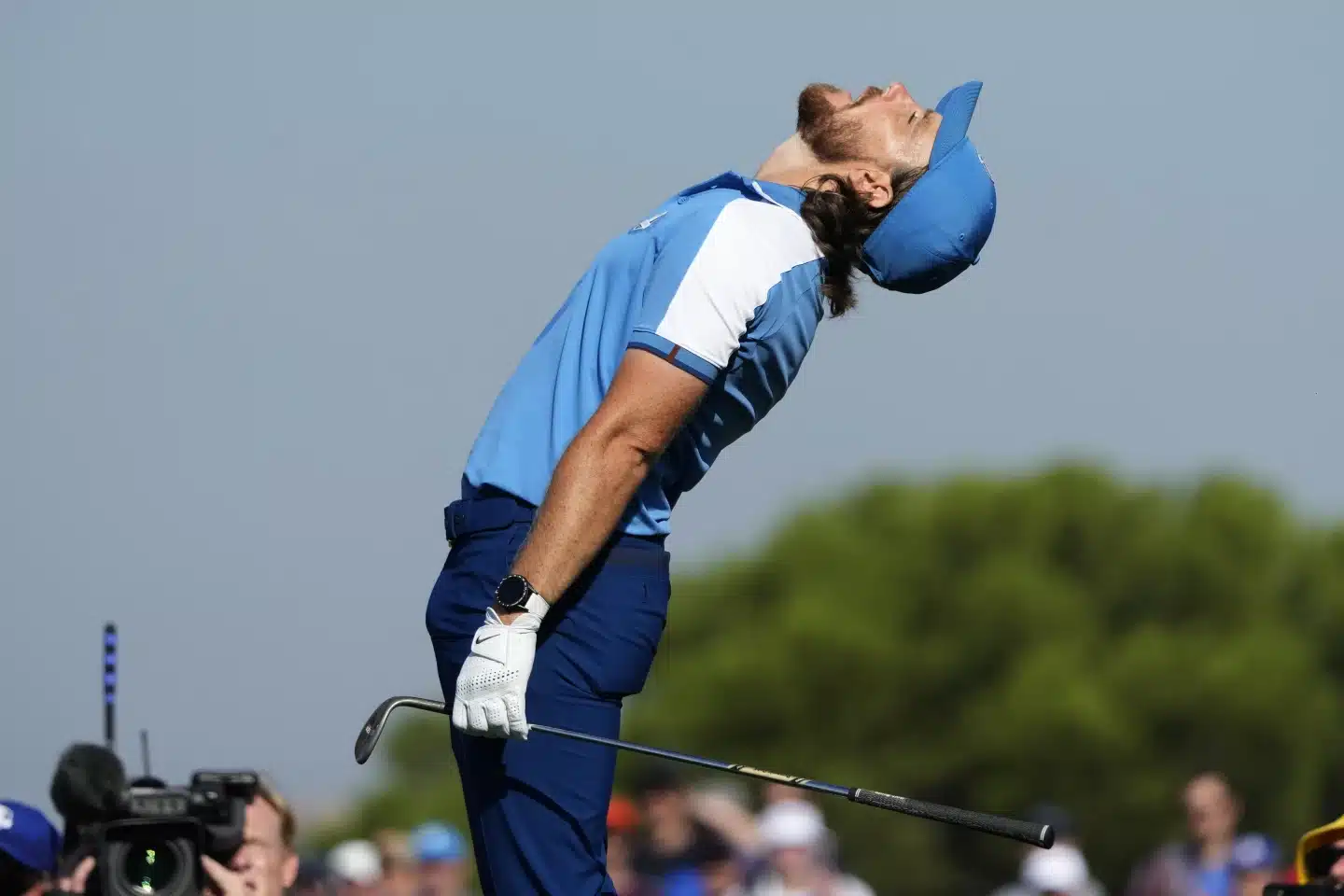 GUIDONIA MONTECELIO, Italy Ryder Cup — In front of a delighted crowd at Marco Simone, Europe gave the United States a rude welcome and a stark reminder of why it has been 30 years since they last won the Ryder Cup away from home by sweeping the opening session for the first time.
This defeat on Friday morning was so comprehensive that no match reached the 18th hole.
Jon Rahm made a 30-foot putt from off the second green and launched a tee shot at the par-3 seventh that struck the bottom of the hole. On the first hole, Viktor Hovland moved his team by chipping off the tight grass of the fringe, over a ridge, and into the cup.
Rory McIlroy delivered the final dagger, a tee shot to 2 feet on the par-3 17th hole, as he and Tommy Fleetwood, dubbed "Fleetwood Mac" for this Ryder Cup, dealt Patrick Cantlay and Xander Schauffele their first defeat in foursomes.
Luke Donald, captain of Europe, appeared to be a visionary by beginning the match with foursomes, the more difficult format of alternate shots. Europe has always begun the Ryder Cup at home with four balls since 1993, the last time Europe suffered a home loss.
He believed his team was statistically superior in foursomes and desired a quick start. According to McIlroy, Donald had Europe compete in three-hole competitions during practice to instill a sense of urgency.

Europe has always begun the Ryder Cup at home with four balls since 1993, the last time Europe suffered a home loss.
Whatever the strategy, it nearly succeeded.
According to McIlroy, Luke has instilled in us the importance of getting off to a quick start, which has dominated our conversations all week. As evidenced by how everyone played, we were prepared from the first tee shot.
U.S. captain Zach Johnson also had a plan for the five sessions, only this beating was so meticulous it brought to mind what heavyweight Mike Tyson once said of Evander Holyfield. "Everyone has a plan, until they get punched in the mouth."
The Americans were indeed wounded. They never held the advantage in any of the four contests.
Johnson's strategy included benching Jordan Spieth and Justin Thomas, who had a 3-1 record outside of Paris in the previous Ryder Cup in Europe. PGA champion Brooks Koepka and U.S. Open champion Wyndham Clark were also seated. The bench has a combined 11 career home runs.
"This was only the initial occurrence. It will be necessary to make adjustments across the board. We will be okay. "I'm not concerned," Schauffele said. "I am not concerned. Our team is robust. These young men will be greedy in their upcoming matches."
The Americans had to maintain parity in the afternoon fourballs, which featured four new partnerships for both teams and guaranteed participation by all 12 players.
Schauffele and Cantlay were 5-0 in foursomes at the Ryder Cup and Presidents Cup, and their match appeared to be a nail-biter. Europe was leading by one when it lost its position on the 15th hole, and McIlroy made a par putt from 20 feet with a wedge. Cantlay had 25 feet to make an eagle.
Cantlay's putt rolled about 4 feet past the hole, and then the momentum shifted: Fleetwood made the largest putt of the match, while Schauffele missed the 4-footer. Instead of the match being tied with three holes remaining, Europe was two up and on the verge of gaining another point.

Europe Sweeps Opening Session In Ryder Cup To Put USA In 4-0 Hole
"Waiting for a moment like that all day," Fleetwood stated. It's just another one of those Ryder Cup instances, and that's why we're playing.
Scheffler struck the first tee shot, but not before a spectator yelled, "You stink, Scottie!" as he prepared to swing. Typical of the Ryder Cup, there was much hissing, and Europe heard far worse at Whistling Straits and Hazeltine.
Scheffler and Sam Burns' partnership record at two cups plummeted to 0-3-1, and they could experience Rahm in his entirety.
At the turn, Rahm and Tyrrell Hatton were two strokes ahead but in trouble: shin-high rough on the left, more rough on the right, and still short of the green after three shots on the par-4 10th. Rahm had to get it up and down from 70 feet away to have any hope of not losing the hole. Then he buried the chip, forcing Scheffler to sink a putt from 8 feet to avoid falling further behind.
Shane Lowry and Sepp Straka won 4-and-3 against Collin Morikawa and Rickie Fowler to earn Europe's other point. Europe led by four strokes at the turn, while the United States managed only one birdie and four bogeys.
Morikawa stated, "Giving away holes is the worst feeling, and we did it far too often." "And we still dropped as low as 17." We were engaged in combat, but nothing was penetrating."
SOURCE – (AP)