King Charles To Get 75th-Birthday Call From Prince Harry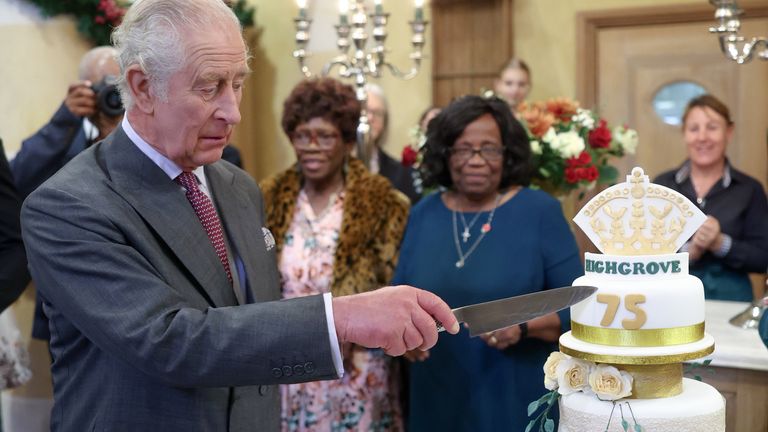 King Charles traditionally celebrated his 75th birthday by launching a project to assist people facing food insecurity.
However, it is expected that Charles would receive a birthday greeting from his younger son, Prince Harry, via a transatlantic phone conversation.
The King's birthday celebrations will also include a reception for NHS nurses and midwives.
There have been ceremonial gun salutes fired, including at the Tower of London.
The King's birthday obligations have highlighted public service rather than extravagant partying. However, a private dinner for close relatives and friends is expected.
The Duke of Sussex, Prince Harry, will not be present, but according to reliable sources, the Duke will call his father on his father's birthday.
Following accusations that there had been no touch with Prince Harry regarding the birthday arrangements, the plans for a phone message may be interpreted as an olive branch.

King Charles To Get 75th-Birthday Call From Prince Harry
The official inauguration of the King's Coronation Food Project, with the King and Queen visiting a surplus-food distribution site in Didcot,
Oxfordshire has been the focal point of the public side of the King's birthday.
The project is intended to address the dual issue of an increasing number of people being unable to purchase food and millions of tonnes of surplus food being thrown away.
In a Big Issue magazine story highlighting the effort, the King stated, "Food need is as real and urgent a problem as food waste."
According to the King, "cost-of-living pressures" are causing "too many families and individuals to miss out on nutritious meals."
The project aims to establish distribution centers connecting surplus food with food banks and charities providing food parcels.
"One in every five people in this country are suffering from what charities call 'food insecurity' – to me, they're 'hungry,'" says
Baroness Casey, one of the project's co-chairs.
"People are going without meals," she says.

King Charles To Get 75th-Birthday Call From Prince Harry
On Tuesday evening, an animation promoting the Coronation Food Project will be shown on the digital advertising hoardings at Piccadilly Circus in London.
Charle's announcement of a food-sharing effort on his birthday is circular.
Food rationing was still in effect in postwar Britain when Prince.
Charles was born on November 14, 1948.
To commemorate the birth of Princess Elizabeth's first child, a system was devised to present a gift food basket to every family who had a child on the same day.
According to the National Archives archives, almost 2,600 gift packets with products such as soap, butter, dried egg, honey, marmalade, bacon, and meat were distributed during this period of hardship.
Charles celebrated his 75th birthday with other individuals his age, who were invited to a party at his Highgrove estate in
Gloucestershire on Monday.

King Charles To Get 75th-Birthday Call From Prince Harry
He also commemorates the 75th anniversary of similar groups, including the NHS, by inviting 400 nurses and midwives to a reception at Buckingham Palace later on Tuesday.
Last week, the King renamed his organizations the King's Trust and the Foundation rather than the Prince's Trust and the Prince's
Foundation, sending another message of perseverance rather than slowing down or passing over the reins to the next generation.
He will be in Dubai at the end of the month to speak at the COP28 climate change summit.
Charles is now the sixth-longest-living British monarch, after Elizabeth II, Victoria, George III, Edward VIII, and George II, at the age of 75.
SOURCE – (BBC)
Indonesia's Marapi Volcano Erupts For The Second Day As 12 Climbers Remain Missing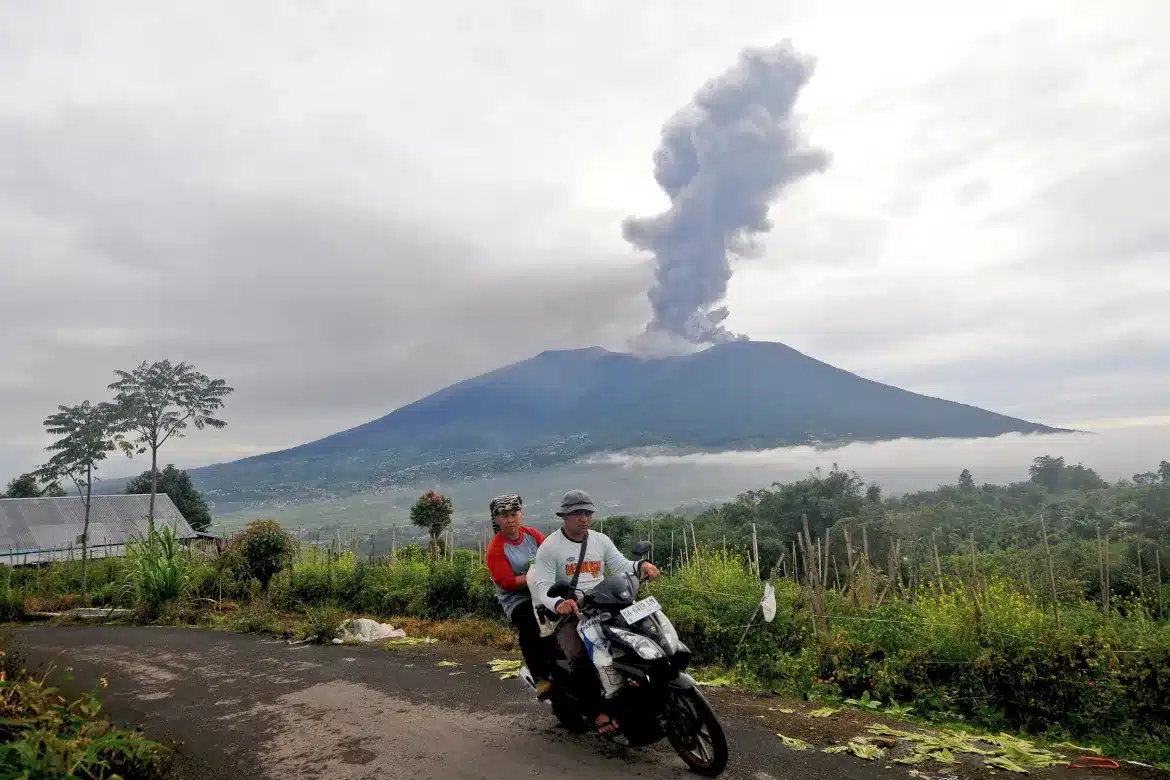 PADANG, Indonesia – Officials in Indonesia paused the search for 12 climbers on Monday when Mount Merapi volcano erupted again, sending a huge burst of scorching ash as high as 800 meters (2,620 feet) into the air.
The deaths of 11 climbers were discovered earlier in the day while searching for the missing, but efforts to locate them were hampered by the resumed activity, according to West Sumatra's Search and Rescue Agency head Abdul Malik. He stated that the search would restart whenever conditions improved.
The agency shared a video of rescuers escorting an injured climber on a stretcher off the mountain and into a waiting ambulance to be brought to the hospital.

On Sunday, Marapi erupted, unleashing clouds of burning ash.
Since 2011, the volcano has remained at the third highest of four alert levels, indicating above-normal volcanic activity, prohibiting climbers and villagers from approaching the peak within 3 kilometers (1.8 miles), according to Hendra Gunawan, the head of the Center for Volcanology and Geological Disaster Mitigation.
"This means there should be no climbing to the peak," Gunawan explained, adding that climbers were only permitted below the danger zone, "but sometimes many of them broke the rules to fulfill their satisfaction to climb further."
On Saturday, over 75 climbers began their ascent of the nearly 2,900-meter (9,480-foot) mountain and became stranded. Rescuers saved 52 people, including three on Monday. According to Hari Agustian, an official with the local Search and Rescue Agency in Padang, the West Sumatra provincial capital, eight of those rescued Sunday were transported to hospital with burns, and one suffered a fractured leg.
Before beginning their ascent, all climbers registered at two command stations or online with West Sumatra's conservation office, according to Agustian. When asked how many individuals may be stranded, he claimed it couldn't be confirmed because some may have taken unauthorized routes up the mountain, and residents may have also been present.
During Sunday's eruption, Marapi erupted thick ash columns as high as 3,000 meters (9,800 feet), and heated ash clouds extended for miles. Tons of volcanic debris buried nearby villages and cities. According to a social media video, volcanic dust and rain covered the faces and hair of evacuated climbers.
Authorities provided masks and urged inhabitants to wear eyeglasses to protect themselves from volcanic ash as falling ash blanketed several communities and obstructed sunlight.

Rubai and Gobah Cumantiang, the nearest villages about 5 to 6 kilometers (3.1 to 3.7 miles) from the peak, are home to approximately 1,400 people.
According to Gunawan, the Sunday eruption was not preceded by a large rise in volcanic earthquakes. Deep volcanic earthquakes were only detected three times between November 16 and Sunday, while the peak's deformation equipment or tiltmeter revealed a horizontal pattern on the radial axis and a small inflation on the tangential axis.
"This shows that the eruption process is taking place quickly and the center of pressure is very shallow, around the peak," the scientist stated.

According to Gunawan, Marapi has erupted on average every 2 to 4 years since 2004.
Gunawan added that this eruption was not the result of magma movement and that marapi eruptions are typically sudden and challenging to detect using equipment because the source is close to the surface.
Marapi has been active since a January eruption that left no one dead. It is among more than 120 active volcanoes in Indonesia, which is vulnerable to seismic activity due to its placement on the Pacific "Ring of Fire," an arc of volcanoes and fault lines encircles the Pacific Basin.
SOURCE – (AP)
Brisbane Mayor Quits 2032 Olympic Organizing Committee, Condemns Stadium Costs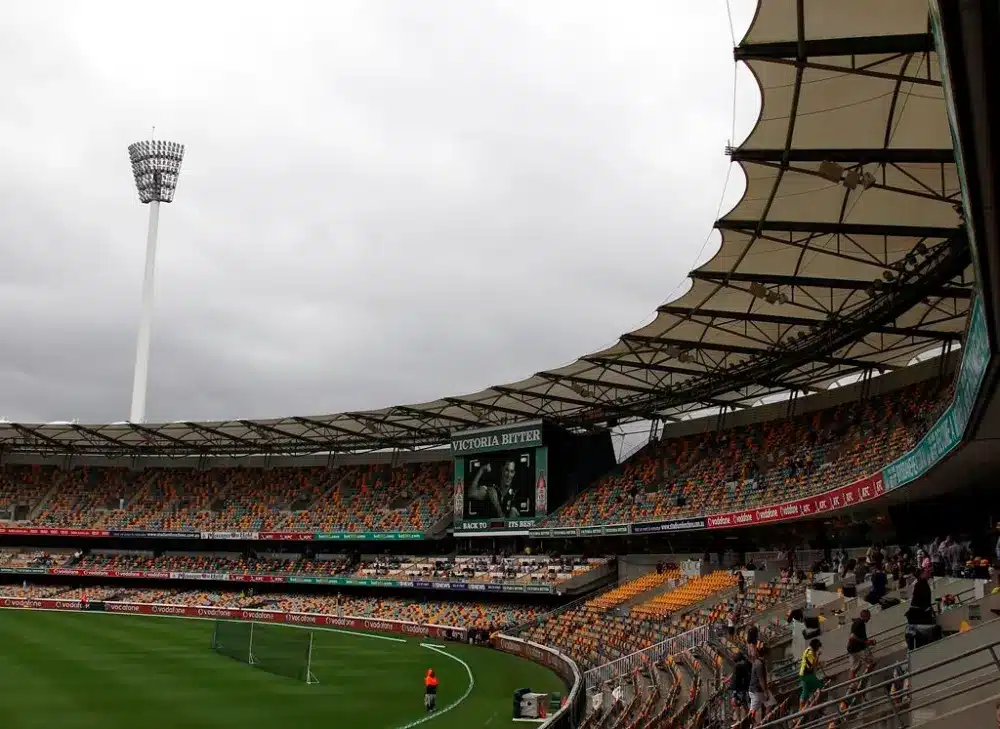 Brisbane Lord Mayor Adrian Schrinner has resigned from the inter-governmental group planning the 2032 Brisbane Olympic Games, describing it as a "pointless talkfest" and a "dysfunctional farce."
It is the first substantial divide for the organizers, whom the International Olympic Committee chose to host the 2032 Summer Olympics in 2021.
The so-called Leaders' Forum, which includes officials from all three levels of government and various organizations, is intended to deliver the Olympics while leaving a legacy for Queensland. Its mandate is to collaborate with Premier Annastacia Palaszczuk's Queensland state government to "progress the significant venues, villages, and transportation infrastructure" for the Games.
However, Schrinner claimed that the committee was meant to "place key stakeholders while the state government made all the real decisions behind closed doors."

Brisbane Mayor Quits 2032 Olympic Organizing Committee, Condemns Stadium Costs
"The truth is that we've always wanted to be team players. On Sunday, Schrinner stated, "The state government wanted to play politics."
He advocated for creating an independent authority, similar to the one that oversaw preparations for the Sydney Olympics in 2000 and the London Olympics in 2012, to bring planning "back on track."
"We don't need overpriced stadiums, we need better transport," Schrinner said. "This week it became very apparent that the Intergovernmental Leaders' Forum is a dysfunctional farce."
According to Schrinner, sports have become "more about overpriced stadiums."
A $2.7 billion US makeover of the existing Gabba stadium in inner-city Brisbane, which would be dismantled and rebuilt, is intended to be the centerpiece of an Olympics with sites around southeast Queensland. However, Schrinner suggested that alternative options be investigated.
He was particularly critical of the state government's proposals for Brisbane City Council to contribute $91 million to upgrade another local stadium, the RNA Showgrounds, to host cricket and Australian Rules football while the Gabba is redeveloped.

Brisbane Mayor Quits 2032 Olympic Organizing Committee, Condemns Stadium Costs
A 20,000-person stadium will be built within the showgrounds for the next five years to house the Brisbane Lions AFL teams and the Brisbane Heat cricket club. Schrinner resigned in response to the state government's request for a financial commitment from the city for a temporary cricket and AFL site.
"The state government's game playing is jeopardizing the games and they are quickly losing the support of the people of Queensland," Schrinner said in a statement. "It's clear that the games have become more about overpriced stadiums rather than the promise of vital transport solutions."
Queensland Sports Minister Stirling Hinchliffe expressed surprise at Schrinner's decision to resign. If he chooses to return, a place will be reserved for him.
Queensland will have council elections in March of next year. Schrinner's conservative Liberal National Party alliance and the opposition Australian Labor Party had previously backed the Gabba renovation.

Brisbane Mayor Quits 2032 Olympic Organizing Committee, Condemns Stadium Costs
The Greens' candidate for mayor of Brisbane, Jonathan Sriranganathan, has stated that if elected, his party would oppose the demolition and rebuilding of the Gabba. He called it a "deplorable waste of money" and a "bad deal for our city."
SOURCE – (CBC)
US Air Force Osprey Crashes Off Japan During Training, Killing At Least 1 Of The Eight On Board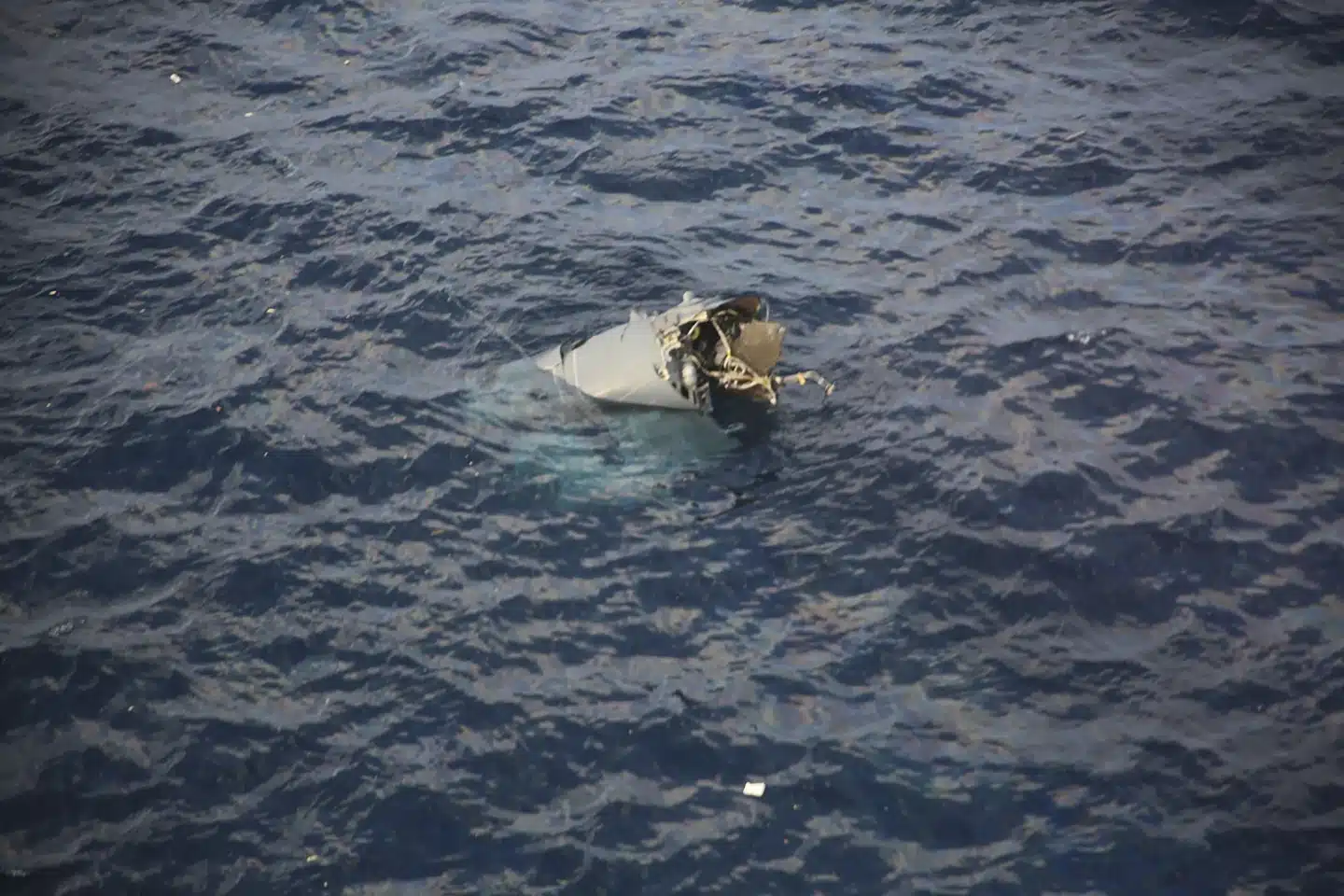 TOKYO, Japan – A U.S. Air Force Osprey based in Japan crashed during a training flight off the country's southern coast on Wednesday, killing at least one of the eight crew members, according to the Japanese coast guard.
According to Japanese coast guard spokes Kazuo Ogawa, the cause of the disaster and the condition of the seven other people on board were not immediately known.
The Osprey is a hybrid aircraft that can take off and land like a helicopter but can rotate its propellers forward and travel much faster, like an airplane, during flight.
Ospreys have been involved in several mishaps, especially in Japan, where they are stationed at U.S. and Japanese military sites. Gov. Denny Tamaki of Okinawa, where almost half of the 50,000 American troops are stationed, told reporters Wednesday that he will ask the U.S. military to cease all Osprey flights in Japan.
Ogawa stated that the coast guard received an emergency contact from a fishing boat near the disaster scene off Yakushima, an island south of Kagoshima on Kyushu's southern main island.

US Air Force Osprey Crashes Off Japan During Training, Killing At Least One Of The Eight On Board
Ogawa said Coast Guard aircraft and patrol boats discovered one male crew member, who was later confirmed dead by a doctor at a neighboring port. He said that they discovered gray debris thought to be from the aircraft as well as an empty inflatable life raft in a region around 1 kilometer (0.6 miles) off the eastern shore of Yakushima.
The Coast Guard said it expected to search throughout the night.
According to Japanese Chief Cabinet Secretary Hirokazu Matsuno, the Osprey vanished from radar moments before the Coast Guard received the emergency call. The plane sought an emergency landing at Yakushima airport about five minutes before it vanished from radar, according to NHK public television and other news sites.
According to NHK, a Yakushima resident observed the plane turning upside down, with fire emerging from its engines and an explosion before it crashed into the sea.
Prime Minister Fumio Kishida said he would seek more information from the U.S. military, but he did not specify whether he would seek a temporary halt to Osprey operations in Japan.
According to the U.S. Air Force Special Operations Command, the CV-22B Osprey was assigned to the 353rd Special Operations Wing at Yokota Air Base.

US Air Force Osprey Crashes Off Japan During Training, Killing At Least One Of The Eight On Board
According to Ogawa, the plane took off from the US Marine Corps Air Station Iwakuni in Yamaguchi prefecture and crashed on its route to Okinawa's Kadena Air Base.
Hiroyuki Miyazawa, Japan's Vice Defense Minister, said it tried an emergency sea landing and quoted the U.S. military as saying its pilot "did everything possible until the last minute."
U.S. Forces Japan and the Fifth Air Force are based at Yokota Air Base. Six CV-22 Ospreys, including the one that crashed, were stationed at Yokota.
While the US Marine Corps flies most of the Ospreys stationed in Japan, the Air Force also has some.
Following back-to-back safety incidents where the Osprey clutch slid, creating an unequal power distribution to the rotors, the Air Force Special Operations Command ordered a temporary standdown of its Osprey fleet last year.

US Air Force Osprey Crashes Off Japan During Training, Killing At Least One Of The Eight On Board
Although the Marine Corps and Navy have reported similar clutch slips, and each service has sought to remedy the issue in their aircraft, clutch failure was also blamed in a deadly U.S. Marine Corps Osprey crash in 2022 that killed five people.
According to the collision investigation, "dual hard clutch engagement" caused engine failure.
Separately, in August, a US Marine Corps Osprey carrying 23 Marines crashed on a northern Australian island, killing three and badly injuring at least five others aboard during a multinational training exercise.
SOURCE – (AP)