Taylor Swift Kicks Off 2023 US Eras Tour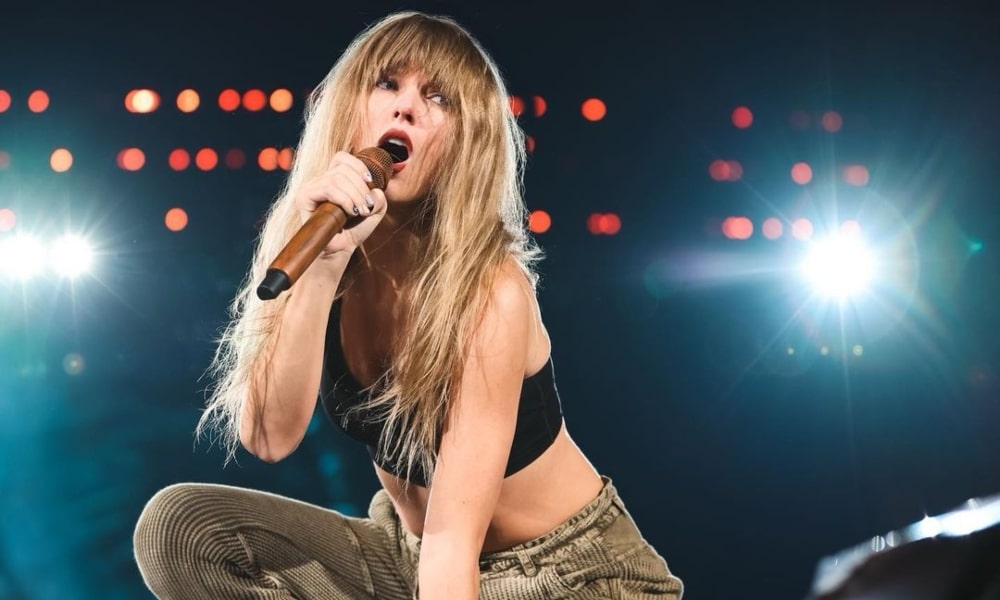 Taylor Swift kicked off her U.S. concert tour with a three-hour career retrospective. Swift opened the 27-date Eras Tour with a six-song set from her album "Lover" at State Farm Stadium in Glendale, Arizona, where the Super Bowl was played a month ago.
"I'm not sure how to address how this is making me feel right now," Swift, who hasn't toured since 2018, said early in the performance.
She closed the show with a seven-song set from her latest album "Midnights," concluding with "Karma."
In between, she played songs from most of her albums, except for "Tim McGraw," from her self-titled debut in 2006. It took her 44 songs and over three hours to complete her 17-year career.
Having not toured in support of her previous three albums, this concert series is intended to compensate for lost time by performing many of those songs live for the first time. Swift described the tour as "a journey through the musical eras of my career (past and present!)" when she announced it in November.
Swift appeared to acknowledge the Ticketmaster controversy that tainted the tour's buildup when she told the crowd over 70,000 that she understands it took "considerable effort" for them to be there.
Following another performance at the same venue on Saturday night, the tour will travel to Allegiant Stadium in Las Vegas and then to AT&T Stadium near Dallas.
It comes to a close in August with two shows in the Los Angeles area.

Taylor Swift Breaks Top 10 Billboard Records
Taylor Swift became the first artist to hold all ten Hot 100 positions, as "Midnights" sold over 1.5 million copies to top our Billboard 200 albums chart.
The singer is reacting to news that her latest studio album, released on October 21, is smashing records. She is the only artist in history to hold the top ten spots on Billboard's Hot 100 chart in the same week. This has never happened in the 64-year history of the chart.
"10 out of 10 on the Hot 100?" tweeted the "Anti-Hero" singer on Monday. "On my tenth album?" "I AM NOW IN SHAMBLES."
According to the site, Swift's dominance of the top 10 for the November 5, 2022-dated Billboard chart has pushed her beyond Madonna for the most top 10 hits among women.
According to the tracking firm Luminate, which tracks streaming, sales, and downloads, Midnights recorded 1.578 million sales in its first week of release in the United States. This is the highest one-week total since Adele dropped 25 in 2015, reaching 3.482 million in its first week.
Midnights sold 1.578 million copies, 1.140 of which were album purchases. It's also worth noting that this is her fifth album to sell at least a million copies in a single week, with no album by any artist selling more in a single week since her 2017 album Reputation, which debuted with 1.216 million.
Midnights also debuted at number one on Billboard's most recent album chart. It is her 11th best-selling album, tying her with Bruce Springsteen, Barbra Streisand, and Drake. Jay-Z, with 14, and the Beatles, with 19, have the most No. 1 singles.
Swift announced the release of Midnights in October in August. On social media, she described it as "the story of 13 sleepless nights strewn throughout my life." She claimed she wrote the songs "in the middle of the night" while " traveling between terrors and pleasant dreams."
She's been releasing videos, even creating an edit to "Anti-Hero" in response to the fatphobic backlash. "Bejeweled" was released last week, and the Cinderella-with-a-twist-themed video included Laura Dern, the HAIM sisters, and Dita Von Teese. Swifties, the singer's admirers, have speculated about who the songs are about, including ex-John Mayer on "Would've, Could've, Should've."
Swift hinted at a new tour last week on The Tonight Show, saying, "I believe I should do it." We'll do it when the time comes. It's something I miss.")
She also commented on the album's phenomenal performance, particularly how it became the year's best-selling album in just one day. It also shattered Spotify's record for the most streams in a single day. In its 5-star review, Rolling Stone labeled it an "instant classic." "I'm beside myself," she said to Fallon.
Swift has been a music-making machine, re-recording her past albums beginning in 2021 with Fearless and Red. The new versions allow her to own her masters – the original recordings of the songs.
2023: Why Chrishell Stause Isn't Wearing Wedding Ring After Marrying G-Flip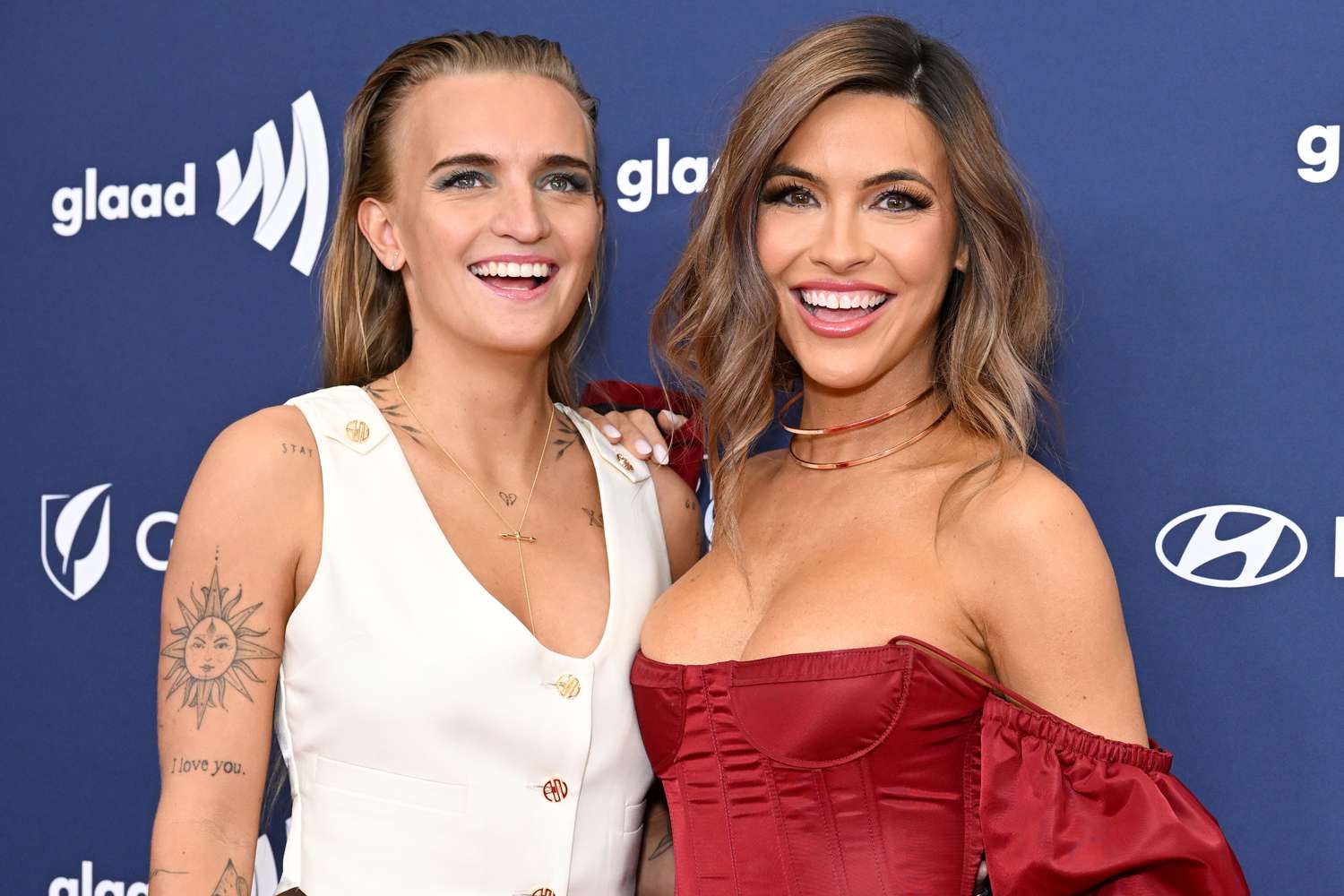 Sunset Newlywed for sale Chrishell Stause Discusses Her Marriage and Her New Season.
A significant piece of jewelry that Chrishell Stause recently married G Flip is gone.
The Selling Sunset has been seen sans a wedding band despite getting married to the musician. Chrishell, though, has a justification.
In a video posted on her Instagram Stories on May 30, she declared, "I'm happily married, very happy." But due to my weight increase, I'm not wearing my ring. And that's okay with me. I CAN MAKE A REAL RING WITHOUT REVEALING ANYTHING until I have it adjusted or until we think everyone is aware.
I'm living my best life, and that's why, Chrishell added. "Anyways, long story short, if you see me without my ring, listen, that's why."
The reality star wed G Flip on May 10 by posting an Instagram video showing the couple holding hands at the altar. After dating for over a year, the pair married in Las Vegas.
Recently, the couple discussed their wedding ceremony and answered questions about whether they were now legally married.

A significant piece of jewelry that Chrishell Stause recently married G Flip is gone.
On the May 27 episode of SiriusXM Hits 1 LA with Tony Fly and Symon, Chrishell remarked, "If you don't believe it, I don't care and that's the best part." "I don't require your consent."
Additionally, don't anticipate seeing the couple's nuptials on Selling Sunset.
"I think that it's a balance thing on a show like this, of what to share and what not to share, and I think that it's important that we are open and we shine a light on a love that I think is so beautiful," Chrishell stated on E! News on May 17. But even so, it's essential to preserve some items for us.
The real estate agent also talked about how they were married unusually. We should have done the customary engagement, she remarked. "We avoided the entire situation, the paperwork, all the worries that people have, all this stuff."
It's been a dream come true for Chrishell.
She continued, even if their union is the least conventional regarding how things should work out. It has been the most significant and vital aspect of my life. Therefore, each person has a unique method of doing things. It was so erratically flawless.
SOURCE – (ENEWS)
Jewish Groups And City Officials Protest Against Roger Waters Concert In Frankfurt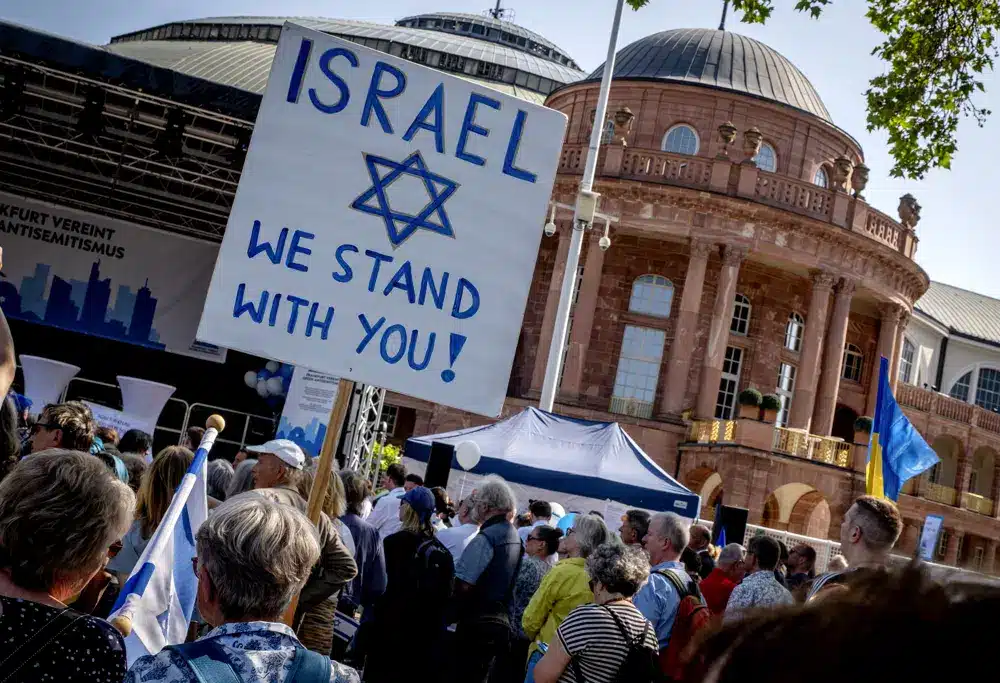 FRANKFURT — Several Jewish organizations, lawmakers, and a coalition of civil society groups gathered in Frankfurt Sunday evening for a mourning service and protest rally in opposition to Roger Waters' concert.
The co-founder of Pink Floyd has been accused of antisemitism, which he strongly refutes.
They are upset with Waters because he backs the BDS movement, which promotes economic and cultural boycotts against Israel.
At first, Frankfurt officials tried to stop Waters from performing, but he contested the decision in court and won.
The Nazis picked up more than three thousand Jews, assaulted and humiliated them, and deported them to concentration camps in the city's Festhalle in November 1938.
"Against this historical background, the concert should not have taken place under any circumstances," said Sacha Stawski, a member of the Frankfurt Jewish community and the head of the group Honestly Concerned, which helped organize the demonstrations.
Elio Adler, the head of the Jewish organization WerteInitiative, which supports the protest, told The Associated Press, "It's very frustrating" that the performance is going ahead as scheduled despite the efforts of the Frankfurt government and many others to prevent it.
"His words and imagery spread Jew-hatred and are part of a trend: to normalise Israel-hatred under the protection of freedom of speech or art," Adler continued.

Several Jewish organizations, lawmakers, and a coalition of civil society groups gathered in Frankfurt Sunday evening for a mourning service and protest rally in opposition to Roger Waters' concert.
Police in Berlin announced last week that they had initiated an investigation on Waters on suspicion of incitement related to a costume he wore during a performance earlier this month in the German city.
Photos of Waters firing an imitation machine gun while wearing a long black coat and a red armband circulated online. The police have stated that an investigation was initiated due to concerns that the costume's setting could be interpreted as a justification, approval, or glorification of Nazi tyranny.
In a Facebook and Instagram post, Waters denied the allegations, writing, "the elements of my performance that have been questioned are quite clearly a statement in opposition to fascism, injustice, and bigotry in all their forms."
He said, "Attempts to portray those elements as something else are disingenuous and politically motivated."
Protesters on Sunday read aloud the names of 600 Jews who were rounded up at the Festhalle on November 9, 1939, the so-called Kristallnacht, or "Night of Broken Glass," when Nazis terrorized Jews throughout Germany and Austria. This took place in front of the Frankfurt concert venue before Waters' concert was set to begin.
A prayer service attended by Jews and Christians was also held in Frankfurt in memory of those who perished at the hands of the Nazis. At the rally, the mayor and the Jewish community leader gave speeches.
According to the German news agency DPA, Frankfurt Mayor Mike Josef has condemned antisemitism citywide. A person's faith is not a valid excuse to despise, insult, or assault him.

Several Jewish organizations, lawmakers, and a coalition of civil society groups gathered in Frankfurt Sunday evening for a mourning service and protest rally in opposition to Roger Waters' concert.
About 400 protesters gathered before the show to wave Israeli flags and distribute leaflets to audience members. Banners reading "Israel, we stand with you" and "Roger Waters, wish you were not here" were also seen, with the latter a reference to Pink Floyd's "Wish You Were Here," as reported by dpa.
Protesters in Munich gathered last month to oppose a jewish Roger Waters concert after the municipal council claimed it had considered canceling the show but ultimately decided against it since revoking the organizer's contract would be illegal.
Due to Waters' apparent sympathy for Russia in its war against Ukraine, the Polish city of Krakow canceled his concerts there last year.
SOURCE – (AP)
2023: Texas Grand Jury Indicts Patrick Clark In Fatal Shooting Of Rapper Takeoff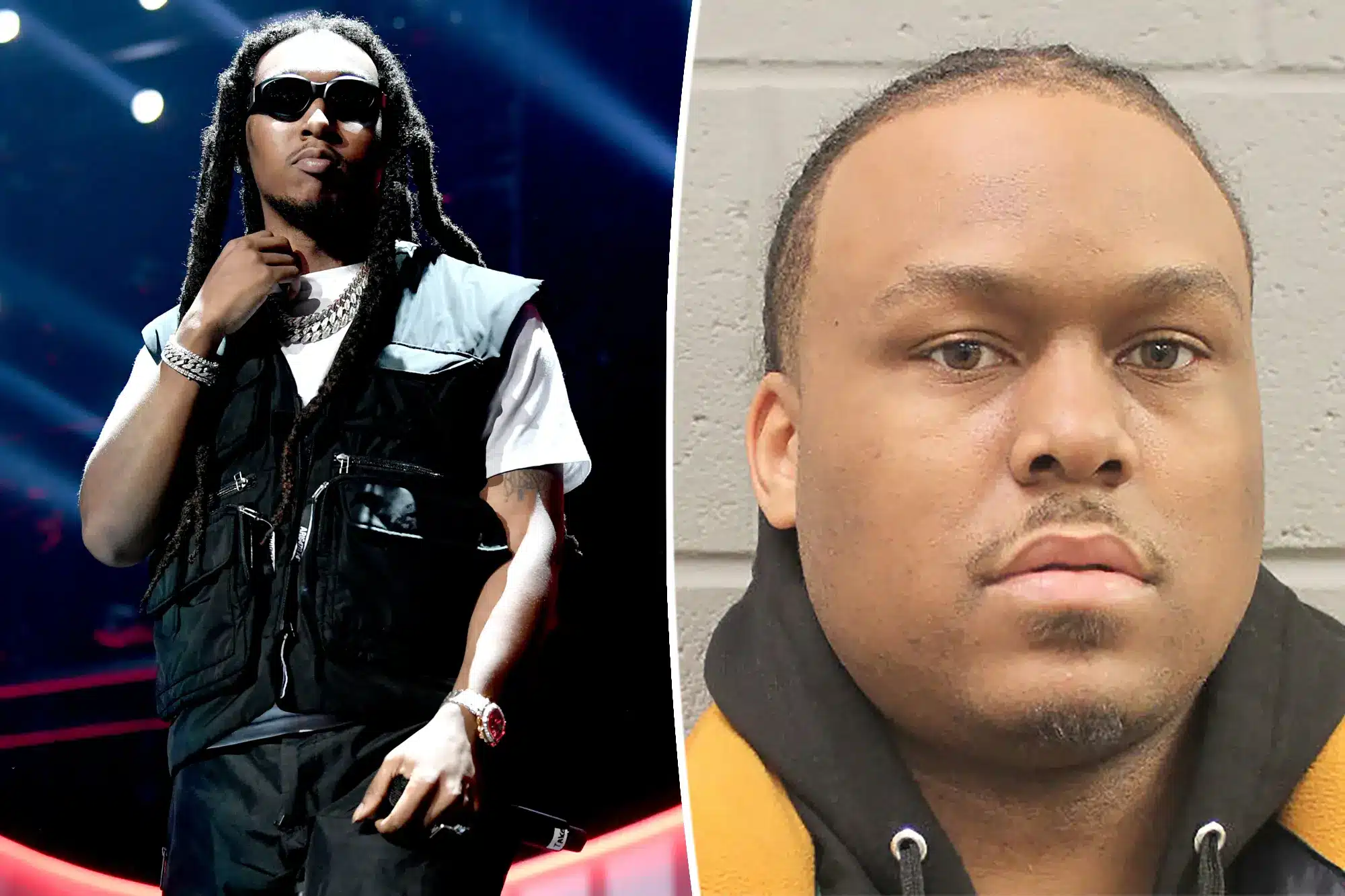 HOUSTON — According to court documents, the guy accused of murdering Migos artist Takeoff last year at a Houston bowling alley has been indicted.
When a grand jury in Houston indicted him on Thursday, Patrick Xavier Clark was out on $1 million bail.
One of Clark's lawyers, Letitia Quinones-Hollins, stated that the charge was no surprise to her client.
"When we get inside a courtroom and in front of a jury, where we will be able to put on our evidence and cross-examine the state's witnesses… we expect the jury will come back with a verdict of not guilty," Quinones-Hollins said in a statement on Thursday.
When more than 30 people were leaving a private party at the bowling alley at 2:30 a.m. on November 1, Takeoff was shot in the head and back. The shooting, according to authorities in Houston, was sparked by a dispute over a "lucrative" game of dice outside the bowling alley, but the rapper, who was only 28 years old at the time, was not participating and was "an innocent bystander."

DJ and club promoter Patrick, 33, was taken into custody on December 1.
Officials claim CCTV footage proves Clark had a wine bottle in his hand when he fired his weapon. His identity was established through fingerprints discovered on the bottle. In addition, authorities said that FBI informants placed Clark at the shooting scene.
After Clark's arrest, prosecutors claimed he had researched how to use bogus airline tickets to get an expedited passport online in an attempt to leave the country.

After the incident, Quinones-Hollins said Clark had no intention of leaving the country.
Takeoff joined his uncle Quavo, and cousin Offset to form the Grammy-nominated rap group Migos. Takeoff was born Kirsnick Khari Ball.
The next court date for Clark is August 23.
SOURCE – (AP)