SLOVENIA 2023: Snow, Winds Cause Traffic Chaos, Power Cuts In Slovenia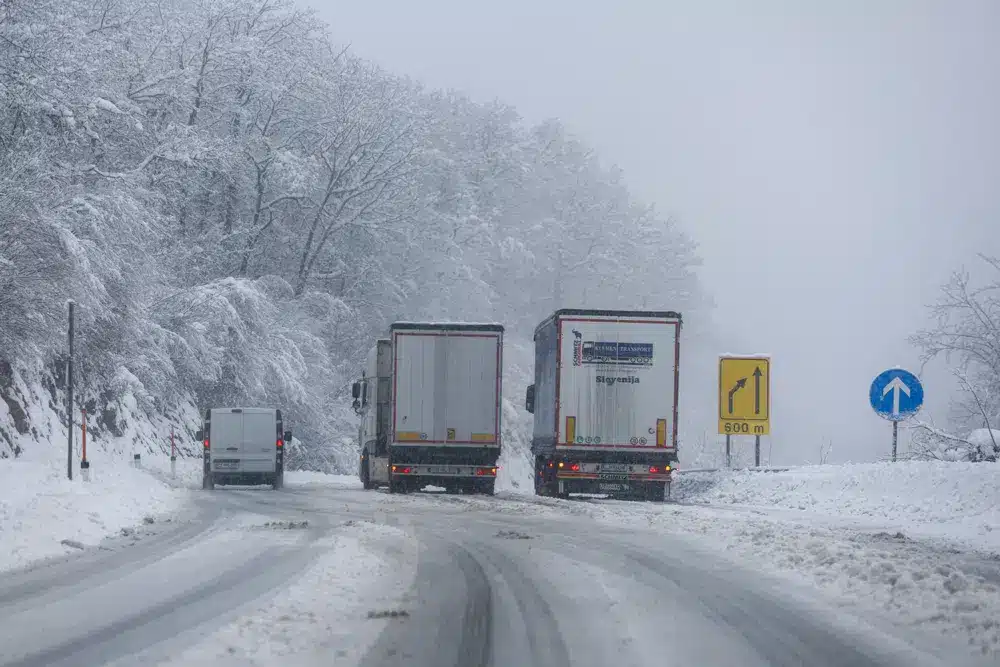 LJUBLJANA, Slovenia – A snowstorm with high winds caused traffic chaos on a major highway and other roads in Slovenia on Monday while also knocking out power in parts of the country.
According to officials, the late Sunday snowfall caused over a dozen traffic accidents overnight, with fallen trees blocking local roads and downing power lines, including in the capital Ljubljana.
Slovenians were advised not to travel unless necessary. Because of the bad weather, huge lines of cars continued to crawl at a snail's pace along many roads across the country Monday morning.
High winds caused some sections of the highway connecting the Adriatic coast to Ljubljana to be closed. Heavy vehicles have been prohibited on the Alpine country's affected roads.
Meteorologists predict that the snow will be gone by Tuesday.

Slovenia At A StandStill
Last weekend's strong winds caused 200 people to call for help in the nearby country of Croatia.
On Monday, snow disrupted traffic in Croatia after blanketing parts of the Adriatic coast and some of the country's islands.
Due to strong winds, most ferry lines were shut down on Monday, cutting off the majority of Croatian islands, according to state television HRT.
Strong winds in Zagreb brought down scaffolding around a building that was being fixed up in a central square. No one was hurt. HRT says that a lot of snow and wind in the north stopped traffic in the mountainous Gorski Kotar region.

Some Remote Villages Without Electricity
After a lot of snow fell over the weekend, some remote villages in neighboring Montenegro had trouble getting electricity.
Floods caused by torrential rains hit the Balkan countries last week. Many rivers and streams in the area overflowed, which flooded homes and farmland and caused landslides.
Serbian officials said Monday that they had found the body of the second person who died in flooding in the country's southwest last week. The two men drowned after being swept away by a raging river in Novi Pazar.
SOURCE – (AP)
UKRAINE: Germany, Denmark, Netherlands Pledge Ukraine Leopard 1 Tanks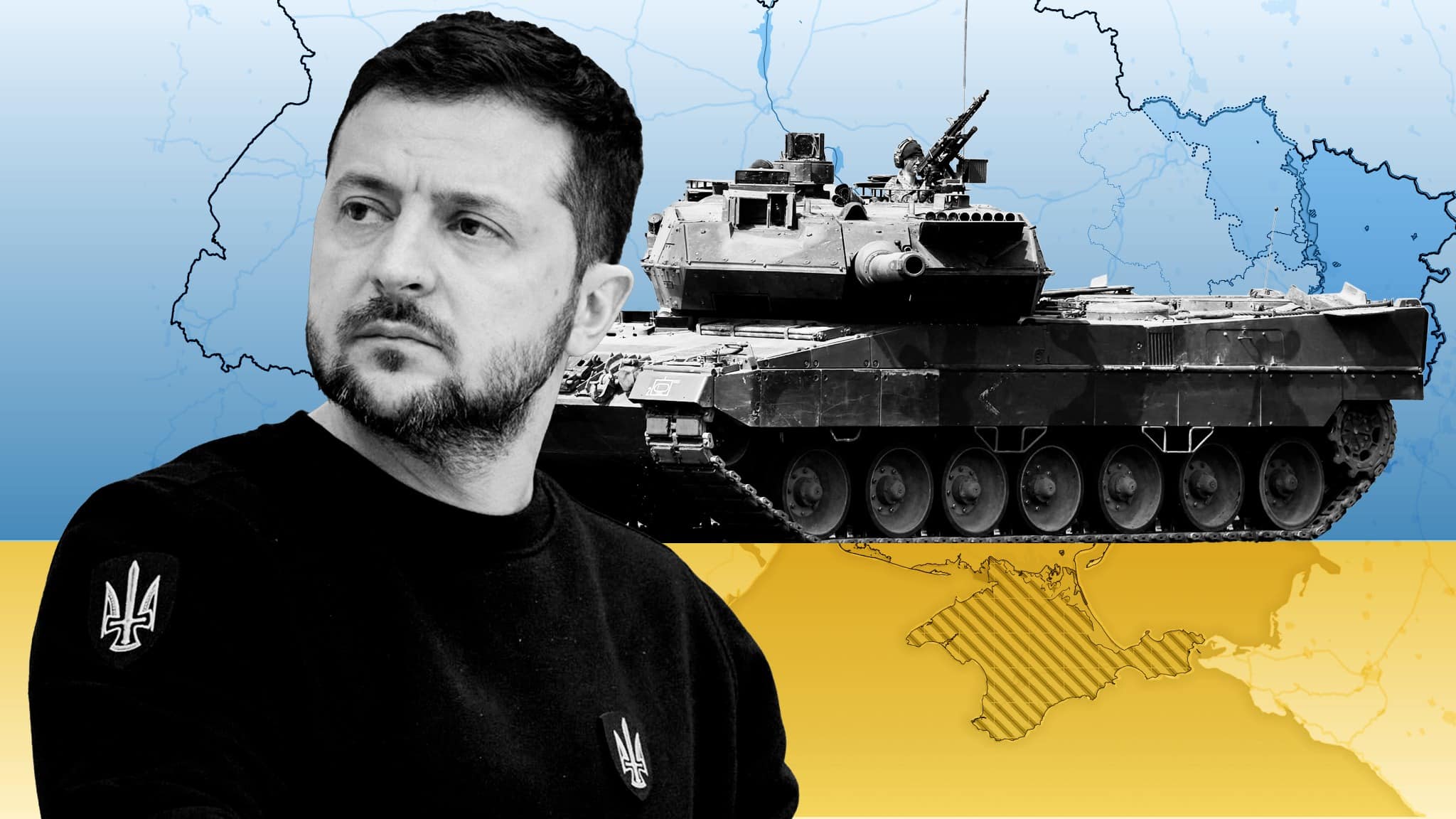 KYIV, Ukraine — Kyiv, Ukraine, Germany, Denmark, and the Netherlands announced on Tuesday that they would supply Ukraine with at least 100 refurbished Leopard 1 battle tanks, a pledge that comes as Kyiv braces for a new Russian offensive around the anniversary of its invasion.
The announcement came after Germany agreed last month to allow Ukraine to receive more modern German-made Leopard 2 tanks.
The defense ministers of Denmark, Germany, and the Netherlands said in a joint statement that the shipment of older Leopard 1 tank was part of an effort "to support Ukraine in their endeavor to withstand Russian aggression."
"(It) will significantly enhance Ukraine's military potential for restoring their violated territorial integrity," they said, adding that the delivery would take place "within the next few months" and would include logistical support and training.
Officials in Ukraine say they expect Russian forces to launch a new offensive in eastern and southern Ukraine as the Kremlin tries to secure territory it illegally annexed in late September and claims its rule is welcomed.
The anticipated Russian push could aim to reclaim territory lost in a late-summer counteroffensive. Setbacks on the battlefield in Ukraine have embarrassed the Kremlin, and Russian President Vladimir Putin is eager to bolster public support for the war.

Russia Still Training New Troops To Go To Ukraine
Some Western military analysts, however, were skeptical of Russia's ability to launch a large new offensive in the coming weeks, particularly in time for the February 24 anniversary, which could change the course of the war. Both Ukraine and Russia are still training new troops and stockpiling weapons.
During a visit to Kyiv on Tuesday, Germany's defense minister, Boris Pistorius, told dpa that the first 20-25 Leopard 1 tank would arrive in Ukraine this summer.
Pistorius's office says that German authorities have given permission for up to 178 Leopard 1 A5 tanks to be sent to Ukraine. The exact number will depend on how many repairs need to be done.
The three countries that signed up for the initiative say that Belgium has shown interest in joining.
The Leopard 1 was the first battle tank built for West Germany's Bundeswehr, and it was produced between the mid-1960s and the mid-1980s. The German military has not used the tanks since 2003.
Germany agreed last month to send 14 newer Leopard 2 A6 tanks from its military inventory. Several other European countries have equipped their armies with German-made Leopard 2s, and Germany's decision, which came after weeks of mounting pressure, meant that those countries could also hand over some of their stocks to Ukraine.
Local authorities reported Tuesday that Russian shelling damaged a hospital and apartment buildings in the latest fighting in Ukraine.
Russian Forces Are Being Pushed Back
According to an online statement from the regional State Emergency Service, the shelling in the northeastern town of Vovchansk caused multiple fires late Monday, including one at the two-story municipal hospital.
Authorities said that emergency crews evacuated eight civilians from the scene before putting out the fire, which caused no casualties.
Vovchansk is located in the Kharkiv region, occupied by Russia after its full-scale invasion began on February 24 and later retaken by Ukraine during its counter-offensive.
The Ukrainian military reported Tuesday that Russian forces are "regrouping" as they attempt to breach Ukrainian lines in five areas in the country's east and northeast.
According to the General Staff of Ukraine's Armed Forces, Moscow is concentrating its efforts near the towns of Lyman, Bakhmut, Avdiivka, and Novopavlivka in eastern Donetsk province, as well as Kupiansk in Kharkiv province.
Russian forces also continued to shell Vuhledar, a mining town that has become a key target for Moscow, according to the Ukrainian presidential office. According to the office, five apartment buildings were destroyed in the town, which had a prewar population of 14,000 people.

Russia Is Planning A Major Offensive In Luhansk Province
According to Gov. Pavlo Kyrylenko, Donetsk province has recently seen a significant influx of Russian troops.
"Russian army units are being transferred at all hours of the day and night. "(Russian). Shelling is intensifying, and Russian pressure is increasing by the day," Kyrylenko said on Ukrainian television.
Russia is also planning a major offensive in Luhansk province, which is directly north of Donetsk, according to Governor Serhii Haidai in televised remarks.
According to him, the number of Russian attacks in the province increased "dramatically" on Monday and overnight.
"The occupiers are looking for weak points and have deployed a large amount of equipment and thousands of troops to the front lines," Haidai explained.
Authorities reported that Russian shelling near the Zaporizhzhia Nuclear Power Plant cut power to a local pumping station, leaving approximately 60,000 households in Marhanets without water.
Mykola Lukashuk, the head of the Dnipropetrovsk Regional Council, accused Russian forces of firing heavy artillery and multiple rocket launchers overnight on towns and villages near the plant, Europe's largest nuclear facility.

Russia Increased Troom Deployment In Ukraine
According to a report released Tuesday by the United Kingdom Ministry of Defense, Russia is "requiring undermanned, inexperienced units to achieve unrealistic objectives due to political and professional pressure."
"Russian leaders will almost certainly continue to demand broad advances," it added. "It is still unlikely that Russia will be able to build up enough troops in the next few weeks to have a big impact on how the war turns out."
On Monday, Michael Kofman, an American military analyst and the director of Russia Studies at the CAN research organization in Arlington, Virginia, tweeted that it is unclear how large an offensive Russia can mount.
"But I suspect it will be underwhelming, focusing primarily on the Donbas," he added.
Michael Clarke, a visiting professor of war studies at King's College London, said he would be "amazed, truly amazed, if (the Russians) are in any shape to launch a strategic offensive on the 24th."

Ukraine Government Swore In A New interior Minister
He acknowledged Moscow's increased troop deployment in Ukraine and stated that Russia could launch local offensives or major air attacks. However, he recalled that Russian commanders were still stinging from their failed attempt to take Kyiv and destabilize the Ukrainian government early in the war.
"Russian military planners will be aware that when they launch this new offensive, they must get it right," he said.
"After the fiasco of the first (offensive), it would be better to leave and go late than to go early and mess it up again," Clarke told The Associated Press.
Meanwhile, the Ukrainian parliament named national police chief Ihor Klymenko as the country's new interior minister on Tuesday. Klymenko had been acting interior minister since his predecessor, Denys Monastyrskyi, died in a helicopter crash on the outskirts of Kyiv on January 18.
The Ministry of Internal Affairs is in charge of the police and border forces, the National Guard, and emergency response services.
The Verkhovna Rada, Ukraine's parliament, appointed Vasyl Malyuk to lead the country's main security agency.
SOURCE – (AP)
Teen Getting 10 Years For Fire That Killed 5 From Senegal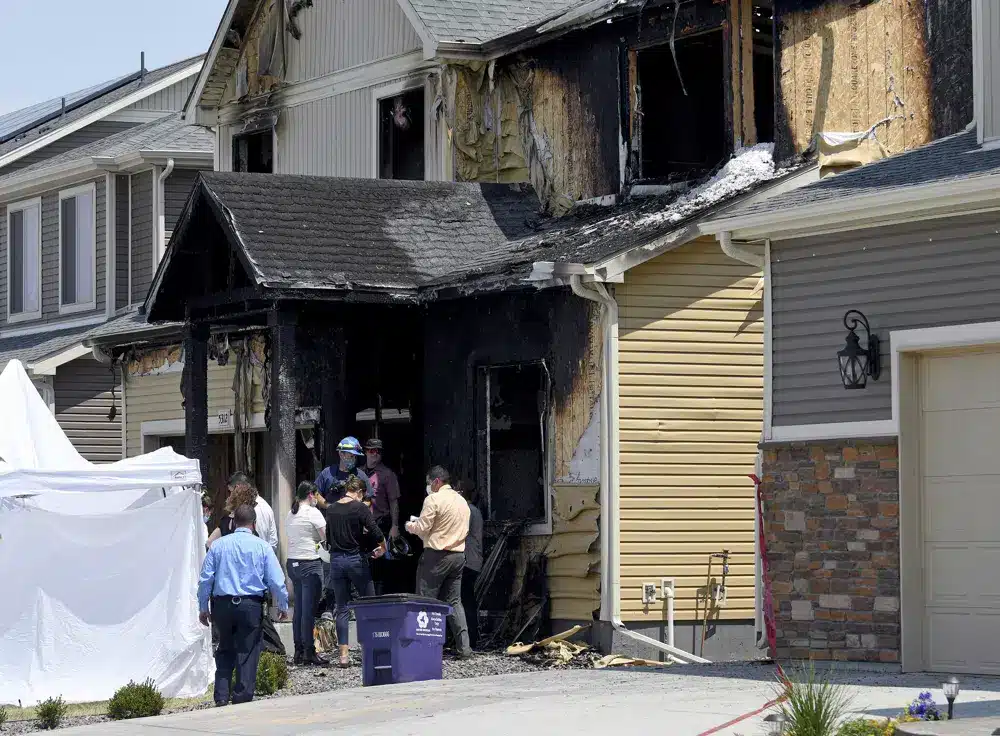 DENVER, Colo. — A surveillance camera captured three people outside in full face masks and hoodies looking around the home's backyard where members of three families of Senegalese immigrants lived minutes before a major house fire erupted and killed five people in 2020.
The investigation into the Aug. 5, 2020 fire dragged on for months amid fears that it was a hate crime, but authorities eventually accused three teens of setting fire to the house in retaliation for a stolen iPhone, which one of them mistakenly traced to the home in a neighborhood near Denver's airport.
Screams could be heard, and a husband, wife, and their 12-year-old daughter escaped by jumping out an upstairs window, but five people were found dead inside the home after the fire in 2020.
Despite the objections of victims' families and representatives of the city's Senegalese community, the youngest of the teens charged in the case, Dillon Siebert, 14 at the time and now 17, was sentenced to seven years in prison him to serve three years in juvenile detention. Siebert, who was charged as a juvenile, pleaded guilty to second-degree murder in adult court in a deal that prosecutors and the defense said balanced his lesser role in the fire's planning, his remorse, and interest in rehabilitation with the horror of the crime.
The cases against the other two teenagers, including the alleged teen ringleader, Kevin Bui, and Gavin Seymour, both of whom were 16 at the time of the fire, are still pending in adult court, where they face charges of first-degree murder, attempted murder, arson, and burglary.

The Teen Tried to Immigrate
Amadou Beye, who lost his wife, Hassan Diol, and their infant daughter, Hawa, in the fire, called Siebert a "monster" and claimed that he killed not only five people but also himself and many others connected to them. Beye, whose wife was allowed to immigrate to the United States before him, claims he considers suicide every day and requires medication to sleep.
"My life no longer makes sense," Beye said, wearing a sweatshirt with a large photo of his wife and baby and the words, "Why my wife? "Why, my daughter?" Judge Martin Egelhoff asked.
Hassan Diol's brother Djibril, his wife Adja Diol, and their 22-month-old daughter Khadija were also killed. Their bodies were discovered on the first floor, near the front door. Teen Senegal's president, Macky Sall, expressed condolences for their deaths, and as months passed with no suspects identified, many Senegalese immigrants installed surveillance cameras in their homes.
Others talked about the hole that was left by the death of Djibril Diol, an engineer who was working on a major rebuild of Interstate 70 in the city and who wanted to build roads in Senegal. He teen helped other immigrants and was a devout Muslim, they said, rising early for morning prayers.
Abou Diol, Djibril Diol's brother, said he lost the person he relied on for sound advice and that their father has "lost his mind" since the fire.

The Man Says "Black Lives Dont Matter"
Ousman Ba, a friend and community leader, said 10 years was insufficient punishment for such a crime and wondered what would have happened if five members of a white family had been murdered in this manner.
"However, Black lives do not matter," he said.
Siebert looked at family and friends of the teen as they addressed Egelhoff, but he showed no emotion. When asked to speak, he apologized for what he had done to them and their families, mentioning how upset he was when his grandmother died shortly before the fire and could not see her due to coronavirus restrictions.
"I'm lucky I still have people who love me," Siebert said, describing himself as a "people pleaser" who was bullied over a speech delay and became friends with Bui and Seymour amid the pandemic's isolation.
Bui, who was identified as a suspect alongside the others after police asked the Google company to release the name of the person who searched for the home's address within 15 days of the fire, allegedly told investigators he was robbed a month before the fire while trying to buy a gun and traced his Samsung phone to the home using an app. He admitted to starting the fire, only to learn the next day through news coverage that the victims were not the people who robbed him.
Lawyers for Bui and Seymour are challenging police use of Google keyword search results, describing it as a "digital dragnet" that swept up searches from billions of people worldwide.
Last year, Egelhoff denied a request to have the Google search teen evidence thrown out, but defense attorneys have now asked the Colorado Supreme Court to hear the case. It is expected to hear arguments in May.
SOURCE – (AP)
FRENCH: Unions Buoyant As 1.27 Million French Protest Pension Reform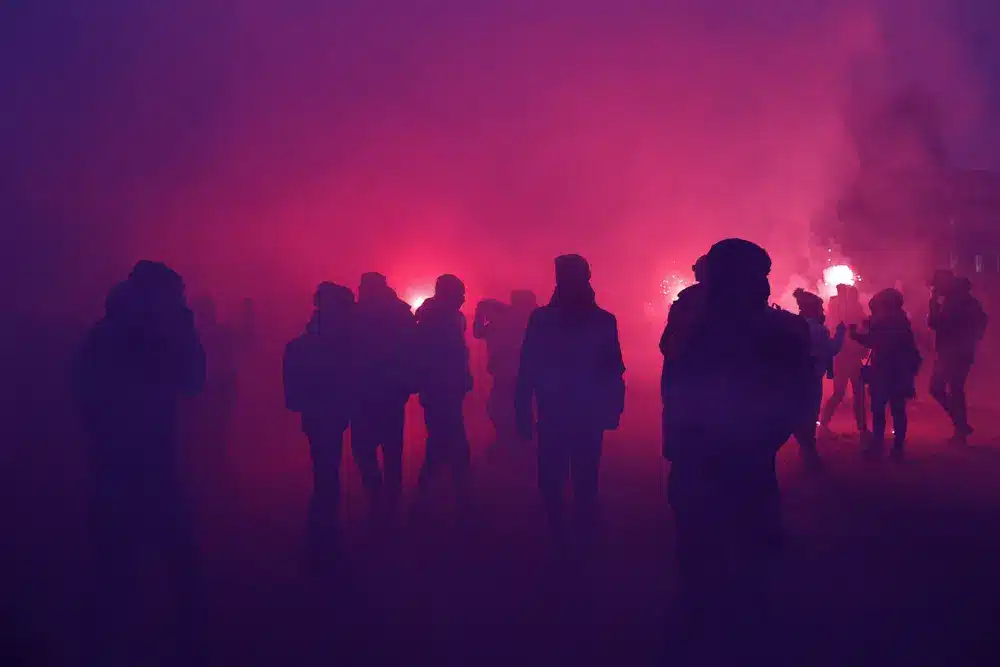 PARIS, France — According to the Interior Ministry, an estimated 1.27 million people took to the streets of French cities, towns, and villages on Tuesday in massive protests against President Emmanuel Macron's plans to raise the retirement age by two years.
In a big win for labor unions, more people showed up than at the last round of strikes and protests against the proposed pension system changes. Prime Minister Elisabeth Borne had to say that her government "hears" the "questions and doubts" raised by reforms that would raise the retirement age from 62 to 64.
The eight unions that organized the protests announced new demonstrations for February 7 and 11.
"In the face of widespread opposition, the government must pull back on its reform," said Patricia Drevon of the Workers' Force union, who stood with other union members in a rare public show of unity.
According to the powerful CGT union, 2.8 million protesters marched in french on Tuesday.

The Franch Love To Strike
National strikes and protests were a litmus test for Macron and his opponents. The government has said that it is determined to keep Macron's promise to change French pension system, which he made during the election. But a lot of people will be against the bill, which will help labor unions and left-leaning lawmakers stop it.
Later Tuesday, Prime Minister Borne extended a tentative olive branch to protesters and unions, tweeting: "The retirement reform raises questions and doubts. We can hear them."
This means that changes are possible, but not necessarily a full withdrawal, which is what protesters have been calling for. According to her tweet, the upcoming debate in parliament "will allow us… to enrich our project with a goal" of ensuring the future of France's pension system. "We bear responsibility."
Borne recently stated that raising the retirement age to 64 is "no longer negotiable." On Monday, Macron defended the reform as "vital."
According to police, 87,000 people took to the streets in the capital, up from 80,000 in the first major pension protest on Jan. 19, when authorities claimed 1 million people demonstrated nationwide. Estimates from the union had more than doubled that figure.

Radicals And Riot Police Clash
The otherwise peaceful Paris march was marred by sporadic clashes between a small group of black-clad radicals and riot police, who fired tear gas near Les Invalides, the site of Napoleon's tomb, where the march ended. There were 30 arrests there and along the route, according to police.
11,000 police officers were on duty for an estimated 250 protests across the country.
"The government is currently backed into a corner. "It only needs to withdraw its reform," Erik Meyer of the Sud Rail union, one of eight unions that organized the march, told BFM TV.
Veteran left-wing leader Jean-Luc Mélenchon praised the protests as "historic" and predicted Macron's defeat.
"We don't see such a mass mobilization very often," he said in the southern city of Marseille. "It's a type of citizen insurgency."
The demonstrations were not limited to France's major cities. On Ouessant, a tiny western isle of about 800 people off the coast of Brittany, about 100 protesters gathered outside Mayor Denis Palluel's office and marched, he said.

Retiring At A Reasonable Age Is Important To The French People
The prospect of having to work longer hours alarmed mariners on the island with difficult ocean-going jobs, according to Palluel.
"It's important to retire at a reasonable age because life expectancy isn't very long," he says.
Protests by people of all ages were loud and colorful, with sirens, bullhorns, and smoke bombs, continuing a long tradition of taking democracy to the streets in France.
Strikes disrupted services across France on Tuesday, in addition to the protests.
According to SNCF, most train services in Paris, other regions, and France's flagship high-speed network connecting cities and major towns have been disrupted. Station closures and cancellations also impacted the Paris Metro.
Power workers in key positions, who are not allowed to go on strike, showed their support for protesters by temporarily cutting electricity supplies without causing blackouts, according to the company that makes the electricity, EDF.

Local Striking Impacted Schools
Civil servant Jamila Sariac, 60, believes the pension system should be left alone.
"Social protection is a milestone of our society, a milestone that the government wishes to break," she said, adding that strikes would put more pressure on the government than protests. "We owe it to our forefathers who contributed to France's wealth."
Said Belaiba, who works in construction, was one of the people whose train from Paris to Lyon in the morning was canceled, so he had to wait. Nonetheless, the 62-year-old said he was opposed to the proposed reform.
"My job is physically demanding," he admitted. "You can't keep going past 64."
Strikes also impacted schools, with the Education Ministry reporting that roughly one-quarter of teachers remained absent from work — fewer than in the previous round of protests.
Walkouts in oil refineries were also reported in French media. Because of the strike, radio station France Inter played music instead of its usual morning talk shows and apologized to its listeners.
SOURCE – (AP)