Republicans House Speaker Debacle Becoming a Clown Show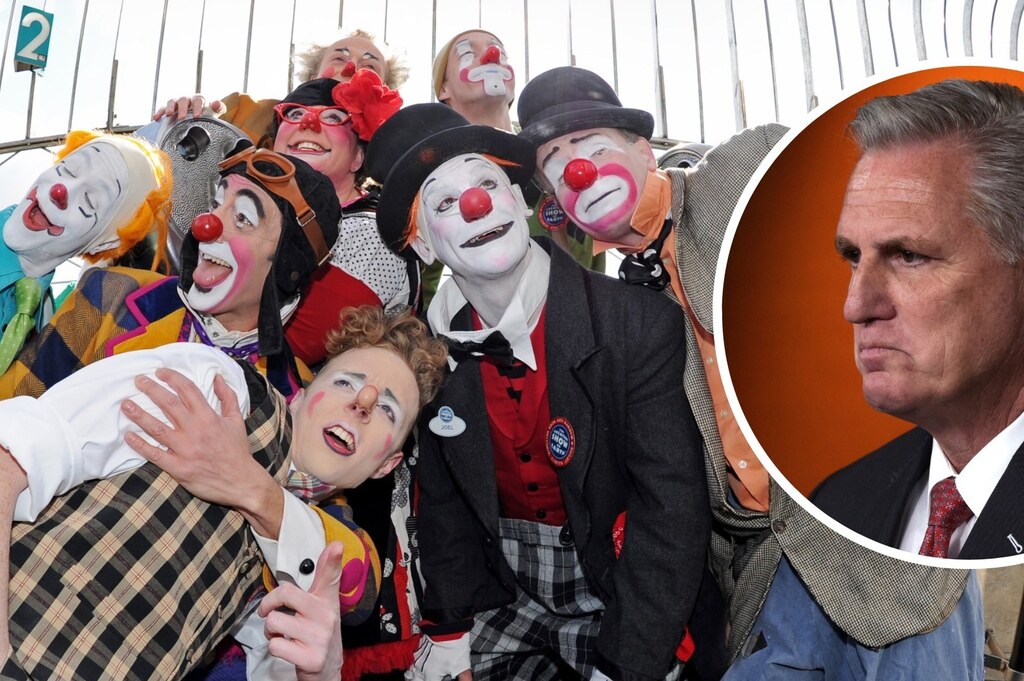 House Republicans embarrassingly floundered through another day of multiple balloting on Wednesday, with Kevin McCarthy unable to be elected as House speaker. Republicans were unable to unite and end the political chaos, that is becoming an embarrassing clown show for the Republican majority in the house.
Republicans attempted to vote McCarthy into the top job for the fourth, fifth, and sixth time as the House fell further into disarray. But the votes were almost identical, with 20 conservative holdouts still refusing to support him, leaving him far short of the 218 required to win the gavel. In fact, McCarthy's vote total dropped to 201 after one Republican switched to voting simply present.
"Well, it's Groundhog Day," Rep. Kat Cammack, R-Fla., said of McCarthy's nomination on the sixth ballot.
"To all Americans watching right now, we hear you," she said. And no matter how messy it gets, we'll get through it."
However, right-wing conservatives led by the Freedom Caucus and aligned with Donald Trump appeared emboldened by the standoff — despite Trump's public support for McCarthy.
"This is actually an energizing day for America," said Rep. Byron Donalds, R-Fla., who was nominated three times as an alternative by his conservative colleagues. "There are a lot of members in the chamber who want to have serious discussions about how we can wrap this up and elect a speaker."
A Grueling spectacle
Kevin McCarthy, a California Republican, vowed to fight on despite the grueling spectacle that threw the new majority into disarray a day earlier. On the chamber floor, heated private debates erupted between McCarthy supporters and detractors looking for a way out.
The House convened at noon, but no other business could be done until the speaker was elected, including swearing in new members, forming committees, tackling legislation, and investigating the Biden administration.
"I still have the most votes," McCarthy declared at the beginning of the session. "We'll be able to get there at the end of the day."
But the dynamic remained unchanged from Day One, as Democrats re-nominated their leader, Rep. Hakeem Jeffries, for speaker, and Donalds issued another historic challenge to McCarthy. Jeffries and Donalds are both black.
"This country needs leadership," said Texas Republican Rep. Chip Roy, noting that it was the first time in history that two Black Americans were nominated for high office, and lawmakers from both parties rose to applaud.
Republicans embarrassing themselves
It was the first time in 100 years that a House speaker nominee did not take the gavel on the first vote, but McCarthy seemed unfazed. Instead, he vowed to fight until the end. With Republicans now in control of the House, the disorganized start to the new Congress portended difficulties ahead.
As he left the White House for a bipartisan event in Kentucky with Senate GOP leader Mitch McConnell, President Joe Biden said, "the rest of the world is looking" at the scene on the House floor.
"I just think it's really embarrassing how long it's taking," Biden said. "I'm not sure" who will win.
Tensions rose among the new House majority as their campaign promises failed to materialize. A speaker's election has not gone to multiple ballots since 1923, and the longest and most grueling battle for the gavel began in late 1855 and lasted two months, with 133 ballots, during debates over slavery in the run-up to the Civil War.
A new generation of conservative Republicans, many of whom support Trump's Make America Great Again agenda, want to upend Washington's status quo and are determined to derail McCarthy's rise without making concessions to their priorities.
McCarthy opposed by Freedom Caucus
Even Trump's staunchest supporters, however, disagreed on this point. Rep. Lauren Boebert, a staunch Colorado conservative who nominated Donald Trump for the second time, urged the former president to tell McCarthy, "Sir, you do not have the votes, and it is time to withdraw."
Trump had done the opposite earlier in the day, urging Republicans to vote for McCarthy. "Close the deal, take the victory," he wrote in all capital letters on his social media site. "Do not turn a great victory into a massive and humiliating defeat."
As the election dragged on, McCarthy's supporters begged the remaining holdouts to vote for the California Republican.
"I think members on both sides are feeling a lot of pressure right now," said Rep. Tom Cole, R-Oklahoma. "So I think the message from home is, 'Hey, sort this out; we don't have time for the small stuff and egos.'"
Since Republicans won control of the House in the midterm elections, there has been a standoff over McCarthy. While the Senate is still in Democratic hands, House Republicans are eager to confront Biden after Democrats controlled both houses of Congress for two years.
McCarthy was opposed by the conservative Freedom Caucus, which believes he is neither conservative nor tough enough to face Democrats.
McCarthy has already agreed to many of the Freedom Caucus' demands for rule changes and other concessions that give rank-and-file members more influence in the legislative process in order to gain support. He's been here before, having dropped out of the race for Speaker of the House in 2015 after failing to win over conservatives.
"Everything is on the table," said ally Rep. Patrick McHenry, R-North Carolina, except having McCarthy step down. "Certainly not. That is not an option."
Democrats enthusiastically nominated Jeffries, the party's new leader, as their candidate for speaker. He received the most votes overall (212).
McCarthy could lower the threshold required by the rules to have a majority if he could win 213 votes and then persuade the remaining dissenters to simply vote present.
Former House speakers, including outgoing Democratic Speaker Nancy Pelosi and Republican Speaker John Boehner, have used this strategy in the past when confronted with opposition, winning the gavel with fewer than 218 votes.
Rep. Victoria Spartz of Indiana, a Republican, voted present in the fourth and fifth rounds, but it made no difference in the immediate outcome.
Source: AP, VOR News
UK Energy Giant BP's Profits Double To $27.7 Billion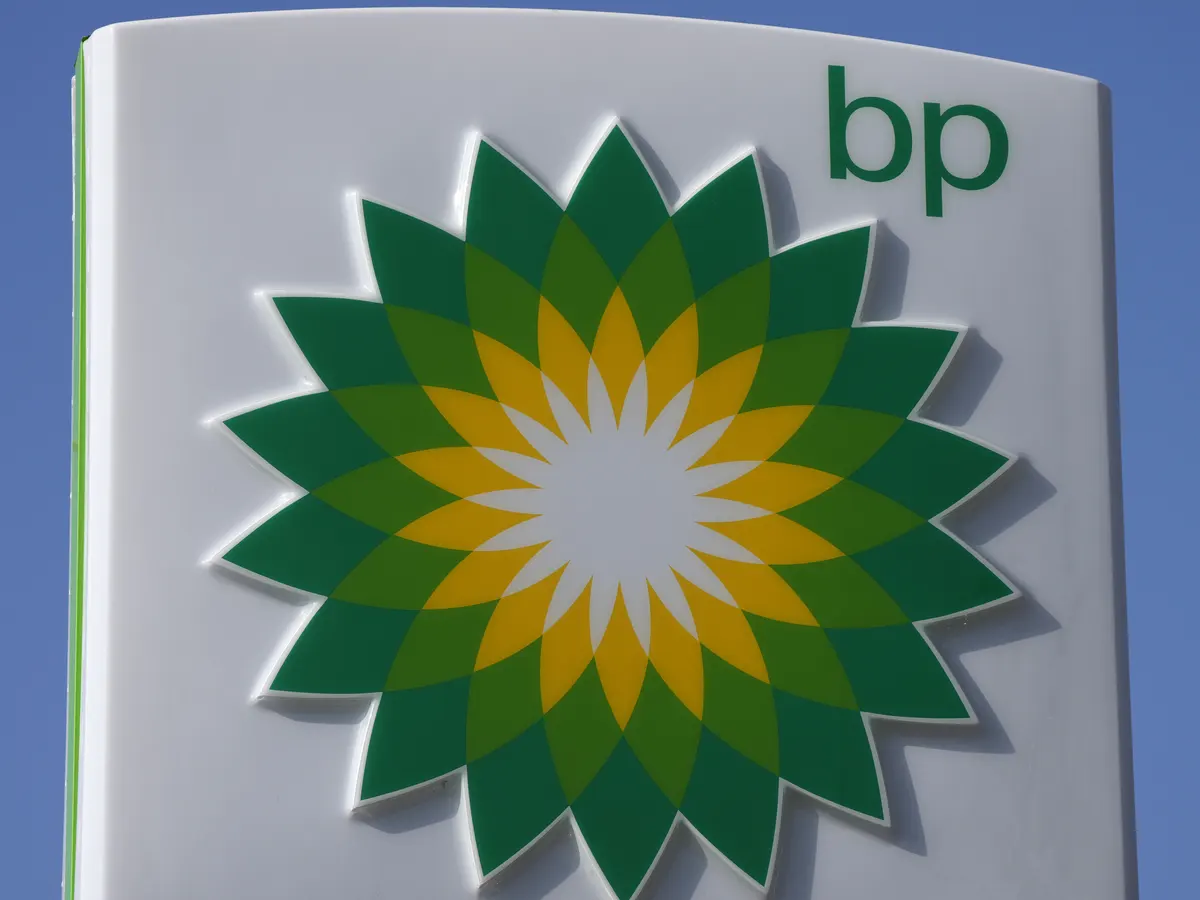 LONDON, England — On Tuesday, BP announced that it had made the most money ever in a single year. This added to calls for the UK government to raise taxes on companies that are making money off of the high prices of oil and natural gas because of Russia's invasion of Ukraine.
BP, which has its headquarters in London, said that its underlying replacement cost profit, which does not include one-time items or changes in the value of inventories, went up from $12.8 billion in 2021 to $27.7 billion in 2022. BP earned $26.8 billion in 2008 when tensions in Iran and Nigeria drove global oil prices to a record of more than $147 per barrel.
BP also said it would buy back more shares from shareholders worth $2.75 billion and raise its quarterly dividend by 10%.
But public anger, especially in the country where the company is based, is likely to make the good news for BP shareholders less exciting. High oil and gas prices have hit Britain hard, with double-digit inflation fueling a wave of public-sector strikes, a surge in food bank use, and calls for politicians to expand a tax on energy companies' windfall profits to help pay for public services.
Ed Miliband, who is in charge of the environment for the opposition Labour Party, has asked the UK government to put a "proper" windfall tax on energy companies.

BP Faces Critisism Over The Profit Margins
"Yet another day of huge profits at an energy giant, windfalls from war," Miliband said.
Shell, based in London, received similar criticism last week after reporting that its annual earnings more than doubled to a record $39.9 billion.
Energy companies around the world are making a lot of money, which has led to calls for the fossil fuel industry to do more to help with high energy bills and reduce carbon emissions that hurt the environment. Last week, Exxon Mobil, which is based in the United States, said it made a record $55.7 billion.
Last year, Britain put a 25% windfall tax on earnings from oil and gas production in the country. In 2023, the tax will go up to 35%. Opposition leaders have chastised the government for allowing energy companies to reduce their tax liability by investing in the United Kingdom.
BP said it took a $1.8 billion charge last year to cover the new UK tax.

The Company Had To Pay Lots Of Fees To Leave Russia
The company also had to pay $25.5 billion in fees because it decided to pull out of its investments in Russia after Russia invaded Ukraine.
After taking into account one-time costs and changes in the value of inventories, BP reported a net loss of $2.49 billion for 2022. This is a big change from the year before, when it made a net profit of $7.57 billion.
BP said on Tuesday that it would invest an extra $8 billion in its oil and gas businesses, as well as in clean energy, hydrogen, and charging stations for electric cars, through 2030.
The investments will increase oil and gas production to approximately 2 million barrels of oil equivalent per day by 2030. BP had planned to cut production by 40%, but the new goal is only 25% less than what was planned for 2019.
"We will prioritize projects where we can deliver quickly, at a low cost, and using our existing infrastructure, allowing us to minimize additional emissions while maximizing both value and our contribution to energy security and affordability," said CEO Bernard Looney statement.
Prices Of Oil Has Been Falling
Following the invasion of Ukraine, energy prices skyrocketed. Brent crude, a global oil price benchmark, averaged $101.32 per barrel last year, 43% higher than in 2021. The average wholesale price of natural gas in the United Kingdom increased by 76%.
Prices have been falling in recent months, with Brent crude averaging $88.87 per barrel in the fourth quarter.
"The question is, what will they do with record profits and operating cash flow? Governments are already questioning record profits from peer global energy companies,′′ according to Gianna Bern, author of "Investing in Energy: A Primer on the Economics of the Energy Industry." "At a time when inflation and gas prices are both at record highs, energy companies around the world will have to rethink the cost and availability of energy for everyone."
According to Alice Harrison, fossil fuels campaign leader at environmental advocacy nonprofit Global Witness, BP's profits were made "on the back of three global crises" — the Ukraine war, the energy crisis, and climate breakdown.
"These massive profits will be a bitter pill to swallow for those in need," Harrison said. "There's no denying it: BP is richer because we're poorer."
SOURCE – (AP)
Salman Rushdie Gives First Interview Since 2022 Stabbing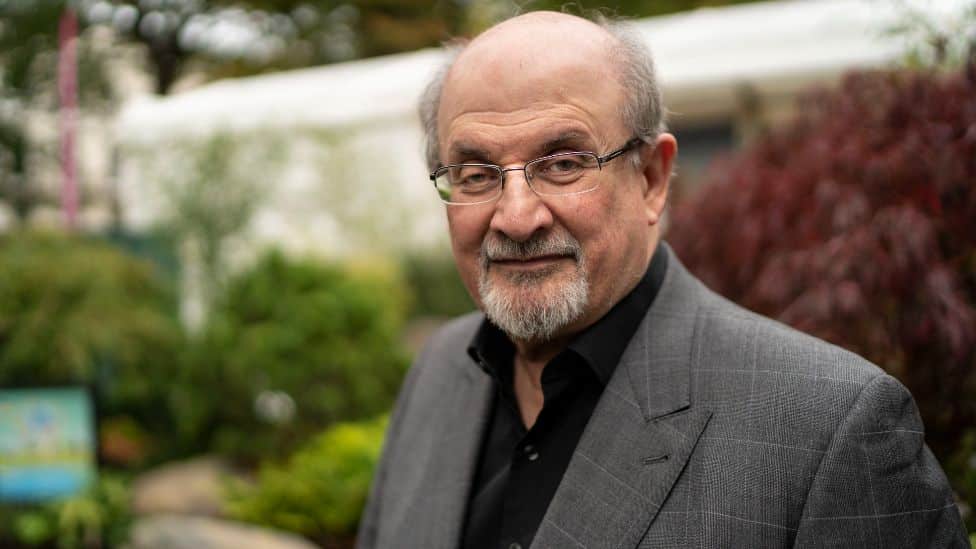 NEW YORK – Salman Rushdie is blind in his right eye, struggles to write, and has "frightening" nightmares months after being stabbed repeatedly as he prepared to give a lecture.
However, he expressed gratitude during his first interview since the attack.
"Well, you know, I've been better," he told David Remnick of The New Yorker in an interview published Monday. "However, given what happened, I'm not so bad."
"The major injuries are essentially healed," Rushdie continued. "I have sensation in my thumb, index finger, and the bottom half of my palm. I'm getting a lot of hand therapy and am told I'm doing great."
Remnick, who spoke with Rushdie in person at his agent's office in Manhattan and via Zoom, wrote that the Booker Prize-winning author had lost more than 40 pounds (18 kilograms) and now reads mostly on an iPad, where he can adjust the lighting and font size.
Rushdie Went Into Hiding In Iran
"On the right side of his face, there is scar tissue," Remnick wrote. "He speaks as fluently as ever, but one side of his lower lip droops. His left hand's ulnar nerve was severely damaged."
Rushdie, 75, went into hiding for years after Iran's Grand Ayatollah Ruhollah Khomeini issued a fatwa in 1989 calling for his death because of the novel "The Satanic Verses'" alleged blasphemy. But he'd been moving around freely for a long time, with little security, and had no qualms about appearing at the Chautauqua Institution, a nonprofit education and retreat center in western New York, last August.
Rushdie was on stage when he was approached by a young man in black carrying a knife. Hadi Matar, who is accused of assaulting and trying to kill the victim, has said he is not guilty. Rushdie called Matar an "idiot" in his New Yorker interview but expressed no resentment.
"Over the years, I've worked very hard to avoid recrimination and bitterness," he said. "I don't think it's a good look. One of the ways I've dealt with this situation is to look forward rather than back. What happens today is less important than what happens tomorrow."
The Man Complained The Stabbing Made Book Sales Go Up
The interview was published on the eve of the release of Rushdie's new novel, "Victory City," which he finished a month before his assassination. "Victory," which features a protagonist who lives to be 247, is a typically surreal and exuberant narrative about an imagined ancient poem that has received overwhelmingly positive reviews, with The Washington Post's Ron Charles writing that "Rushdie's magical style unfurls wonders."
Rushdie had been silent on social media for months but now occasionally tweets and even responds to insults. When a Twitter user told him last week that he was living a "disgraceful life," Rushdie responded, "Oh, another fan! "I'm overjoyed."
During the interview, he complained that the stabbing had increased his book sales, as if people liked him more when he was in danger.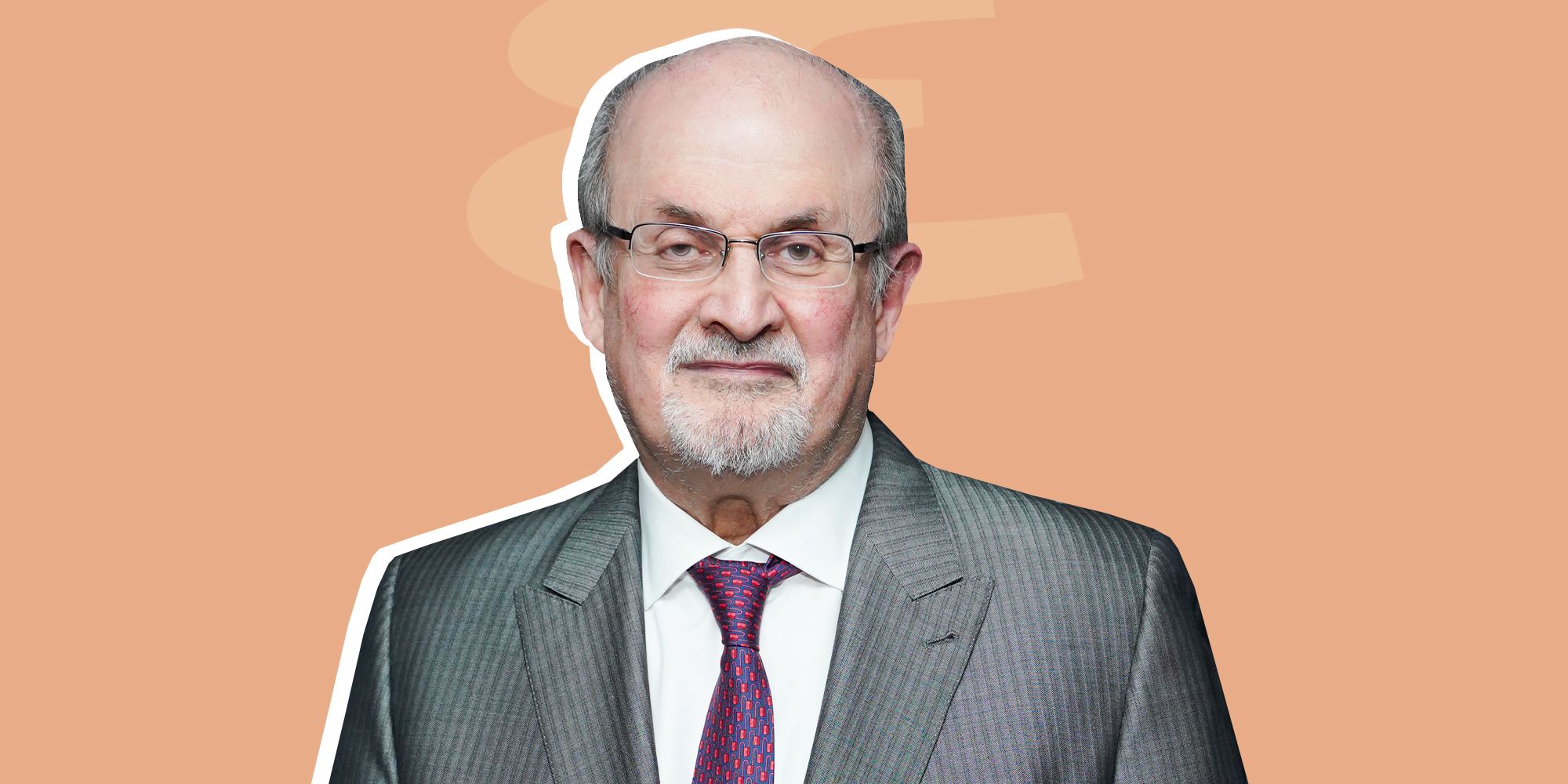 Rushdie Suffered From 15 Stab Wounds
"Everyone loves me now that I'm almost dead," he said. "That was my error back then. I not only lived, but I tried to live well. That was a terrible oversight. Better to get 15 stab wounds."
On Monday, he tweeted a photo of himself staring directly into the camera lens, his face thinner than in photos taken before the stabbing, his right eye hidden behind a dark lens in his glasses frame.
Otherwise, he is still attempting to recover. Rushdie has written that he initially struggled to write fiction after the fatwa and is still struggling, saying that when he sits down to work, "nothing happens," just a "combination of blankness and junk."
One project he might consider is a sequel to his 2012 memoir "Joseph Anton," which he wrote in the third person.
"This does not feel third-person to me," Rushdie said of a potential sequel. "I believe a first-person story is when someone sticks a knife into you. "That is an "I" story."
SOURCE – (AP)
MYANMAR: UN Chief Backs Democracy For Myanmar 2 Years After Takeover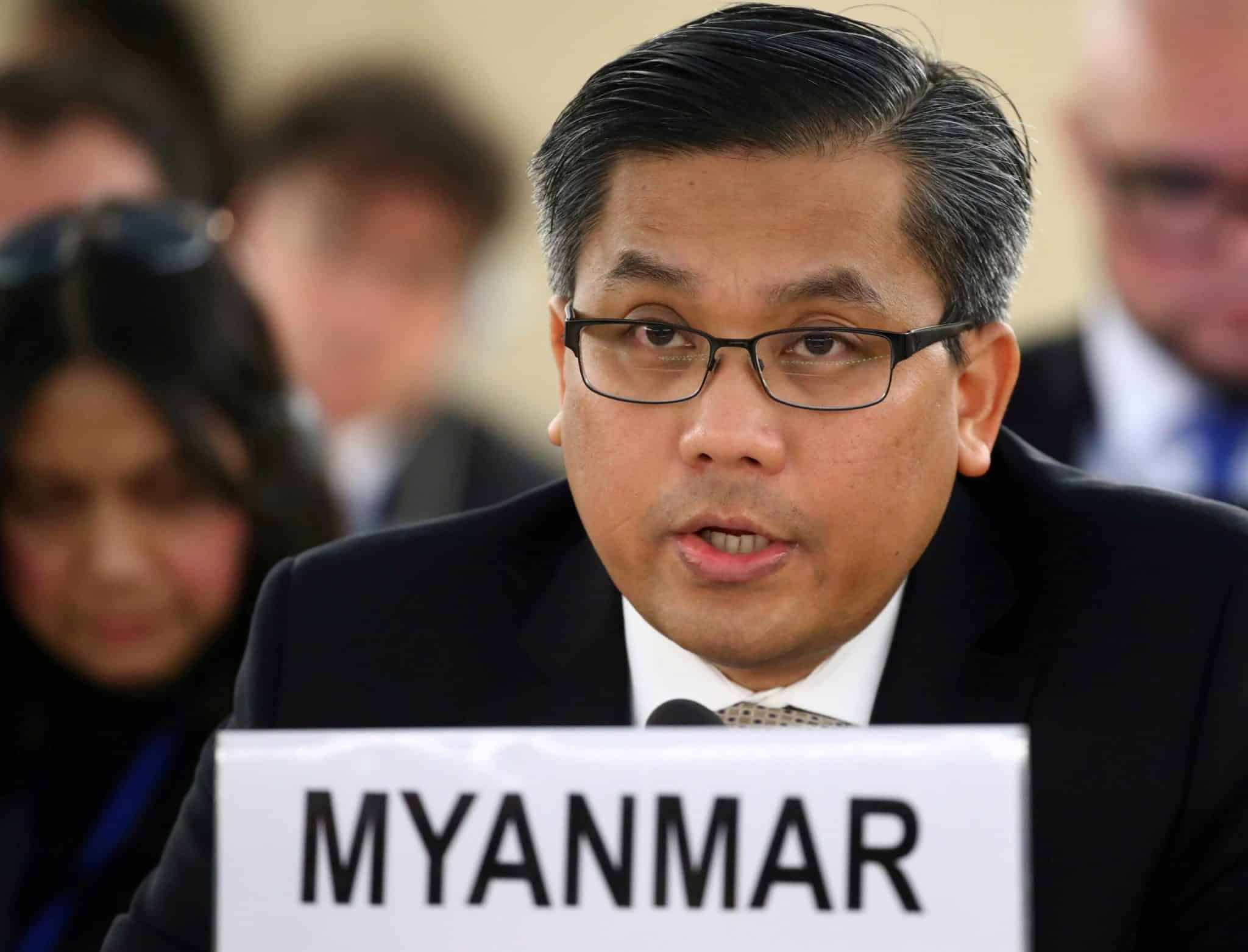 THE UNITED NATIONS – Two years after Myanmar's military seized power, United Nations Secretary-General Antonio Guterres expressed support for the country's democratic aspirations while warning that the military's planned elections coincide with a crackdown on civilians and political leaders "risk exacerbating instability."
According to U.N. spokesman Stephane Dujarric, the secretary-general strongly condemns all forms of violence in Myanmar as the country's crisis worsens "and fuels serious regional implications."
On February 1, 2021, the army deposed Aung San Suu Kyi's elected government, arresting her and top members of her ruling National League for Democracy party, which had won a landslide victory for a second term in a November 2020 general election.
Security forces used lethal force to suppress widespread opposition to the military takeover, killing nearly 2,900 civilians and arresting thousands more who participated in nonviolent protests. The brutal crackdown sparked armed resistance across much of the country. The military government has designated major anti-army organizations as "terrorist" organizations.
The military enacted a new law on political party registration, published on Friday, making it difficult for opposition groups to mount a serious challenge to army-backed candidates in a general election later this year. It sets minimum requirements for parties, such as a number of members 100 times higher than in the 2020 elections and strict rules about how much money they can spend.

The Secretary-General Continues To Stand In Solidarity
"The military's stated intention to hold elections amid intensifying aerial bombardment and burning of civilian houses, as well as ongoing arrests, intimidation, and harassment of political leaders, civil society actors, and journalists," said the United Nations spokesman. "The proposed polls risk exacerbating instability unless conditions allow the people of Myanmar to freely exercise their political rights."
The secretary-general "continues to stand in solidarity with the people of Myanmar and to support their democratic aspirations for an inclusive, peaceful, and just society, as well as the protection of all communities, including the Rohingya," according to Dujarric.
Long-standing discrimination against Rohingya Muslims in Buddhist-majority Myanmar, including denial of citizenship and a slew of other rights, erupted in August 2017 when Myanmar's military launched a "clearance campaign" in northern Rakhine state in response to attacks on police and border guards by a Rohingya militant group. As troops allegedly committed mass rapes and killings and burned thousands of homes, over 700,000, Rohingya fled to Bangladesh, where they remain in camps.
The International Court of Justice, the United Nation's highest court, ordered Myanmar to do everything possible to prevent genocide against the Rohingya in January 2020. A two-day-old report from an independent commission set up by Myanmar's government found that there were reasons to think that security forces committed war crimes against the Rohingya but not genocide.

Myanmar To Work Closely With South-Asian Countries
Guterres praised the United Nations Security Council's first-ever resolution on Myanmar, which called for an immediate cessation of violence in the Southeast Asian country and urged its military rulers to release all "arbitrarily detained" prisoners, including Suu Kyi, and to restore democratic institutions.
The resolution asks all parties to "respect human rights, fundamental freedoms, and the rule of law." It also encourages opposing parties to talk to each other and make peace.
The resolution is "an important step that emphasizes the urgency for strengthened international unity," according to Dujarric.
According to the spokesman, Noeleen Heyzer, the United Nations special envoy for Myanmar, will work closely with the Association of Southeast Asian Nations to implement the Security Council's call to "engage intensively with all relevant parties in Myanmar to achieve an end to the violence and to support a return to democracy." On January 1, Indonesia took over as ASEAN chair from Cambodia.
"The U.N. is committed to remaining in Myanmar and addressing the multiple vulnerabilities that have arisen due to the military's actions since February 2021," Dujarric said, urging unrestricted access to all affected communities.
"The secretary-general reiterates his call for neighboring countries and other member states to urge Myanmar's military leadership to respect the will and needs of the people and adhere to democratic norms," a United Nations spokesman said.
SOURCE – (AP)