NFL All-Pros: Kelce, Jefferson unanimous; 16 first-timers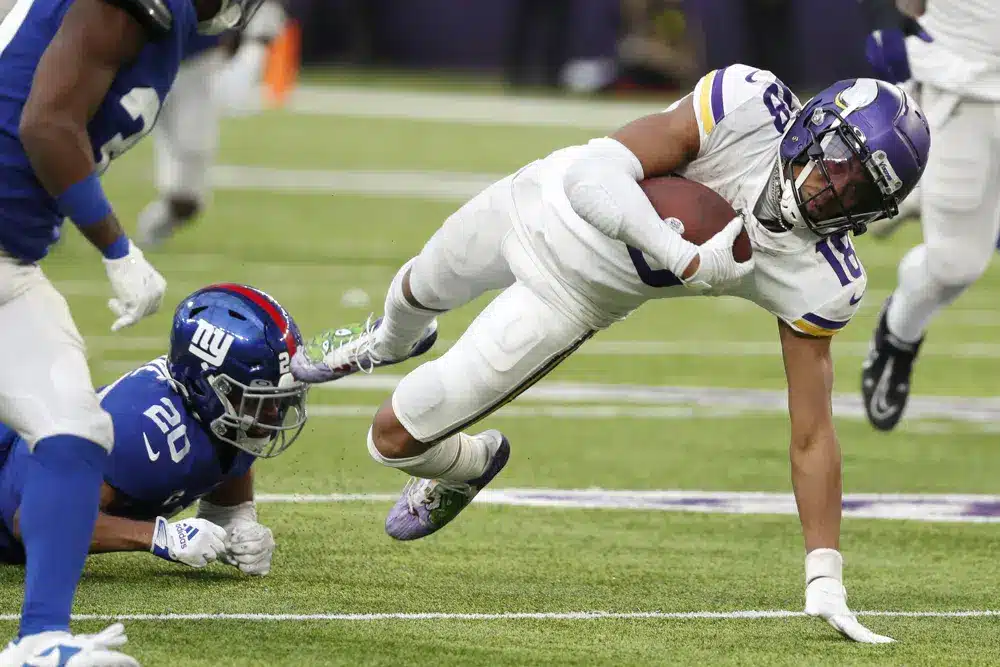 NFL All-Pro Team is made up of Travis Kelce, Justin Jefferson, and Sauce Gardner. Sauce Gardner is the first rookie cornerback to be chosen in 41 years.
Kelce of the Chiefs and Jefferson of the Vikings won first-team votes from all 50 members of a panel of media members who covered the NFL on Friday.
Patrick Mahomes of the Kansas City Chiefs, Nick Bosa of the San Francisco 49ers, and Chris Jones of the Kansas City Chiefs received 49 of 50 first-team votes. With four players on the first team, the Chiefs and Niners led the way.
Gardner, the New York Jets' fourth-round pick, was named on all 50 ballots and received 43 first-place votes. Ronnie Lott, a Pro Football Hall of Famer, was the final rookie cornerback chosen for the first team in 1981.

Hard Work Pays off In The NFL
"That means a lot to me," Gardner. "It was one of my objectives before training camp. It is something I hope for. I worked extremely hard for it. It's unquestionably a blessing."
Jason, Kelce's older brother, was also named to the first team for the fifth time in his career, keeping him one step ahead of his pass-catching brother. Lane Johnson, a fellow Philadelphia Eagles lineman, joins Jason Kelce on the squad.
"Big honor, very pleased for (Johnson), who is undoubtedly the finest tackle in the NFL, especially on the right side," Jason Kelce
Johnson, a two-time All-Pro, has missed the last two games due to an adductor injury but hopes to be back when the Eagles host a divisional-round playoff game next week.
"We spend a lot of time and effort into the game, and as you get older, you start to cherish it," Johns

An Honour To Be Selected
Josh Jacobs of the Las Vegas Raiders is one of 16 first-time All-Pros. Jacobs led the NFL in rushing with 1,653 yards, 12 touchdowns, and a 4.9-yard-per-carry average. Despite finishing 6-11, the Raiders had three first-team picks.
"The year clearly didn't go how we wanted it to, but it's absolutely an honor to be selected," Jacobs
The other newcomer on offense is Jefferson, who had a league-high 128 catches and 1,809 yards receiving. Tyreek Hill of Miami made it for the fourth time, the third as a receiver. Hill caught 119 passes for 1,710 yards and seven touchdowns in his rookie season with the Dolphins. Davante Adams of the Raiders was selected for the third time. In his debut season in Las Vegas, Adams had 100 receptions for 1,516 yards and 14 touchdowns.
Cowboys right guard Zack Martin is a six-time All-Pro, as are 49ers left tackle Trent Williams and Browns left guard Joel Bitonio.

Bosa Led The NFL
Mahomes was an All-Pro as well as the NFL MVP in 2018. He led the league with 5,250 yards passing and 41 touchdowns, guiding the Chiefs to their seventh straight AFC West title. Jalen Hurts of Philadelphia received one first-team vote, keeping Mahomes from becoming a unanimous choice.
The only returning All-Pros on defense are Cowboys edge rusher Micah Parsons, 49ers linebacker Fred Warner, and Steelers safety Minkah Fitzpatrick. Fitzpatrick is back for the third time. Parsons, who had 13 1/2 sacks in his rookie season, made the team as a linebacker.
All-Pro  NFL selections included Bosa, Jones, Jets defensive tackle Quinnen Williams, Ravens linebacker Roquan Smith, Bills linebacker Matt Milano, Broncos cornerback Patrick Surtain II, and Niners safety Talanoa Hufanga.
Bosa led the NFL in sacks with 18 1/2. Williams had 11 points.
"I tell my wife my goals every day so she can hold me accountable and make sure I do the right thing," Williams told the Associated Press. "To hear this news, all of my hard work has paid off, and I must continue to do the same."

All Six Special-Team Players Are Also Rookies
They are the Raiders' Daniel Carlson, the Chiefs' Tommy Townsend, the Packers' Keisean Nixon, the Patriots' Marcus Jones, the Commanders' Jeremy Reaves, and the Vikings' Andrew DePaola.
The AP's new voting system debuted this year. Voters selected a first and second team. First-team votes are worth three points, while second-team votes are worth one point.
SOURCE – (AP)
Carlos Alcaraz Likes To Watch Replays Of his Best Shots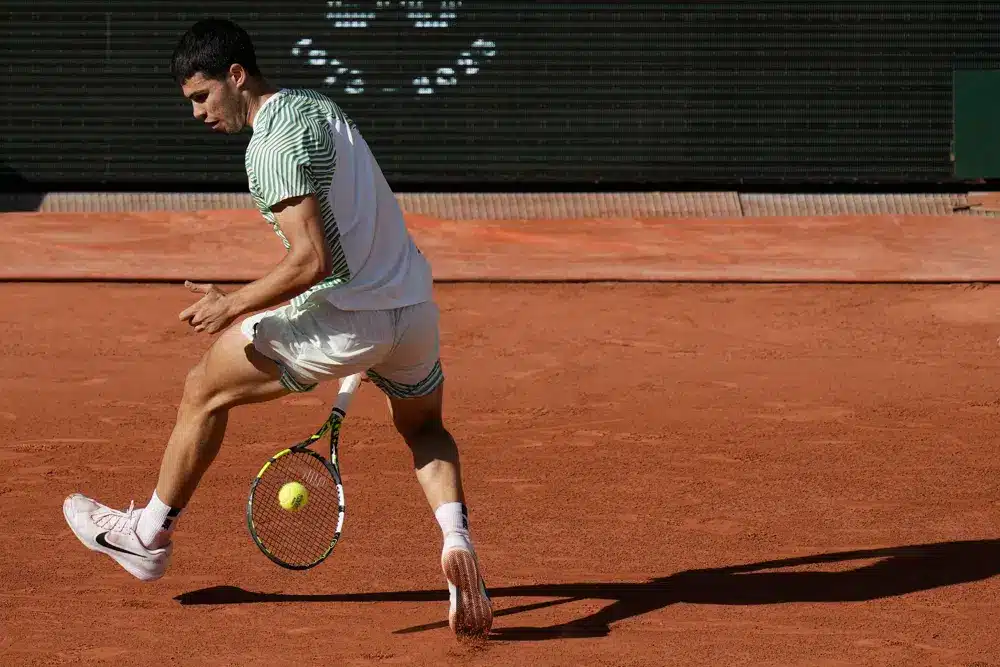 PARIS — Some friendly advice, sports fans: If Carlos Alcaraz is playing, do not look away. Even for a moment. Because it's likely, he'll conjure up some highlight-worthy mix of ability, athleticism and awareness that drops the jaw. Anyone who's watched him play lately knows this. Anyone who's played against him lately knows this. And he knows this. This is why the No. 1-ranked Alcaraz himself acknowledged through that now-familiar smile that he'd glance up at the stadium video boards "a lot of times" to see a replay of what he just did.
Up to his usual tricks at Court Philippe Chatrier on Sunday, Alcaraz mixed a bit of this — a back-to-the-net 'tweener lob — and a bit of that — a full-sprint-then-slide wide of the doubles alley for a backhand winner at a seemingly impossible angle — along the way to reaching the French Open quarterfinals with a 6-3, 6-2, 6-2 victory over No. 17 seed Lorenzo Musetti of Italy. "Today he showed," Musetti said, "that he probably can win this tournament." First things first.
Next for Alcaraz, a 20-year-old from Spain who won the U.S. Open in September, comes what could be a tougher test: His quarterfinal opponent will be No. 5 Stefanos Tsitsipas, a two-time major runner-up who advanced by beating qualifier Sebastian Ofner 7-5, 6-3, 6-0. Win that, and Alcaraz could find himself in a semifinal against Novak Djokovic. He broke a tie with rival Rafael Nadal by reaching the French Open Alcarazquarterfinals for the record 17th time, never truly in trouble during a 6-3, 6-2, 6-2 win over Juan Pablo Varillas.
"Well, I'm proud of it, but my attention is already on the next match," said Djokovic, who now meets No. 11 Karen Khachanov. "I know what my goal is here. I'm trying to stay, mentally, the course and of course not look too far." That's because Djokovic is closing on bettering Nadal in a more prestigious category: Grand Slam singles championships. Both currently sit at 22. For Djokovic, that total includes two at Roland Garros, in 2016 and 2021, and he can become the first man to own at least three trophies from each major tournament.

If Carlos Alcaraz is playing, do not look away. Even for a moment. Because it's likely, he'll conjure up some highlight-worthy mix of ability, athleticism and awareness that drops the jaw.
Nadal is a 14-time champion in Paris but is missing this time because of a hip injury; he had arthroscopic surgery Friday night that is expected to sideline him for the rest of the year. "I really hope that his rehabilitation process can go well and that we can see him next season. He's so important for our game, on and off the court, one of the greatest legends of tennis in the history of the game," Djokovic said. "We want to see a healthy Rafa, no question about it."
The No. 3-seeded Djokovic is thus far for the 14th time in a row at the French Open and for the 55th time overall at all majors. Roger Federer, who retired at 58, is the only man to reach more. Djokovic takes an 8-1 head-to-head mark into Tuesday's meeting with Khachanov, who defeated Lorenzo Sonego 1-6, 6-4, 7-6 (7), 6-1. "He's one of the toughest tasks, toughest opponents," Khachanov said about Djokovic, "and you cannot count him out."
Elina Svitolina, participating in her first Slam since having a baby in October, made her way into the quarterfinals with a 6-4, 7-6 (5) win against No. 9 Daria Kasatkina, who was in the final four in Paris a year ago. Svitolina, from Ukraine, skipped the postmatch handshake against her Russian opponent because of the ongoing war; Kasatkina offered a thumbs-up to Svitolina. Svitolina goes up against No. 2 Aryna Sabalenka, the reigning Australian Open champion.
Sabalenka grabbed the first five games and the last nine points of a topsy-turvy 7-6 (5), 6-4 victory over 2017 U.S. Open champion Sloane Stephens at night. Just like after her third-round victory, Sabalenka, who is from Belarus, did not attend the traditional postmatch news conference. Instead, the tournament allowed her to speak with a WTA editorial staff member.

If Carlos Alcaraz is playing, do not look away. Even for a moment. Because it's likely, he'll conjure up some highlight-worthy mix of ability, athleticism and awareness that drops the jaw.
At media sessions following her first two matches in Paris, Sabalenka was asked about her stance on the war in Ukraine, which began in February 2022 when Russia invaded that country with help from Belarus. Sabalenka led 5-0, then suddenly Stephens pulled even at 5-5. But Sabalenka took the last two points of that opening set.
Then, in the second, Stephens served at 4-all, 40-love — and wouldn't take another point. Sabalenka was the one determining the outcome of most exchanges: She finished with far more winners (24-5) and far more unforced errors (40-19). Two Alcaraz unseeded women will play each other in another quarterfinal: Anastasia Pavlyuchenkova, the 2021 runner-up at Roland Garros, and Karolina Muchova.
Pavlyuchenkova, who missed last year's tournament due to a lengthy absence with a knee injury, got past a third consecutive seeded opponent, No. 28 Elise Mertens, by a 3-6, 7-6 (3), 6-3 score. Muchova was a 6-4, 6-4 winner against Elina Avanesyan, who lost in qualifying but got into the main draw when another player withdrew.
In Musetti, Alcaraz was taking on someone who won their only previous matchup in a clay-court final at the Hamburg Open last year. Musetti also had yet to drop a set through three matches in Paris. But this was a significant step up in competition.
Alcaraz accumulated a 42-17 edge in total winners while making the same number of unforced errors, 23. He could pick and choose how to undo Musetti's game. Hit behind him along the baseline. Hit right at him too powerfully to allow a reply. Hit a forehand passing shot down the line that appeared headed wide before curling in.
Hit the softest drop volleys imaginable, so they'd arrive and barely bounce. "Certain shots, certain athletic moves, other players don't do," Musetti said. Alcaraz was asked afterward whether he'll ever see an opponent come up with a stroke that he'd like to figure out how to add to his repertoire. "I don't think that I want to learn it," came the answer. "I just want … to hit a better shot."
SOURCE – (AP)
Spencer Carbery Hired As Capitals Coach After 2 Seasons As Maple Leafs Assistant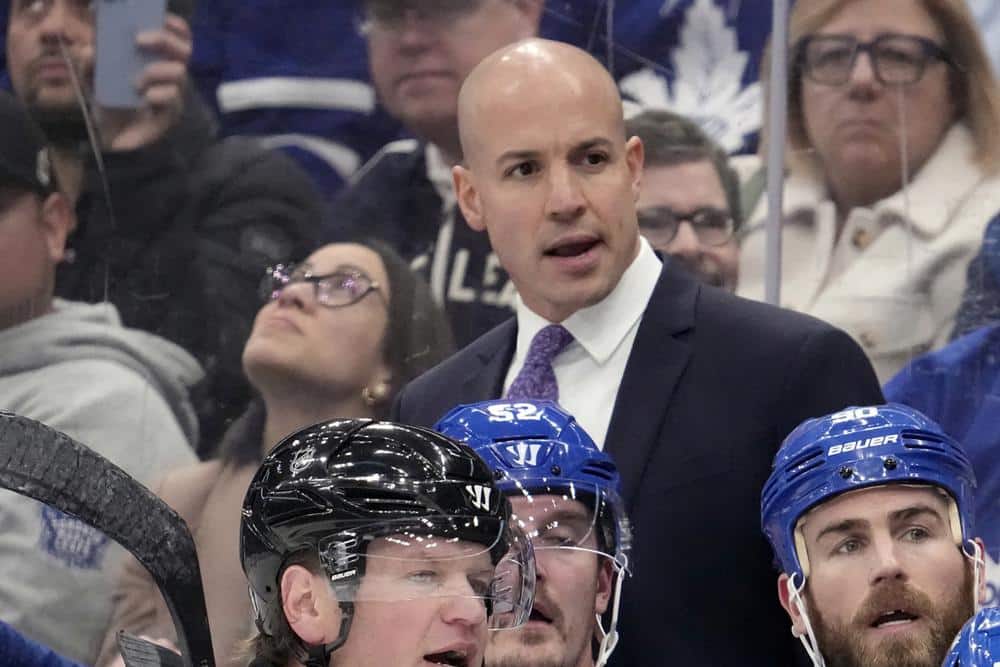 The Washington Capitals have appointed Spencer Carbery as their next head coach, reuniting the team with a fan favorite who had long been tipped for the position.
On Tuesday, the team revealed that they had re-signed Carbery after he had spent the previous two years as an assistant coach for the Toronto Maple Leafs.
Before then, Carbery's success with Washington's top minor league club had made many believe he would succeed Peter Laviolette as head coach of the Capitals. From 2018 to 2020, Carbery coached the Hershey Bears of the American Hockey League for three years before landing his first NHL job on Sheldon Keefe's staff in Toronto.
General manager Brian MacLellan commented, "Spencer is one of the best young coaches in the game who has had success at every level in which he has coached." To quote the hiring letter: "We feel his leadership, communication skills, ability to develop players, and familiarity with our organisation will be tremendous assets as he makes this next step in his coaching career."

The Washington Capitals have appointed Spencer Carbery as their next head coach.
Carbery, now 41 years old, was a homegrown talent for the Capitals who got his start with the team's ECHL affiliate in South Carolina. He went through many interviews this spring, including one with the San Jose Sharks for their open position from last year.
Before a rival team could pick him up, the Capitals got him back into the role they had envisioned for him. The former captain turned Tampa Bay assistant, Jeff Halpern, Philadelphia associate coach Brad Shaw and others with more experience were all passed over in favor of Carbery.
Carbery thanked the Capitals organization for allowing him to serve as team captain. I'm excited to get to know and develop chemistry with such talented players. To the Toronto Maple Leaf organization, I appreciate all the help you've given me over the past two seasons.
Carbery's job is to get Washington back into the playoffs after an eight-year drought. He inherits a squad led by the aging Alex Ovechkin, who led the playoffs in scoring in 2018 and is now attempting to break Wayne Gretzky's record for most goals scored by a player in franchise history.
The organization's purpose, from owner Ted Leonsis to general manager Brian MacLellan, is to remain competitive for as long as Russian superstar Alexander Ovechkin is under contract. Since Ovechkin is under contract for another three years, that is the most likely time frame before the team begins a reconstruction.
SOURCE – (AP)
Heat Still Lead East finals, But Celtics Roaring Back With Eye On History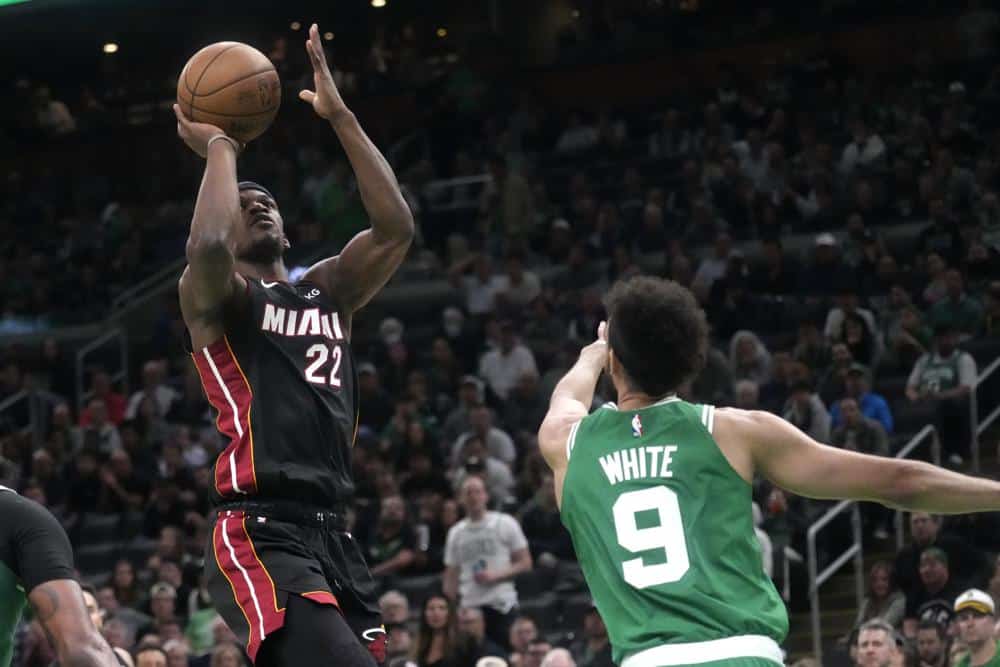 MIAMI HEAT Possibly, Kevin Garnett is correct. As he exclaimed in jubilation after Boston won the NBA title in 2008, anything is possible.
Including the unthinkable.
The Celtics have earned their way into an exclusive club by being halfway to immortality. Only 14 out of the first 150 teams in NBA history to go behind 3-0 in a best-of-seven series went on to force a decisive Game 6. This percentage is just 9.3 percent. There has never been a series winner among them; by this point, most of them have been booted.
It's not the Celtics. They are now down 3-2 in the Eastern Conference Finals against the Miami Heat, but they hold the upper hand heading into Saturday night's Game 6 in Miami.
Jaylen Brown, a forward for the Celtics, says, "When adversity hits, you get to see what a team is made of." The squad was stunned to find themselves down 3-0. Being down 3-0 seemed like the worst possible situation, yet we didn't panic or split up. As a group, we kept putting. We doubled down on our defensive strengths and can now win the series.
The Celtics can become the fourth team to return from a 3-0 deficit and force a game seven if they win on Saturday. A victory on Saturday would put Boston in a position to force the series to a decisive Game 7 on Monday at TD Garden, where it would host the series for the first time.

Down 3-2 in the Eastern Conference Finals against the Miami Heat.
After a rough week, Celtics head coach Joe Mazzulla reminded his team that the season is still nine months away. Sometimes you have a lousy week on the job. We didn't choose the finest moment to have a poor week, but we did, and now we're all pulling together and doing our hardest to keep it going.
The Denver Nuggets currently need a game. If Boston prevails, the NBA Finals will begin with the Nuggets facing the Celtics in Game 1. For Game 1, if Miami wins the East, the Heat will travel to Denver. The first episode of the titular series will air on June 1st.
Coach Michael Malone of the Nuggets stated as much on Friday, following the team's first full practice since clinching the Western Conference title with a four-game sweep of the Los Angeles Lakers. But keeping in sync is tough when you're not actively participating in NBA games.
In Game 4, the Heat led by nine points in the third quarter and looked like they would be able to complete a series sweep. Two and a half minutes later, the Celtics had taken the lead for good. Boston took control of Game 4 with an 18-0 run, ended any remaining uncertainty with a 12-0 run in the second half, and opened Game 5 with a 20-5 run.
All told, in the 27 minutes between the beginning of the Celtics' third-quarter outburst in Game 4 and the end of their early-game run in Game 5, the Celtics outscored the Heat 84-43.
These past two performances do not represent us. It was just a coincidence, Heat forward Jimmy Butler said. We stopped defending in the middle of the game because we weren't making the shots we needed to win. However, that can be fixed quickly. It would help if you came out swinging a lot harder. It will be nothing but sunshine and consistency from here on out because we know we will win the next game, as I've said before.

At least one's self-assurance is growing. The rest of it is.
Miami Heat head coach Erik Spoelstra said frankly, "There are no excuses" for the team's poor performance in Game 5. Even though the locker room is currently as chaotic as a scrum for a dropped ball under the basket, "not at all," he insisted. With injuries to Tyler Herro and Victor Oladipo at shooting guard, as well as the absence of starting guard Gabe Vincent for Game 5 and the sight of Kyle Lowry playing through some hand ailment, the Heat have been shorthanded in the backcourt throughout the rest of the playoffs.
Game 5 was a disaster for Miami's starting unit, as they were outscored by their bench players 95-44. Ever since Boston's comeback-sparking run began in Game 4, the Heat have been outscored 75-33 from 3-point range, have given up 54% field goal and 44% 3-point shooting to the Celtics, and have turned the ball over 26 times to Boston's 12.
Select a random number from the list. Only the series score of 3-2 is positive for the Heat, as it means that Miami is still one win away from completing their incredible journey as a No. 8 seed that reached the NBA Finals.
Spoelstra acknowledged that this series would be intensely contested. You know the conference finals will be tough because they always are. There is no connection between games. We won Game 3 by a wide margin. It's really beside the point. It's all about working together to plan and execute a spectacular performance. On Saturday, we'll play at a much higher level. That's all we can do is concentrate on at the moment.
SOURCE – (AP)