Argentina Erupts in Joy After Epic 2022 World Cup Win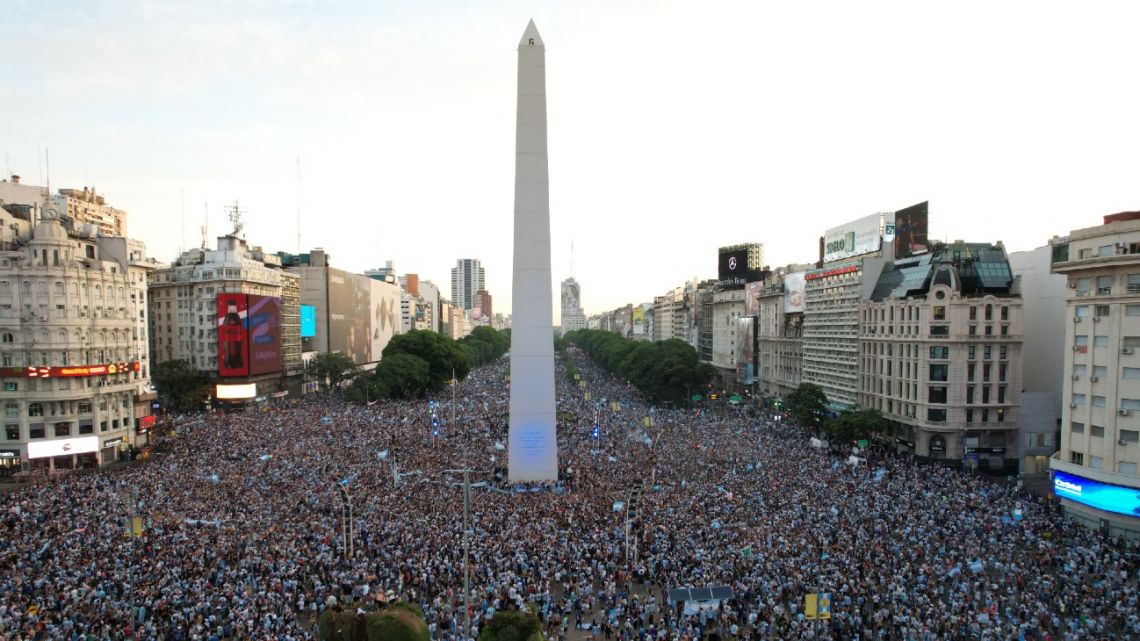 After an epic 2022 World Cup final in which Argentina beat France on penalties, Argentines let loose on Sunday, and streets across the country became places of celebration. It was the country's third World Cup championship and the first since 1986.
"I'm overjoyed; we truly deserved it. "The team suffered a lot, but it recovered over time," Josefina Villalba, a 55-year-old nanny, said as she joined hundreds of fans at one of the many public plazas where giant screens were set up to watch the long-awaited match.
Millions of Argentines cried, yelled, and hugged as they watched the game, which was an emotional rollercoaster.
Throughout the game, many spectators in Buenos Aires' public square chanted the name of captain Lionel Messi, widely regarded as the world's greatest soccer player who has long expressed his desire for a World Cup victory.
"I feel immense happiness in my heart because this is the first World Cup I truly enjoy," Hector Quinteros, 34, a security guard, said, his eyes welling up with tears. "This happens all the time. They are always making us suffer."
Thirty-Six-Year Wait for World Cup
Argentina finally won a World Cup after 36 years, erasing years of doubts and questions about whether a country known for producing some of the world's best soccer players could truly perform on an international stage. The country won its first championship in 1978 but fell short in the finals in 1930, 1990, and 2014.
Many were preparing to celebrate at the end of the first half, as Argentina led 2-0 and dominated the game.
However, as France caught up, the score was tied 3-3 before Argentina won on penalties 4-2.
The agony of the match made the victory all sweeter for many.
"When you suffer so much for something, the satisfaction is greater," Fabio Villani, a 45-year-old video editor, said, adding that he still couldn't believe Argentina had won the World Cup.
It also felt like Argentina, a country known for seemingly never-ending economic crises.
"Suffering is very Argentine," Maria Isabel Ayala, a 53-year-old hairdresser, said. "If we suffer, it is because our hearts truly feel it."
Gonzalo Nogueria, a 34-year-old photographer, said, "It's a bit of a bummer that we had to spend so much time suffering, but it's also our way of life a little," adding, "in some ways, we're used to it too."
Many fans recalled Argentina legend Diego Maradona, who died two years ago, and claimed he had something to do with today's victory.
"Diego sees everything from heaven; he wouldn't have wanted Argentina to lose. We won the first cup without him! "Diego is always here. He's eternal," said 18-year-old Javier López, whose voice broke as he spoke of Maradona, who led Argentina to its last World Cup title in 1986.
"Diego is certainly smiling now," Brazilian soccer legend Pelé said on social media, congratulating Argentina on their victory.

Messi United Argentines
The national team led by Messi has managed to unite Argentines with a sense of joy that is uncommon in a country that has been mired in economic stagnation for years, has one of the world's highest inflation rates, and nearly four out of ten people live in poverty.
"We're very happy that they gave us this triumph that the people needed beyond the socioeconomic problems that we're having," Gabriel Fernández, 42, said as he celebrated his victory in a Buenos Aires park with his family.
"We needed this for all the things that we're going through economically, politically, and socially," Alberto Czornenki, a 45-year-old retail worker, said as he joined the celebrations in Argentina's capital's public square.
"Our lives are full of suffering due to all that, that karma that we have, and this at least gives us some happiness. We'll then wake up to reality and find ourselves in the same place, but with a different kind of enthusiasm."
This squad, led by Lionel Scaloni, was also lauded by fans.

National Celebrations in Argentia
This team "transmits something very different from previous squads that did not feel pride for the national jersey, while these players give everything of themselves in each match," according to Facundo Alonso, a 26-year-old retail worker.
President Alberto Fernández joined the celebrations and congratulated the national team on their win.
"I'd like to thank the players and the technical staff. They serve as a reminder to never give up. That we have wonderful people and a bright future," Fernández said on social media.
Brazil's president-elect, Luiz Inácio Lula da Silva, said on social media that he was "pleased with our Argentine neighbors' victory."
Chilean President Gabriel Boric, who was rooting for the neighboring country during the game, also sent a "giant hug to our Argentine brothers."
On a hot summer day, the Obelisk in downtown Buenos Aires quickly filled with people as thousands descended to celebrate.
Shortly after the game, the subway became a party as fans packed the cars, singing, chanting, and jumping for joy as they made their way to the Obelisk to join the celebrations.
"Holding Leo Messi's hand, we're going all the way," the crowd chanted as euphoria set in.
Read:
SUPER BOWL: Chiefs, Eagles Land In Phoenix, Prepare For Super Bowl 57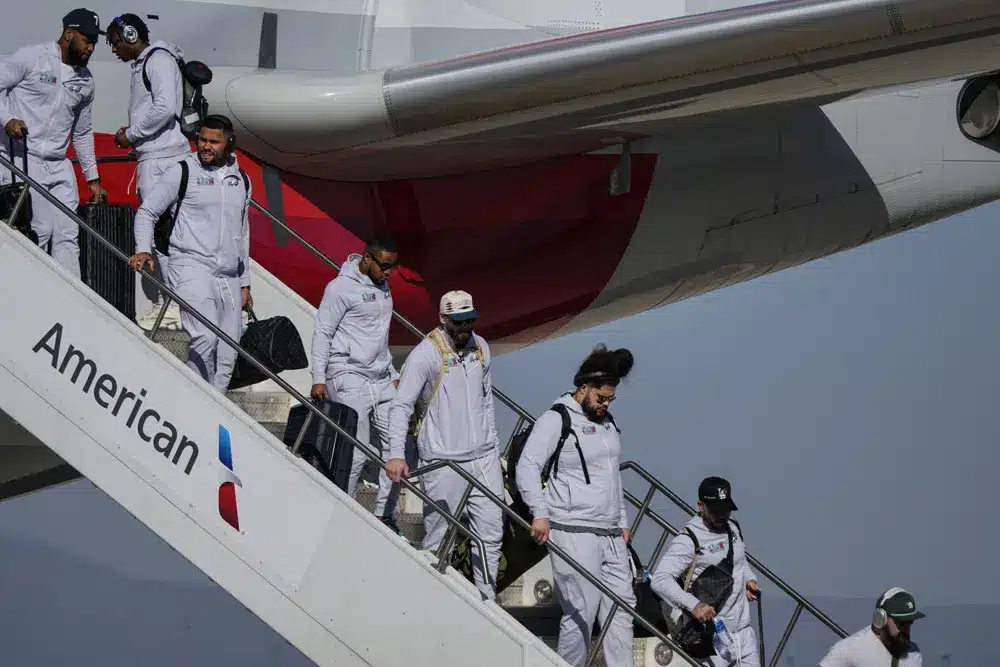 PHOENIX SUPER BOWL — A few minutes after the Kansas City Chiefs and quarterback Patrick Mahomes touched down in Phoenix, the pilot hung a "Chiefs Kingdom" flag out the window as players, coaches, and staff walked across the runway.
The Philadelphia Eagles arrived in Arizona about an hour later, with an "It's a Philly Thing" flag fluttering on the runway as quarterback Jalen Hurts, coach Nick Sirianni, and others made their way to a fleet of buses.
One week until Super Bowl 57.
The Chiefs will play the Eagles in Glendale, Arizona, on February 12.
Both teams touched down at Goldwater Air National Guard Base in perfect Phoenix winter weather, with bright sunshine and temperatures in the low 70s. On the runway, team members would occasionally stop to take photos and videos.

Players Prepare For Super Bowl Game Day
Former Kansas City Chiefs star Christian Okoye was on hand to hand out hats to the team's players as they stepped off the plane. The former All-American running back lived in Southern California and traveled to Phoenix for a quick visit.
"They called and asked me to come over and greet the team," Okoye explained. "So I said, 'Of course,' because my team is over here preparing to win the Super Bowl."
The oddsmakers predict a good game, but they disagree with Okoye and give the Eagles a slight advantage. According to FanDuel Sportsbook, Philadelphia opened as a 1 1/2-point favorite.
The Chiefs are going to their third Super Bowl in four years. Last weekend, they beat the Cincinnati Bengals 23-20 with a 45-yard field goal with 3 seconds left in the AFC championship game.
In the NFC championship game, the Eagles defeated the San Francisco 49ers 31-7. So far in the playoffs, they've looked dominant, including a 38-7 victory over the New York Giants in the divisional round.
Philadelphia is back in the Super Bowl after defeating the New England Patriots 41-33 five years ago.

The Eagles Will Go Arizona To Defend Their Title
The Eagles will go to Arizona to defend their title. Hurts and Sirianni will lead a mostly new group of players.
On Monday, both teams will participate in the "Super Bowl LVII Opening Night" in downtown Phoenix, where all the players and coaches from both teams will be available for the annual media extravaganza.
Then it's time to get down to business. The Chiefs will practice at Arizona State's football facilities throughout the week, while the Eagles will prepare at the Arizona Cardinals practice facility.
There are plenty of storylines: Kansas City coach Andy Reid faces his former team — which he led to Super Bowl 39 — in a game that also features the first Super Bowl matchup of Black starting quarterbacks, with Mahomes and Hurts.
There will also be a brother-versus-brother matchup between Kansas City tight end Travis Kelce and Philadelphia center Jason Kelce.
SOURCE – (AP)
OLYMPICS: Ukraine Pushes To Exclude Russia From 2024 Paris Olympics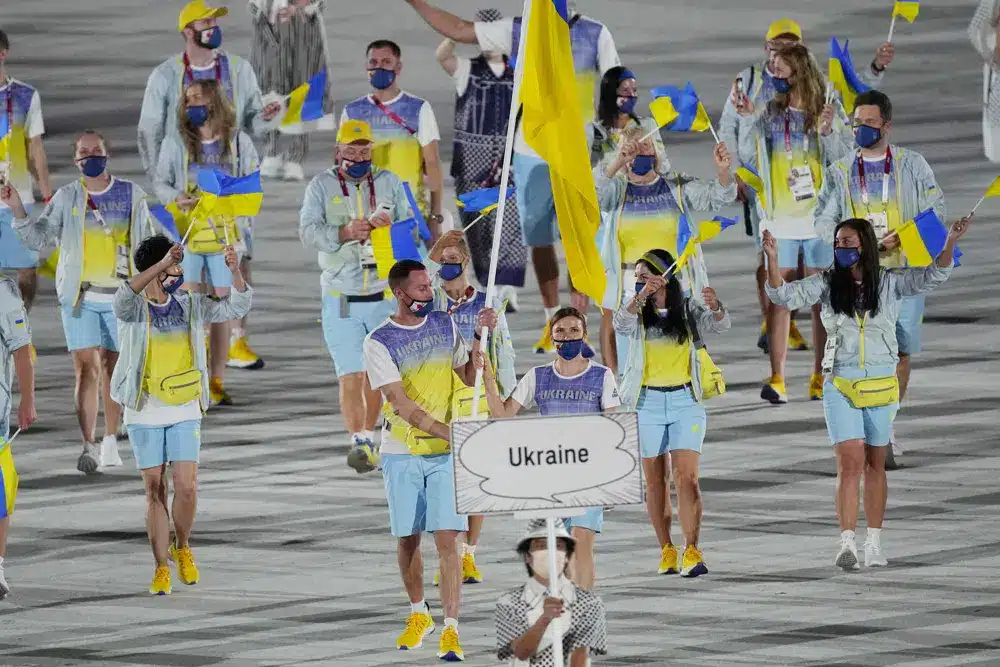 KYIV, Ukraine — With the Olympics in Paris next year looming and Russia's invasion appearing to be a protracted conflict, Ukraine's sports minister renewed a threat to boycott the games if Russia and Belarus are allowed to compete, said Kyiv would lobby other countries to join.
Such a move could cause the greatest schism in the Olympic movement since the Cold War.
No country has declared a boycott of the 2024 Summer Olympics. However, Ukraine received backing from Poland, the Baltic countries, and Denmark, who opposed an International Olympic Committee plan to allow delegations from Russia and its ally Belarus to compete in Paris as "neutral athletes" without flags or anthems.
"We cannot compromise on the admission of Russian and Belarusian athletes," said Ukrainian Sports Minister Vadym Huttsait, who also chairs the country's national Olympic committee, citing attacks on his country, athlete deaths, and the destruction of sports facilities.

Ukraine Will Boycott The Olympics
His committee meeting didn't decide to boycott, but they agreed to try to convince sports officials worldwide over the next two months, including talking about a possible boycott.
"As a last resort, but please keep in mind that this is my personal opinion," Huttsait added, "if we do not succeed, we will have to boycott the Olympic Games."
Paris will be the final Olympics under outgoing IOC President Thomas Bach, who is looking to leave a legacy after a tenure marked by disagreements over Russia's status — first over widespread doping scandals and now over the Ukraine war.
Bach's views were formed while he was an Olympic gold medallist in fencing, and his country, West Germany, boycotted the 1980 Olympics in Moscow in protest of the Soviet invasion of Afghanistan. He has since condemned that decision.
Russia has cautiously welcomed the IOC's decision to grant it a path to the Olympics but has demanded that it drop a condition that would exclude athletes deemed to be "actively supporting the war in Ukraine."

Russia Says Teams Will Compete
The head of the Russian Olympic Committee, Stanislav Pozdnyakov, who was on Huttsait's team at the 1992 Olympics, thought that was unfair. The IOC once said that Russia and Belarus shouldn't be allowed to compete in world sports for safety reasons. It now says that it can't treat them differently just because of where they live.
The leaders of Estonia, Latvia, and Lithuania urged the IOC to ban Russia and warned of a boycott.
"I believe our efforts should be focused on persuading our other friends and allies that the participation of Russian and Belarussian athletes is simply wrong," Estonian Prime Minister Kaja Kallas said. "The next step is to boycott. "I believe people will understand why this is required."
"This threat of a boycott only leads to further escalation of the situation, not only in sport but also in the broader context," the IOC said in a statement. Regrettably, politicians use athletes and sports as tools to achieve their political goals."
"Why punish athletes from your country for the Russian government starting the war?" it asked bluntly.
In a statement next week, Poland's sports minister, Kamil Bortniczuk, said that up to 40 countries could condemn Russian and Belarussian participation in Paris but that a boycott threat could be avoided. He told the state news agency PAP that the IOC was "naive" and should reconsider its stance.

Denmark Also Wants Athletes To Stay Home
Denmark wants Russian athletes barred from participating in "all international sports as long as their attacks on Ukraine continue," according to Danish Culture Minister Jakob Engel-Schmidt.
"We must not waver in our approach to Russia. The government's position is unequivocal. "Russia must be prohibited," he stated. "This also applies to Russian athletes competing under neutral flags. It is incomprehensible that the IOC appears to have reservations about the line."
When asked about the boycott threats and the IOC plan, Paris 2024 organizing committee head Tony Estanguet said he couldn't comment "on political decisions."
"My job is to ensure that all athletes who want to participate are provided with the best security conditions and that they have the opportunity to live their dream," he said in Marseille.
Last year, Ukraine boycotted some sporting events rather than compete against Russians.
Huttsait said a boycott would be very tough, saying it was "very important for us that our flag is at the Olympic Games; it is very important for us that our athletes are on the podium. So that we can demonstrate that our Ukraine was, is, and will be."

Athletes Prepared For A Boycott
Marta Fedina, a 21-year-old Olympic bronze medallist in artistic swimming, declared in Kyiv that she was "prepared for a boycott."
"How will I explain to our defenders that I am even on the same sports field as these people?" she asked, referring to Russian athletes. She noted that the war had destroyed her swimming pool in Kharkiv, where she lived when Moscow invaded.
Speakers at the Ukrainian Olympic Committee's assembly meeting expressed concern about Moscow's use of Paris for propaganda, and some athletes have close ties to the Russian military.
If athletes from the two countries compete, "it should be absolutely clear that they are not representing the Russian or Belarusian states," White House press secretary Karine Jean-Pierre said Thursday. The Olympics will be held in Los Angeles in 2028.
If the IOC's proposal is implemented, it will be the fourth consecutive Olympics in which Russian athletes compete without the national flag or anthem. After a series of doping scandals, the Russian teams at the Winter Olympics in 2018 and 2022 and the Summer Olympics in 2021 were all in trouble.
The last time many countries boycotted an Olympics was in 1988, when North Korea and others refused to attend the Summer Games in South Korea. Fears about the coronavirus pandemic kept the North Korean team from going to the Tokyo Games in 2021. As a result, the IOC barred it from the following Winter Games in Beijing, claiming that teams had a duty to attend every Olympics.

Belurussian Athletes Under The Same Scrutiny
Although the IOC set the tone of the debate by publishing advice on how to help Russia and Belarus compete, decisions for the governing bodies of individual sports that organize events on the 32-sport Paris program must be made.
These organizations, many of which are based in Lausanne, Switzerland, where the IOC is based, run their qualifying and Olympic competitions and decide who can compete and who can't.
Before the IOC's Olympic qualifying events, the International Cycling Union agreed to allow Russian and Belarussian athletes to compete as "neutrals."
Most sports, including track and field World Athletics and soccer FIFA, excluded Russian athletes and teams within days of the war's start. Tennis and cycling have allowed many Russians and Belarusians to compete as neutrals. Other governing bodies are more closely aligned with the IOC or have historically had close commercial and political ties with Russia.
The umbrella group of Summer Games sports, ASOIF, may hold a key meeting on March 3 in Lausanne. It is chaired by Francesco Ricci Bitti, a member of the IOC when he led the International Tennis Federation, and includes World Athletics president Sebastian Coe.
The ASOIF declined to comment on Friday but stated this week that "it is critical to respect the specificity of each federation and their particular qualification process" for Paris.
SOURCE – (AP)
Tennis Pro Varvara Lepchenko's Doping Ban Cut To 21 months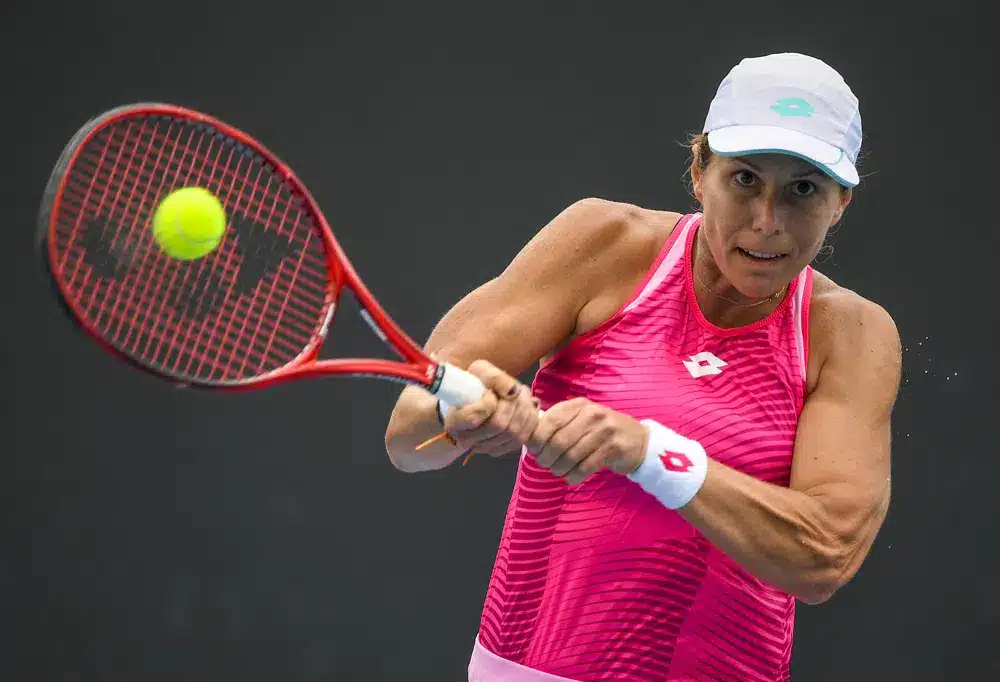 As part of a deal with the International Tennis Federation, Varvara Lepchenko, a former top-20 tennis player and US Olympian, had her doping ban cut from four years to 21 months.
After Lepchenko appealed her suspension to the Court of Arbitration for Sport, the two sides came to a deal.
The agreement was signed in October, approved by CAS on Tuesday, and made public on Friday by the ITF. The World Anti-Doping Agency also approved it.
The stimulant was found in Lepchenko's urine sample following a first-round loss at the Hungarian Grand Prix in July 2021. Then she competed in three more events and won a title in Charleston, South Carolina. She was then temporarily banned from competing for four years, starting in August 2021.
Her appeal to CAS was based on her later discovery, in a travel bag, of a bottle of capsules containing the substance for which she tested positive — an ingredient not listed on the bottle label.
Tennis Pro Gets Changed With 12 Months
According to a news release from the ITF on Friday, Lepchenko and the ITF agreed that she broke the rules and will not be able to compete for 21 months. Her ban will start in August 2021, which is when her last match was, and end this May.
"Varvara is relieved that, after a lengthy investigation, she was able to establish that her positive test was caused by a contaminated supplement that did not disclose the presence of the banned substance on its label," Lepchenko's lawyer, Howard Jacobs, wrote in an email to The Associated Press. Tennis "She is excited to return to the WTA Tour in May."
This was Lepchenko's second doping case, but the ITF treated it as if it were her first because she was found not to be at fault in her previous case, in which she tested positive for meldonium, the heart medication that led to Maria Sharapova's doping ban.
She Won Over 5 Million In Prize Money
Lepchenko, 36, has competed for the US in the Olympics and the Billie Jean King Cup.
She has won over $5 million in prize money and peaked at No. 19 in the WTA in 2012. That year, at the French Open, she reached the fourth round of a Grand Slam tournament for the first time, defeating 2010 champion Francesca Schiavone. In 2015, Lepchenko advanced to the fourth round of the US Open.
Lepchenko was born in the former Soviet republic of Uzbekistan. She and her father and sister later moved to Florida. She was granted political asylum, moved to Pennsylvania in 2003, and became a citizen of the United States in 2011.
SOURCE – (AP)