ALASKA: Polar bear attack victims young mother and 1-year-old son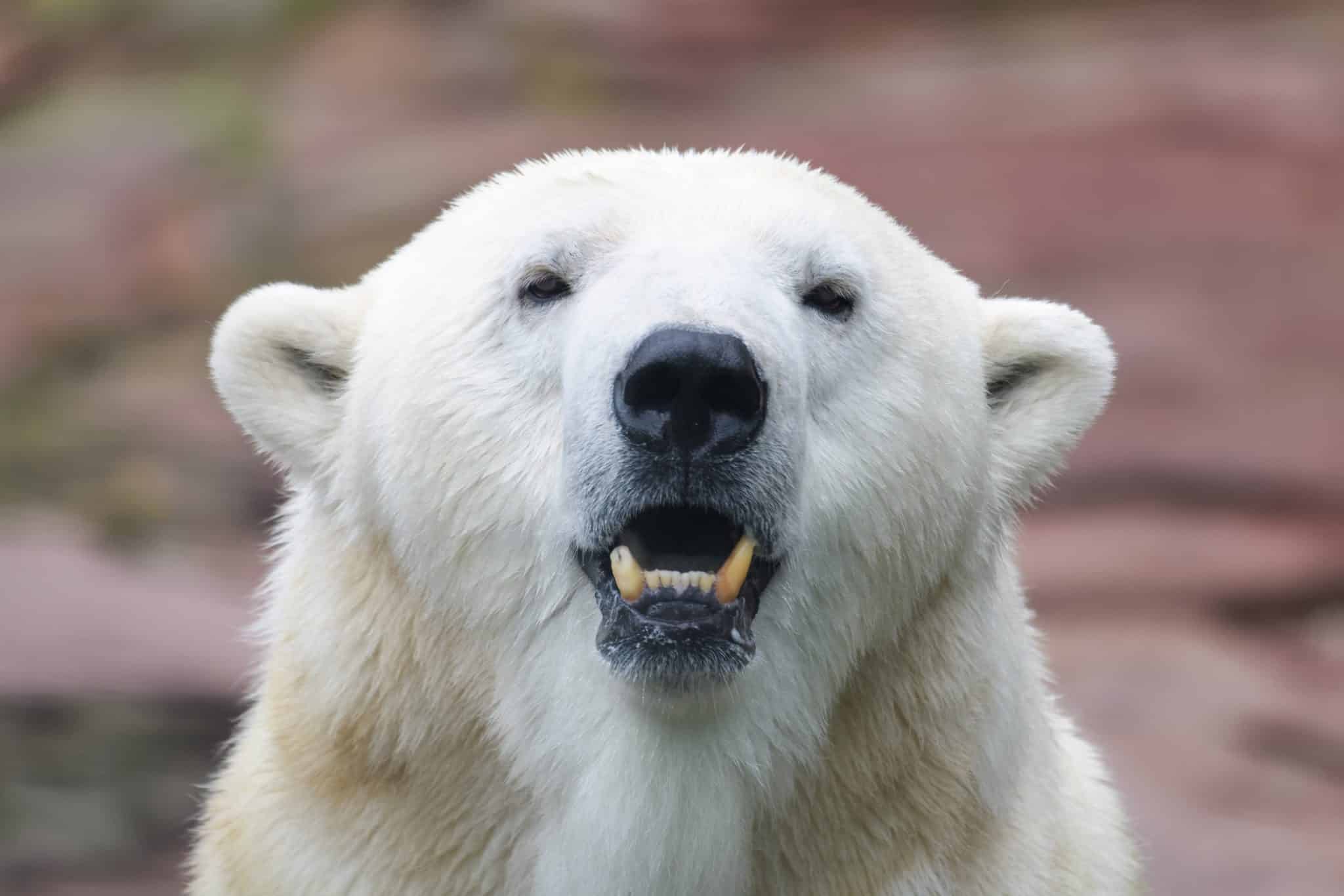 ANCHORAGE, Alaska — Authorities said a polar bear chased several residents, isolated Alaska Native whaling village, killing a mother and her 1-year-old son in an extremely rare attack before being shot and killed by another community member.
The fatal mauling happened on Tuesday in Wales, which is a small town on the coast of the Bering Strait about 50 miles (80 kilometers) from Russia. It is on the westernmost tip of North America and has lived with polar bears for a long time.
According to Alaska State Troopers, Summer Myomick of Saint Michael and her son, Clyde Ongtowasruk, were killed in the attack.
The predominantly Inupiaq community of about 150 people organizes patrols when bears are expected in town, from July to early November, before sea ice forms and bears head out on the frozen landscape to hunt seals.
This is almost unheard of because polar bears are normally far out on the ice in the dead of winter and not close to villages, according to Geoff York, senior conservation director at Polar Bear International, a conservation organization. The most recent fatal polar bear encounter in Alaska occurred in 1990.

The Attack Took Place Near A School In Wales.
"I would have been walking around the community of Wales probably without any (bear) deterrents because it's historically the safe time of year," said York, who has studied polar bears for decades. "You don't expect to see bears because they'd be hunting seals on the sea ice."
After the polar bear attack on Tuesday, troopers and wildlife officials couldn't get to Wales because the gravel airstrip there didn't have runway lights. Attempts were made again on Wednesday.
Dawn Hendrickson, the school principal in Wales, described the mood on Wednesday as "traumatic." A day after the fatal attack, classes were canceled. "The students have returned home," Hendrickson said. Students were given access to counselors.
She stated that no memorials for the two victims had been announced. "Not yet," she explained. "We're still in the early stages."
It's unclear whether this attack was caused by climate change, but it's consistent with what's expected as the Arctic continues to warm four times faster than the rest of the world, altering the ecosystem in ways that are still unknown, according to York. However, according to Andrew Derocher, a polar bear expert and professor of biological sciences at the University of Alberta, this bear is part of a healthy population.

Climate Change In Alaska May Be To Blame
In 2019, Alaska scientists from the US Geological Survey discovered that changes in sea ice habitat had coincided with evidence that polar bears were using land more and that the chances of encountering a polar bear had increased.
Wales is located approximately 100 miles (161 kilometers) northwest of Nome. The community can be reached by plane and boat, including barges transporting household goods. Winter trails allow snowmobiles to travel to other communities and subsistence hunting grounds. ATVs are used for hunting and fishing trips outside of the winter season.
Polar bears are at the top of the food chain and see humans as a food source, according to York.
In a report he helped write called "Understanding Polar Bear Attacks," he found that most polar bear attacks that ended in death happened when:
Either sub-adult bears.

Usually, males are always hungry.

Older bears who are injured or ill and having difficulty getting enough calories.
Unlike brown or black bears, polar bears do not hibernate in the winter. Only pregnant females enter snow dens, and only for reproduction.

Attacks Can Happen Year Round
The other polar bears are out and about, usually on the sea ice, where their prey is available all year.
The Alaska Nannut Co-Management Council, which was made to be "the collective voice of Alaska Natives in polar bear co-management," says that polar bears coming close to or entering villages are always a safety risk for places that are in polar bear territory.
The group talks about a few polar bear patrol programs in Alaska, like one in Wales that needs money and one in Diomede, where a patrol works mostly in the winter to protect kids walking to and from school.
York, who has worked in the Arctic for about 30 years, 21 of which have been in Alaska, said the Welsh community has long been involved in establishing a polar bear patrol program and taking measures to keep polar bears out of the community.
"This appears to be one of those terrible cases where, despite doing everything correctly, we had a bear that was an outlier at a time of year when you would never expect that to happen," he said.

Polar Bear Too Far South For This Time of Year
Derocher, a professor of biological sciences at the University of Alberta, says that the area where the attack happened is far south of where polar bears usually live, but it is not unusual for them to be there.
Derocher said the bear is from a polar bear population in the Chukchi Sea that is doing well despite climate change. He said that the attack could have been caused by a bear drawn to attractants like food or garbage rather than by climate change factors.
According to Derocher, polar bears in the southern Beaufort Sea, east of the Chukchi Sea population, are in worse condition.

Polar Bears Homes Shrinking
In this case, while ice exists in the Chukchi and northern Bering seas, the quality of that ice is unknown. More importantly, York stated that they have yet to learn what is happening beneath the ice or the availability of seals and other prey for polar bears.
York says that the changes happen even in the winter, when people thought they were safe from polar bears on the shore.
"Communities may no longer exist," he speculated.
SOURCE – (AP)
Greta Thunberg carried away by police at German mine protest, 2023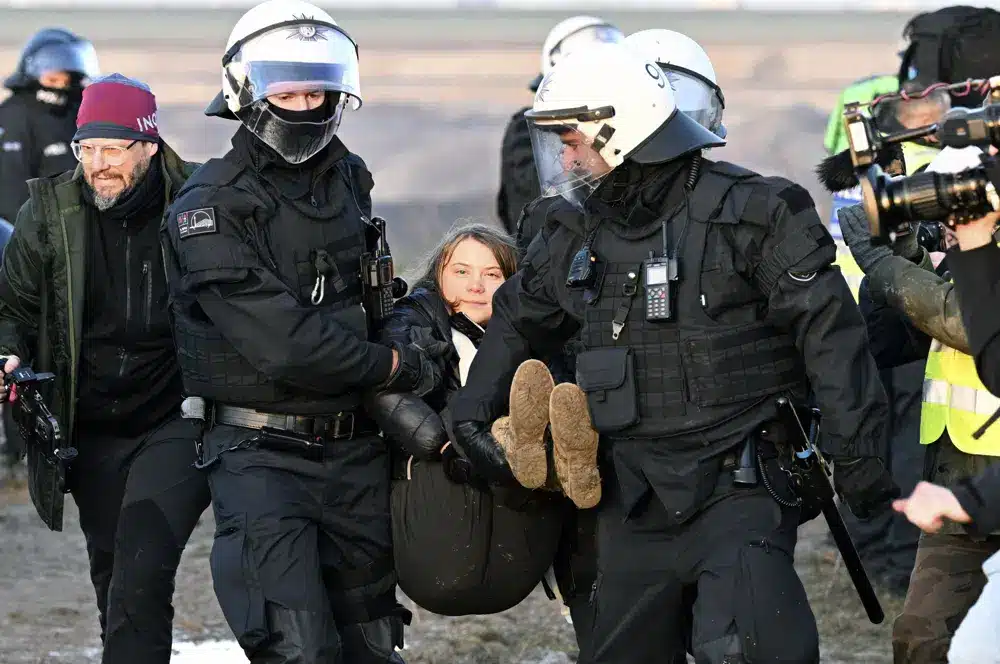 The German news agency DPA says that on Tuesday, police in western Germany carried Swedish climate activist Greta Thunberg and other protesters away from the edge of an open coal pit mine, protesting the destruction of a village, to make room for the mine's expansion.
Hundreds of people went back to anti-mining protests in the western German state of North Rhine-Westphalia.
Hundreds of climate activists also glued themselves to a main street in Germany's western city of Cologne and a state government building in Duesseldorf. Police and RWE say that about 120 activists took over the train tracks near Rommerskirchen that lead to the Neurath power plant. Greta.

Greta Clashes With Police
According to DPA, those who refused to leave the tracks were dragged away.
Several protesters also took over a big digger at the Inden coal mine, and hundreds of others joined a protest march near Luetzerath. The village has been evacuated and sealed off by police in recent days.
There were clashes with the police once more.
According to DPA, several activists ran over to the Garzweiler open pit mine. They were standing on the edge of the open pit, which had a sharp break-off edge. The police said it was dangerous, and people were not allowed to stay there.

Protestors Arrested Near Mines Edge
Greta Thunberg went to western Germany to join protests over the weekend and on Tuesday near Luetzerath against the expanded mine. According to police in nearby Aachen, a group of 50 protesters got dangerously close to the mine's rim and refused to leave despite being asked to do so.
According to police, all the people arrested at the mine's edge were then temporarily detained to determine their identities. Thunberg was one of those arrested, according to photos from the scene. Greta.
RWE says that one protester could go into the mine, which DPA calls "very reckless."

Luetzerath Is A Symbol
Due to privacy laws, a police spokesman who spoke on the condition of anonymity, as is common in Germany, said he couldn't say anything about Thunberg or anyone else who participated in the protest.
On January 11, police and RWE started getting protesters out of Luetzerath by taking down roadblocks, cutting down treehouses, and bulldozing buildings.
For years, activists have talked about how important Luetzerath is as a symbol, and on Saturday, thousands of people protested against RWE's plan to destroy the village so that the Garzweiler coal mine could grow.
SOURCE – (AP)